Samsung J2 Pro Repair
| Issue | Price |
| --- | --- |
| Samsung J2 Pro LCD Replacement (Broken LCD, No display, lines, dead pixels, etc ) | $129 |
| Samsung J2 Pro Charging port replacement | $99 |
| Samsung J2 Pro Microphone Repair | $99 |
| Samsung J2 Pro Ear Speaker Repair | $99 |
| Samsung J2 Pro Ringer Repair | $99 |
| Samsung J2 Pro Headphone Socket Repair | $99 |
| Samsung J2 Pro Back Camera Repair | $99 |
| Samsung J2 Pro Front Camera Repair | $99 |
| Samsung J2 Pro Camera lens Repair | $45 |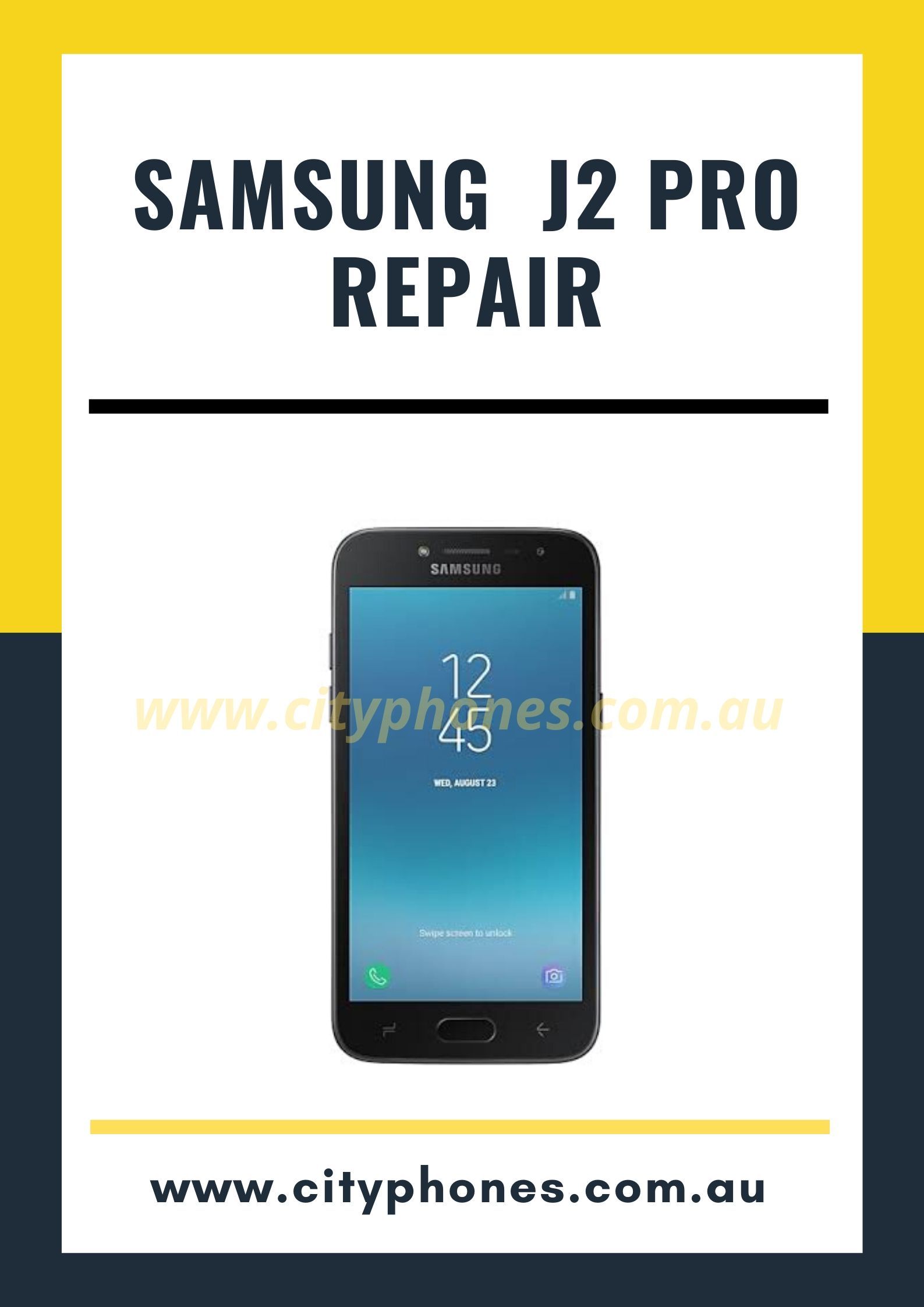 Samsung J2 Pro Repair in Melbourne and Greensborough
City Phones aims to offer outstanding services straight to repair or troubleshoot your Samsung J2 Pro smartphone. Our experienced technicians are familiar with all the repair issues that the Samsung Galaxy J2 Pro may face. Your Samsung mobile is in safe hands as they only use high-quality parts for the repair of your mobile phone. As you also get a standard repair warranty with all our Samsung mobile phone repair services, you have nothing to worry about. Our expert technicians can have the device repaired and ready in 30 minutes to an hour. You can also visit our store to get your Samsung J2 Pro mobile repair services, or you can also send your damaged Samsung mobile phone to us via post for repair. We are very competitive and committed to delivering complete customer satisfaction. We always double-check the mobile phone to make sure that the same problem does not occur again.
Samsung J2 Pro Screen Repair
The screen of the Samsung J2 Pro comes with protective glass, but the widescreen is as yet defenseless against actual harm. A cracked screen is the most common defect that mobile phones face after a sudden drop from the hands. Because screens are made of glass, a single drop can cause devastating cracks. Screen repair is likewise perhaps the costliest repair, among others. We offer high-quality screen repairs as we use genuine repair parts while repairing your Samsung mobile phone here at City Phones. The staff here at City Phones stores have all the required skills and have taken training to do all kinds of screen and display replacements on the Samsung J2 Pro mobile. We offer affordable screen repair services with high-quality parts. Our experienced technicians provide screen repairs for your Samsung mobile with utmost care and precision as we understand that your phone plays an important role in your life. Because of that, we offer quality based and fast service for our customers along with competitive prices and premium parts.
Samsung J2 Pro Battery Replacement       
Is your Samsung J2 Pro mobile phone battery dying fast? Is your Samsung J2 Pro mobile phone talking for a longer period of time than usual? Then surely your mobile phone needs a battery replacement. City Phones is the leading choice for Samsung phone battery repair with affordable prices with highly efficient parts in Melbourne and Greensborough. A team of highly experienced Samsung mobile phone battery replacement specialists is always ready to help you with bringing your damaged Samsung mobile phone to life. Our goal is to provide total customer satisfaction by providing them affordable, efficient, and quality-based service. We provide a standard repair warranty with each repair we perform.
Samsung J2 Pro Camera Repair
Have you dropped your phone accidentally, resulting in your mobile phone camera not working well? Or even perhaps, your video quality is not good. Whatever the case may be, City Phones is the best place to get your faulty camera repaired with the help of expert technicians who have been repairing cameras for many years with perfection, so that you get back to posting your high-resolution photos and videos in just 30 minutes to an hour! Here at City Phones, we have plenty of high-quality Samsung repair parts and tools available for the customers.  At City Phones, we repair most faults with your Samsung mobile phone camera with complete care and perfection. We performed the on-the-spot repair for the Samsung camera, which involves replacing the faulty back camera lens and checking if the selfie camera is working well and taking photographs. If your mobile phone needs a selfie camera replacement as well, we are capable of replacing selfie camera lenses efficiently.
Samsung J2 Pro Charging Port Repair
Visit our stores on the off chance that you need to have a Samsung Galaxy J2 Pro Charging Port repair at a reasonable price. We offer to replace the charging port of your mobile phone using high-quality parts with the help of our expert technicians. Charging port replacement will not take more than 30 minutes to 1 hour as City Phones have all the required parts in stock for Samsung mobile phones. Being the leading Samsung J2 Pro charging port repair store in Melbourne and Greensborough, we take customer satisfaction as our top priority. As mentioned earlier, charging port replacement is another common type of repair after screen replacement. With mobile phones, charging port replacement is a common issue to deal with. You need quality parts and expert technicians.
Samsung J2 Pro Water Damage Repair
Is your Samsung phone accidentally exposed to water? You should immediately take it to one of our stores so that our water damage experts can access your phone so that they can remove any water present in it. First, look at the battery of your Samsung phone. If your phone has a removable battery, first remove the battery from its slot and remember not to place it back so that no further damage is caused to the motherboard or the internal components of the mobile phone. Our expert technicians will make every effort to bring your precious Samsung J2 Pro mobile phone again to life.
City Phones' desire is to provide its customers with the best possible solution to the problem they are facing with their mobile phones. We pride ourselves on customer service and the expert technicians who keep you informed about the current status of your mobile phone repair.