Samsung A20 Repair
| Issue | Price |
| --- | --- |
| Samsung A20 LCD Replacement (Broken LCD, No display, lines, dead pixels, etc ) | $179 |
| Samsung A20 Battery Replacement | $75 |
| Samsung A20 Charging port replacement | $75 |
| Samsung A20 Microphone Repair | $75 |
| Samsung A20 Ear Speaker Repair | $75 |
| Samsung A20 Ringer Repair | $75 |
| Samsung A20 Headphone Socket Repair | $75 |
| Samsung A20 Back Camera Repair | $75 |
| Samsung A20 Front Camera Repair | $75 |
| Samsung A20 Camera lens Repair | $45 |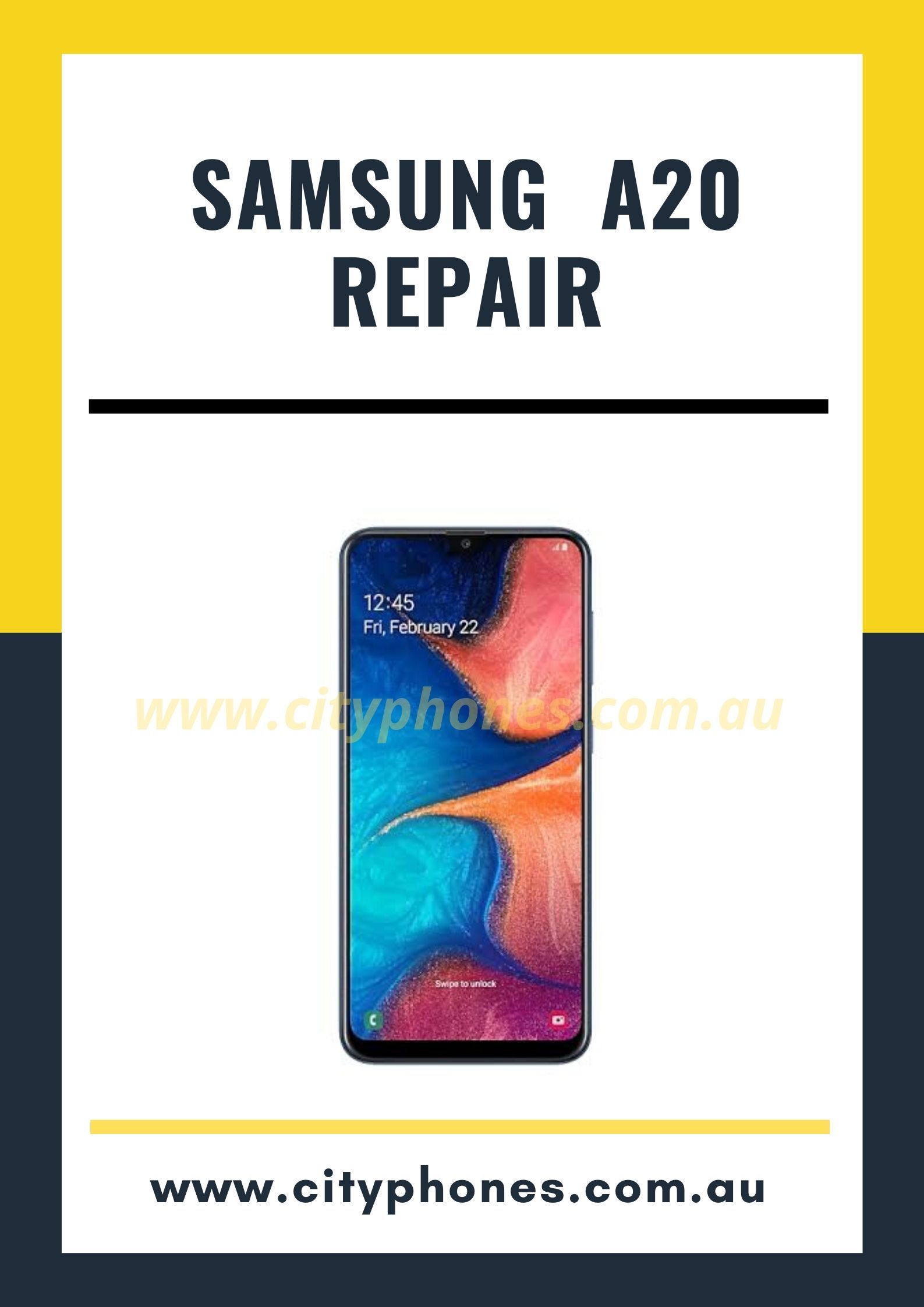 Samsung Galaxy A20 Repair Service in Melbourne
City Phones provide repair services for Samsung Galaxy A20 at Melbourne CBD. We believe it is our responsibility to provide the customers all solutions they need for their smartphone Samsung Galaxy A20 smartphone. City Phones is a Melbourne-based Smartphone repair company and we can repair almost all the faults of your device. We repair your device on the spot strictly using only high-quality parts. City Phones offers Samsung A20 Repair in Melbourne including a standard guarantee on all our repairs. At City Phones top quality repair services for Samsung smartphones are delivered. We have a team of technicians with expertise in Samsung phone repair. If you like perfect Samsung mobile repairs choose City Phones which offers extraordinary repair services through professionals having many years of experience in mobile phone repairs.
Reliable Samsung Galaxy A20 Repair in Melbourne
Are you looking for Samsung phone repairs in Melbourne? City Phones is a phone repair company having vast knowledge and expertise in this field. You will get experts in Samsung phone repairs here at City Phones. We also have services to fix a cracked screen for Samsung Galaxy A20. Battery replacement, and Screen replacement for Samsung mobiles are also carried out by professionals. Repair services by trained professionals makes us different from other mobile repair companies in Melbourne.
Cracked Screen Replacement for Samsung Galaxy A20
Are you tired of the broken screen of your Samsung Galaxy A20? We have an optimal solution for you, City Phones offers replacement of cracked screens of Samsung phones. Moreover, we also replace batteries for Samsung Galaxy A20. City Phones carry quality-based charging port replacement with motherboard repair for water-damaged Samsung phones. In addition to this, we offer these services from the hands of experts doing mobile repair for many years.
Samsung Galaxy A20 Repair Service by City Phones National Mail-in Service
A number of faults can occur with your Samsung Galaxy A20 mobile phone. These faults could be a cracked screen, faulty camera, faulty charging port, battery not charging, or headphone not working, and more. If you're looking for professional repair service via national mail-in service to be carried out for Samsung Galaxy A20, choose City Phones National mail-in service Australia wide. All you have to do is, send your faulty Samsung smartphone to any of our two store locations within Melbourne for repair and we will return your fixed smartphone to your mentioned address.
Why People Choose City Phones Repair Service
Convenient service is provided for all types of physical damages, battery problems, water damages, motherboard issues, charging port repair, headphone socket repair, and screen replacement issues. Our technicians are certified and possess experience of many years.  We make every effort to provide a fast, efficient and reliable Samsung mobile repair service so that you don't have to wait much to get your smartphone back to life.
City Phones provides mobile phone accessories online like smartphone cases, back covers, tempered glass, screen protectors at competitive rates available within the market. Buy Online smartphone accessories or visit our stores in Melbourne to protect your smartphone against any possible damage.