Huawei Nova 4e Repair
| Issue | Price |
| --- | --- |
| Huawei Nova 4e Screen Repair | $199 |
| Huawei Nova 4e Battery Replacement | $99 |
| Huawei Nova 4e Charging Port Repair | $99 |
| Huawei Nova 4e Microphone Repair | $99 |
| Huawei Nova 4e Ear Speaker Repair | $99 |
| Huawei Nova 4e Ringer/loudspeaker Repair | $99 |
| Huawei Nova 4e Headphone port Repair | $99 |
| Huawei Nova 4e Back Camera Repair | $99 |
| Huawei Nova 4e Front Camera Repair | $75 |
| Huawei Nova 4e Camera Lens repair | $75 |
| Huawei Nova 4e Back Glass Repair | $75 |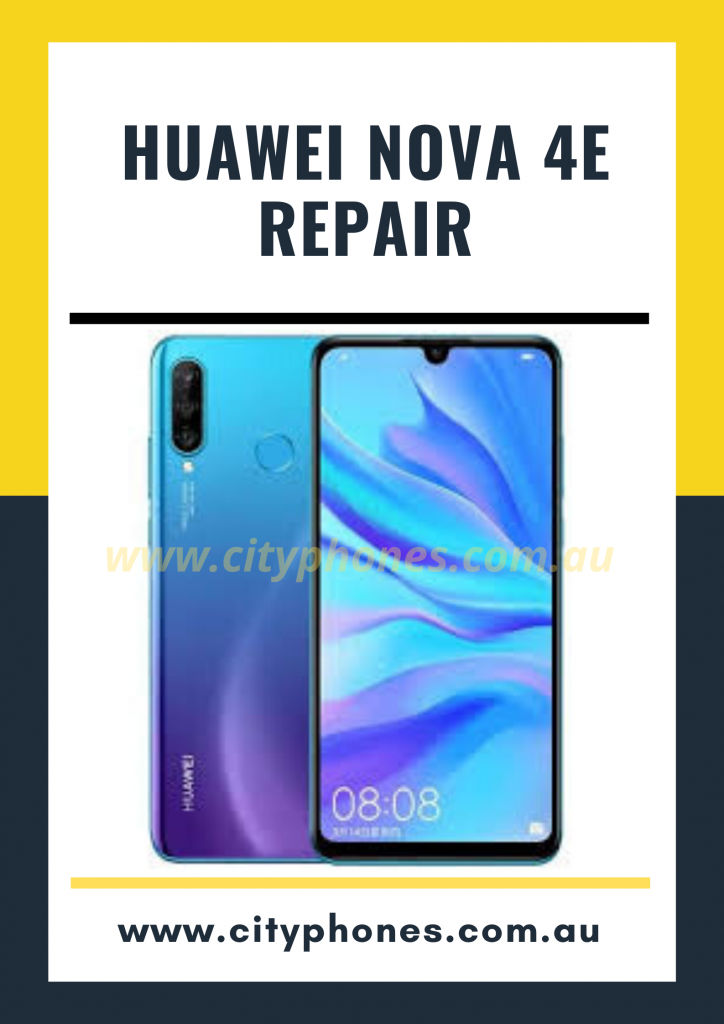 Huawei Nova 4e Repair in Melbourne
Huawei Nova 4e Repair in Melbourne
City Phones is the leading Huawei Nova 4e repair company based in Melbourne. We provide the best-in-class premium Huawei phone repair services on the spot and within budget. We provide repair services located at two locations in the Melbourne CBD. Our website provides instant quotes, and you can book repair for your mobile model straight by visiting the website.
To undergo mobile repair, you have a variety of repair options for your Huawei Nova 4e in front of you. You can send us your damaged Huawei Nova 4e phone via post, and we will repair it and return it to you. Another option is to walk into one of our stores with your damaged phone and within 30 minutes to an hour, you will have your repaired phone in working condition. With all the repairs we provide a standard repair warranty, which keeps you tension-free. We have a well-trained team of technicians who repair almost all faults in your mobile phone within 30 minutes. Customer satisfaction is our prime objective. We understand that mobile phones are nowadays a necessity, so we take the minimum time in doing your mobile phone repairs. You are more than welcome to wait in our store while we perform your mobile phone's repair, or you can leave your mobile phone with us and pick up later.
We repair almost all faults with your Huawei mobile phones, such as cracked screen repair, LCD replacement, speaker repair, battery replacement, home button repair, camera replacement, charging port repair, etc. At City Phones, we know how important mobile phones are to customers. That's why we take the utmost care of them. We are passionate about electronics and technology at City Phones, and love being able to work in electronics repair. We strive to produce our best work with every repair. We offer a standard repair warranty with each repair we do.
Huawei Nova 4e Screen Repairs in Melbourne
We have expert technicians who are more than capable of repairing the device, providing a reasonable quote for repair and the actual repair itself. We offer best-in-class repair jobs for your Huawei Nova 4e mobile phone, all at a reasonable cost. Any issues with LCD replacement batteries can be changed easily here at City Phones with minimum time and at a reasonable price. We also conduct repairs on speakers, with screen replacement being our prime Huawei Nova 4e repair. We take complete care of any issues that arise on a Huawei Nova 4e mobile phone. We have a group of trained and experienced technicians who are specialists in Huawei Nova 4e repair. Simply walk into our Melbourne store and have any of our staff members check your mobile phone. The technicians are experts in handling all Huawei mobile phone repair jobs, so they will diagnose the actual problem with your phone and will guide you to the best possible solution to repair it. From Huawei Nova 4e screen replacement, Huawei Nova 4e battery replacement, Huawei Nova 4e camera repair, if it's a hardware issue, we will most likely be able to fix it. Our repairs also come with a standard repair warranty. We provide reliable, efficient, and durable repairs in Melbourne.
If you need further information on our Huawei Nova 4e repairs Melbourne CBD, please don't hesitate to contact us. To contact us directly, please call us on 0426504955 or email us at info@cityphones.com.au. Alternatively, you can visit us in-store at 148 Elizabeth Street, Melbourne, VIC 3000, or at Shop 2, 231 Elizabeth St, Melbourne CBD 3000. Appointment isn't necessary; walk-ins are welcome, and repair times are usually 30 minutes or less for minor repairs. For more detailed instructions on how to find us, please visit our City Phones Contact Us Page.