Huawei Nova 3E Repair
| Issue | Price |
| --- | --- |
| Huawei Nova 3E Screen Repair | $149 |
| Huawei Nova 3E Battery Replacement | $99 |
| Huawei Nova 3E Charging Port Repair | $99 |
| Huawei Nova 3E Microphone Repair | $99 |
| Huawei Nova 3E Ear Speaker Repair | $99 |
| Huawei Nova 3E Ringer/loudspeaker Repair | $99 |
| Huawei Nova 3E Headphone port Repair | $99 |
| Huawei Nova 3E Back Camera Repair | $99 |
| Huawei Nova 3E Front Camera Repair | $75 |
| Huawei Nova 3E Camera Lens repair | $75 |
| Huawei Nova 3E Back Glass Repair | $75 |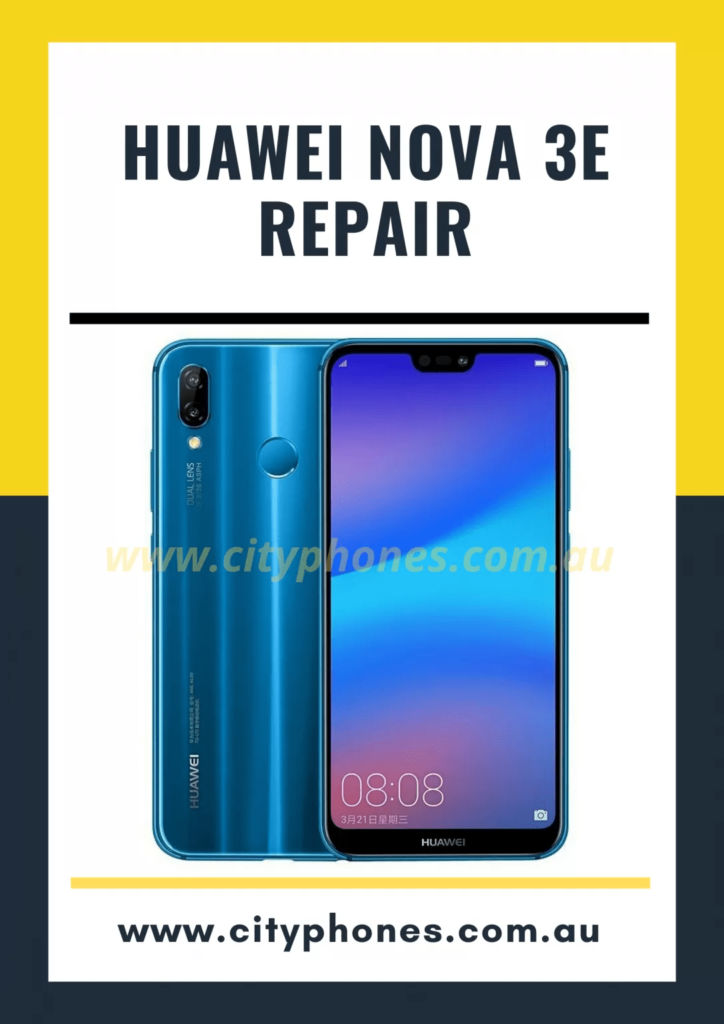 Huawei Nova 3e Repair in Melbourne
Huawei Nova 3e Repairs Melbourne CBD
Are you in need of Huawei Nova 3e repairs in the Melbourne CBD? Visit City Phones today! Our friendly repair technicians are there to provide free evaluation for your device. You can walk into our Melbourne CBD store, hand your Huawei Nova 3e to one of the technicians at City Phones' store, and we'll take care of the rest for you. We provide an impressive repair time of 30 minutes to 1 hour for repairs. That's why we say that at City Phones we fix your phone on the spot – we mean it.
Simply give us your Huawei Nova 3e mobile phone and one of our technicians will help you with mobile phone repair. Come back in 30 minutes and your repaired Huawei Nova 3e will be waiting for you, as good as new. We are passionate about electronics and technology at City Phones, and love being able to work in electronics repair. We take utmost care while repairing your mobile phone and strive to produce our very best work with every repair. We offer a standard repair guarantee with all repairs we perform to all our customers.
At Melbourne CBD Huawei Repair Center, we can repair most faults with your Huawei Nova 3e. Simply walk into our Melbourne CBD store and have one of our staff look at your device to suggest the right solution for you. We are conveniently located on Elizabeth Street, which is easily accessible from all places in Melbourne.
Choose the best team for Huawei Nova 3e Repairs.
Melbourne's leading Huawei mobile phone repair shop is the expert in doing all Huawei mobile phone repair work with satisfaction. For Huawei Nova 3e repairs, we have expert staff at City Phones. We are equipped with the latest tools and equipment. This cutting-edge equipment assists our team in providing reliable solutions. Their experience with Huawei phones makes them perfect for Huawei phone repairs. Moreover, our team is capable of resolving all the hidden issues in Huawei phone repairs. City Phones is one of the best Huawei phone repairs in Melbourne.
Huawei Nova 3E Battery Replacement and Screen Replacement
Have you accidentally broken your Huawei Nova 3e mobile phone? Are you looking for a Huawei Nova repair center in Melbourne? City Phones specializes in providing all repairs for Huawei mobile phones at a reasonable price. We are not just limited to replacing the parts of the Huawei phone, but also repair cracked screens and resolve water damage issues on your phone by doing motherboard repairs.
Huawei Nova 3e repair in City Phones Melbourne with expert repair technicians and high-quality parts. Everybody is looking for the best place to get their device fixed fast and there are a lot of choices to repair your device. City Phones is based in Melbourne CBD and Greensborough and can service most of the faults in your device. We provide quality repair services that can be economically viable for our customers. Huawei Nova 3e repair are conducted in our City Phones Melbourne CBD location where you are welcome to walk in without making an appointment. We also accept Huawei Nova 3e Repair by post. Please visit the "Book Repair" button on this page to navigate to the appropriate Huawei Nova 3e repair option you wish to book in.
If you need further information on our Huawei Nova 3e repairs in Melbourne CBD, please don't hesitate to contact us. To contact us directly, please call us on 0426504955 or email us at info@cityphones.com.au. Alternatively, you can visit us in-store at 148 Elizabeth Street, Melbourne, VIC 3000. No appointment is required, walk-ins are welcome, and repair times are usually 30 minutes or less for minor repairs. For more detailed instructions on how to find us, please visit our Contact Us page. We also offer a repair by post service within Australia. Send us your damaged mobile by post to our Melbourne store address and we will return it to you repaired. For more details on our repair by post service, please visit our Book Repair page.