Huawei Y7 2018 Repair
| Issue | Price |
| --- | --- |
| Huawei Y7 2018 Screen Repair | $149 |
| Huawei Y7 2018 Battery Replacement | $99 |
| Huawei Y7 2018 Charging Port Repair | $99 |
| Huawei Y7 2018 Microphone Repair | $99 |
| Huawei Y7 2018 Ear Speaker Repair | $99 |
| Huawei Y7 2018 Ringer/loudspeaker Repair | $99 |
| Huawei Y7 2018 Headphone port Repair | $99 |
| Huawei Y7 2018 Back Camera Repair | $99 |
| Huawei Y7 2018 Front Camera Repair | $75 |
| Huawei Y7 2018 Camera Lens repair | $75 |
| Huawei Y7 2018 Back Glass Repair | $75 |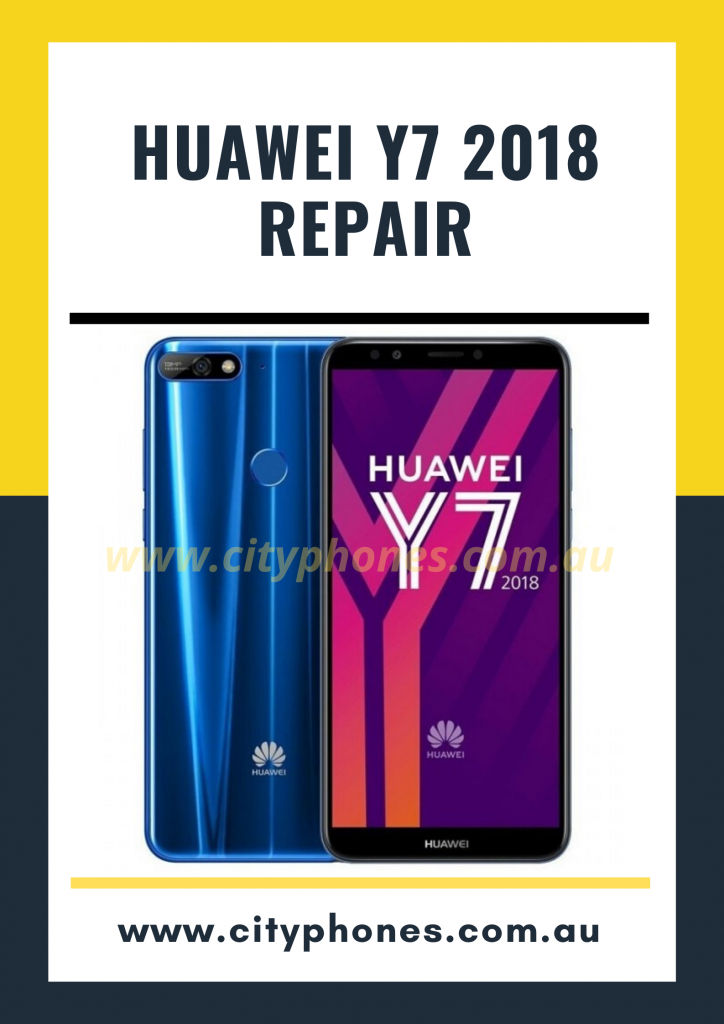 Huawei Y7 2018  Repair in Melbourne
Huawei Y7 2018 Repair in Melbourne
Get your Huawei Y7 2018 mobile phone repaired at City Phones, one of the leading Huawei mobile phone repair shops in Melbourne and Greensborough. The technicians at all these locations undertake Huawei Y7 2018 repairs using genuine parts. We provide a high-quality service using only the highest quality glass for all screen replacement parts for your Huawei Y7 2018 every time. All repairs we perform are backed by the standard warranty. City Phones offers a 30-minute to 1-hour screen replacement service. If you send your Huawei Y7 2018 mobile phone directly to one of our stores, we will send your Huawei mobile phone back after repairing it as soon as possible.
Huawei Y7 2018 Screen Repair
City Phones has friendly staff members who can repair your Huawei Y7 2018 mobile phone's damaged screen in 30 mins to 1 hour using genuine parts. We provide the best possible repair solutions for problems occurring in your Huawei Y& 2018 mobile phones, like a broken screen or broken LCD, a broken charge port, headphones not working properly, or any other issue. We repair all issues on your Huawei mobile phones at a reasonable price within a reasonable time. If your Huawei Y7 2018 phone screen doesn't react or is badly damaged then your device needs a screen replacement. Therefore, we offer a fast, secure, and low-cost screen repair service.
Our skilled technicians have replaced the screens of a lot of Huawei mobile phones so that your Huawei mobile looks like new. We carry out screen replacement in our stores with the help of trained and skilled technicians, which allows us to have the fastest and cheapest screen replacement service in Melbourne and Greensborough.
Huawei Y7 2018 Battery Repair
Is your Huawei Y7 2018 battery draining fast? Surely, your Huawei Y7 mobile phone is having a battery problem. Because of the issue, Huawei Y7 2018 battery replacement becomes mandatory. For Huawei Y7 2018 repairs, City Phones use genuine parts that last longer. The company believes in customer satisfaction during Huawei Y7 2018 repair and other phone repairs as well.
On the whole, every issue regarding Huawei Y7 2018 mobile phones is resolved perfectly at City Phones at a reasonable price. We replace cracked screens, damaged batteries, faulty charging ports, and blurred camera lenses.
Huawei Y7 2018 Mobile Camera Repair      
Huawei Y7 2018 mobile camera repair becomes a necessity if your mobile phone's camera starts malfunctioning or the photos taken from the camera are blurred and not clear. Our team of experts in Melbourne and Greensborough are dedicated to providing reliable and efficient Huawei mobile phone camera repair services. Our team of technicians uses genuine parts while replacing the camera parts of your Huawei Y7 2018 mobile phone. Our technicians take utmost care while repairing your Huawei Y7 2018 mobile phone camera.
Huawei Y7 2018 Charging Port Repair  
City Phones can replace your Huawei Y7 2018 charging port at a reasonable price. This service will replace the charging port in your device if it is not responding to the charger cable or is being wrongly inserted or the device itself won't charge up due to a faulty charging port. Many times in our lives, we have experienced that mobile phones start taking longer than usual while charging. We think this might be an issue with the charger or the charging cable, but actually, it is the fault of the charging port of your Huawei mobile phone. In this situation, the replacement of the charging port becomes mandatory. City Phones replaces the charging port of your Huawei mobile phone at a reasonable price and within a minimum of time, because all repairs take place at our stores located in Melbourne and Greensborough.
Huawei Y7 2018 Mobile Water Damage Repair  
Although the mobile phone industry has shifted to designing water-proof or water-resistant mobile phones, few phones are truly water-resistant, and even those that are can only withstand immersion in water for a few minutes. If water has entered into your Huawei Y7 2018 mobile phone, act quickly by immediately visiting our stores to avoid damage to the motherboard and other internal components. If your Huawei mobile phone has a removable battery, remove it and don't put it back in the phone. City Phones' expert technicians will do all the needful to bring your water damaged Huawei mobile phone again to life.
City Phones understands that your mobile phone plays an important role in your life. Therefore, we offer quality and fast service for our customers along with competitive prices and genuine parts. We try our best to get you back to your phone as soon as possible. With our fully skilled and experienced phone technicians, most issues, including the Huawei Y7 2018 screen replacement, will be done in 30 minutes to 1 hour. If you book the service in advance, it is more efficient to get the job done as we will have all the necessary parts ready in advance for your Huawei Y7 2018 repair. City Phones is one of the best choices for Huawei mobile repair, offering a high-quality repair service at an affordable cost. For any queries or questions regarding your mobile phone repair service, feel free to contact us on 0426504955 or email us at info@cityphones.com.au.