IPAD 12.9 3rd Generation Repair
IPAD 12.9 3rd generation repair
| Issue | Price |
| --- | --- |
| IPAD 12.9 3rd Generation LCD Repair (Broken LCD, No display, lines, dead pixels, etc ) | $800 |
| IPAD 12.9 3rd Generation Battery Replacement | $349 |
| IPAD 12.9 3rd Generation Charging Port Repair | $349 |
| IPAD 12.9 3rd Generation Microphone Repair | $349 |
| IPAD 12.9 3rd Generation Ringer/loudspeaker Repair | $349 |
| IPAD 12.9 3rd Generation Headphone Port Repair | $349 |
| IPAD 12.9 3rd Generation Back Camera Repair | $349 |
| IPAD 12.9 3rd Generation Front Camera Repair | $349 |
| IPAD 12.9 3rd Generation Camera Lens Repair | $75 |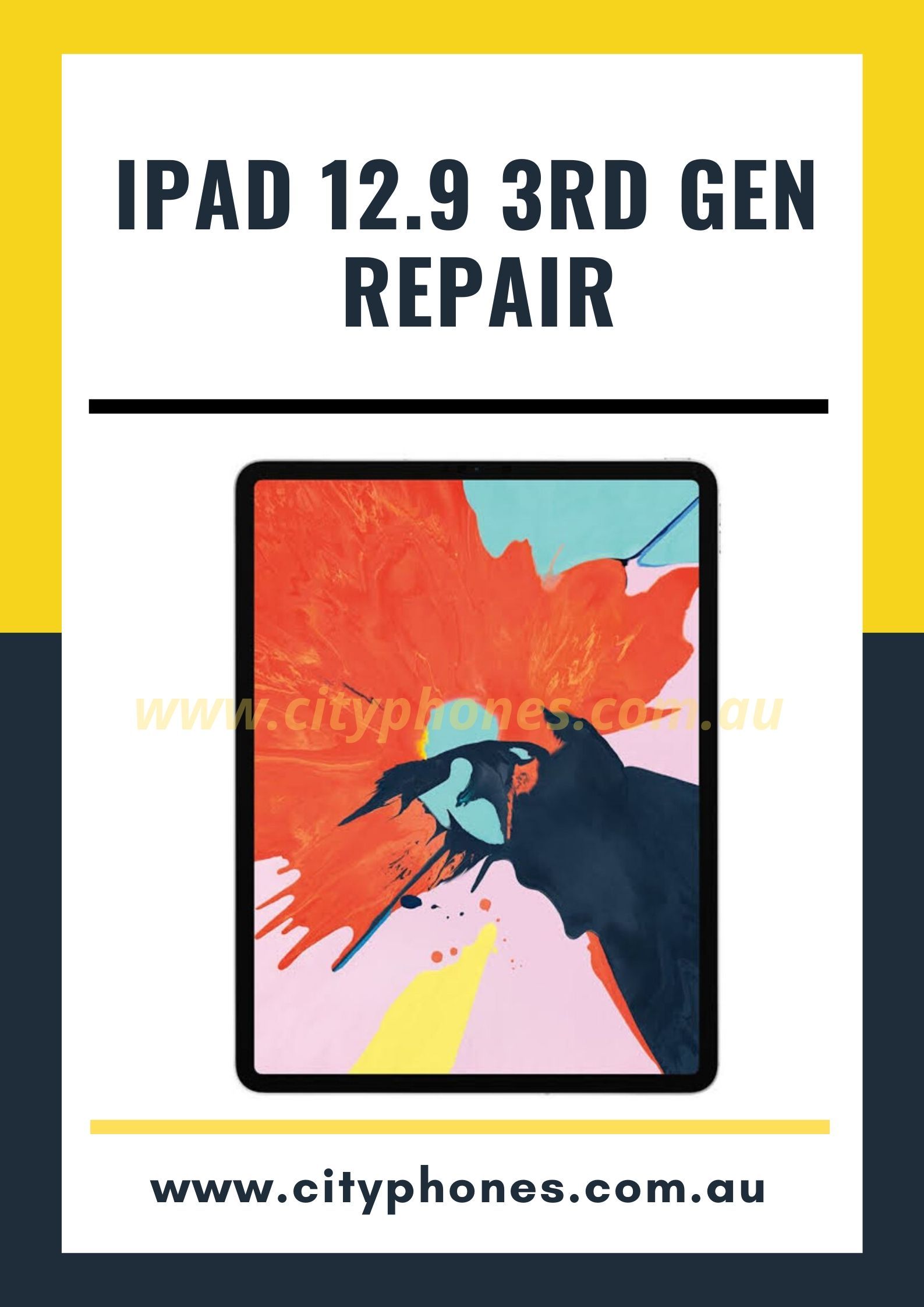 IPAD 12.9 3rd Generation Repair
IPAD 12.9 3rd Generation Repair in Melbourne and Greensborough
It's big, it's beautiful, It is the IPAD 12.9 3rd Generation Tablet. IPAD 12.9 3rd Generation repair and screen repair, we are specialized in replacing the screens of the IPAD 12.9 3rd Generation in Melbourne and Greensborough. City Phones keeps all high-quality parts of the IPADs in stock so that you don't have to wait for your IPAD to get in the same condition as it was before the damage. We can replace the broken screen of the IPAD 12.9 3rd Generation on the same day on the spot and within just 30 minutes to an hour. We use genuine repair parts to make the repair durable and long-lasting. IPADs are very technical devices and can get further damaged if it is not handled by a qualified technician. Here at City Phones, we make sure that your damaged IPAD 12.9 3rd Generation gets the correct repair service so that you are again able to use it as soon as it is possible for us. Also, you get a guaranteed standard repair warranty with every repair we accomplish.
IPAD 12.9 3rd Generation Repair in Melbourne and Greensborough
Screen repair is one of the common repairs and if you possess an IPAD 12.9 3rd generation having cracks on the screen from corner to corner, hairline or a full-on shatter visit City Phones' store in Melbourne and Greensborough and get your device fixed on the spot. Don't think a bigger screen size IPAD is more durable than a smaller screen size IPAD. A single drop from hands can cause several cracks on the screen of this IPAD. City Phones is a team of highly qualified professional technicians' expert in repairing all brands IPADs be it Samsung or be it Apple. They are capable of repairing IPADs at an affordable price using high-quality repair parts. It becomes important to repair the broken screen of this IPAD right away as any further use or a sudden bump can push glass into the LCD underneath, damaging the IPAD and requiring a more costly repair. We repair the broken screens with high-quality replacement parts. We offer same-day repair service taking 30 minutes to an hour to convert your broken IPAD 12.9 3rd Generation into a new IPAD.
Most of repair are completed in same day. Call us today for more details.
City Phones can fix the following issues with your IPAD 12.9 3rd Generation tablet.
 Broken Screens
 Faulty Battery
 Faulty Charging Port
 Faulty Microphone
 Faulty Headphone Port
 Faulty Back/Front Cameras
 Faulty Home Button
 Faulty Loudspeaker