IPHONE 15 Repair Price
| Issue | Apple Genuine Parts | Aftermarket Parts | Estimated Repair Time |
| --- | --- | --- | --- |
| IPHONE 15 Screen Replacement | Call | NA | 30-60 Minutes |
| IPHONE 15 Battery Replacement | Call | NA | 30-60 Minutes |
IPHONE 15 Other Repair Services
| Issue | Aftermarket Parts | Repair Time |
| --- | --- | --- |
| IPHONE 15 Backglass replacement | Call | 2-3 hours |
| IPHONE 15 Charging Port Repair | Call | 60 Minutes |
| IPHONE 15 Microphone Repair | Call | 60 Minutes |
| IPHONE 15 Ear Speaker Repair | Call | 60 Minutes |
| IPHONE 15 Ringer/loudspeaker Repair | Call | 60 Minutes |
| IPHONE 15 Back Camera Repair | Call | 60 Minutes |
| IPHONE 15 Front Camera Repair (without Face id) | Call | 60 Minutes |
| IPHONE 15 Camera Lens repair | Call | 60 Minutes |
| IPHONE 15 Back Frame Replacement | Call | 60 Minutes |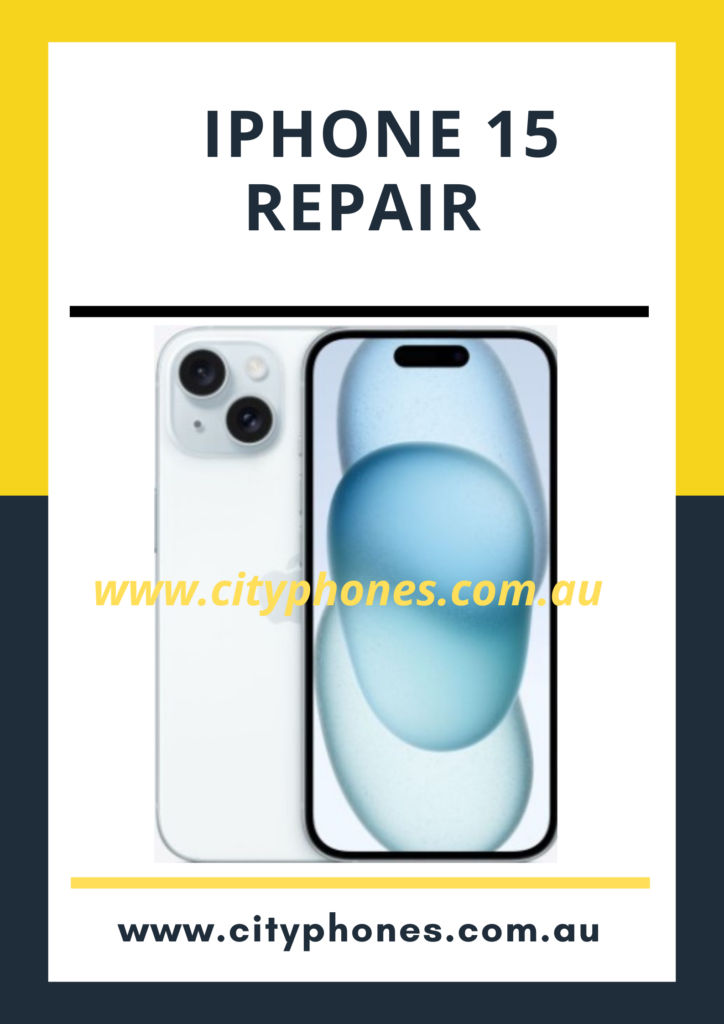 IPHONE Repair Features
1 Year warranty for the repairs through Apple IRP.
Apple-certified expert technicians.
Fast and on-the-spot repair.
Best price guaranteed.
Standard Warranty on All Repairs.
Original Repair parts sourced from Apple.
IPHONE 15 Repair in Melbourne
What Technological Advancements Have Been Made in IPHONE 15
IPHONE 15 was recently launched on 12th September 2023 in a special Apple Event in the "Wonderlust" event held in Cupertino, California. This is the latest offering by Apple Inc. In this phone, many technological advancements have been made like a USB-C type connector, an advanced A16 Bionic Chip, the Dynamic Island instead of a top within the display, upgraded camera technology, and long-lasting batteries. The display screen of the IPHONE 15 is made tougher than the previously released models by Apple. The first time it has been seen that colors have been infused within the complete back glass thus creating IPHONE 15 in five vibrant colors.
Can You Get Your IPHONE 15 Repaired?
Though IPHONE 15 is made much more durable due to recent technological advancements. The screen is also made tougher than the previously released IPHONE models like IPHONE 14 series phones. Apple claims that the glass used in the screen of IPHONE 15 is tougher than the glass used in any other smartphone presently available in the market. But accidents do happen and could break the glass of the IPHONE 15 into pieces. City Phones with the help of its highly skilled and talented technicians could replace the shattered screen of your IPHONE 15 with a brand new, high-quality and genuine IPHONE 15 screens. City Phones also offers a standard repair warranty with every repair. City Phones is Independent Repair Provider (IRP) so all the replacement parts used in the IPHONE 15 screen replacement are directly sourced from Apple Inc. City Phones could also repair your IPHONE using aftermarket parts which are high-quality parts not sourced from Apple. These parts possess a 6-month warranty on the repair.
What is the Price of IPHONE 15 Screen Replacement?
Screen Repair is the commonest repair needed after the fall of the IPHONE 15. Although IPHONE 15 screens are made of toughened glass but due to an accidental fall from your hands the screen of your IPHONE 15 gets cracked and needs to be replaced urgently. City Phones IPHONE 15 screen replacement prices are less. We replace all IPHONE 15 screens in our repair stores only and never send them to other cheap IPHONE screen replacement service providers. We offer our customers two options to get their precious IPHONE 15 screen replaced. Either they can choose Apple Genuine Parts, or they can choose Aftermarket Parts to get their cracked IPHONE screen replaced. The difference between the Apple Genuine parts and Aftermarket parts is that the Apple Genuine parts contain 1 Year warranty on the repair and the Aftermarket parts contain only 6 months warranty on the repair.
Is the IPHONE 15 Battery Replaceable?
Yes, the IPHONE 15 battery is replaceable, and our experienced technicians can replace the faulty battery of your IPHONE 15 easily, and that too in just 30 minutes to an hour. If you are experiencing a battery drainage issue within your IPHONE 15 then it is sure that your IPHONE 15 battery needs to be replaced. If you are searching for an experienced professional who could get your IPHONE 15 battery successfully replaced, then you need not look forward as City Phones is here to help. City Phones came into existence in the year 2015 and since then many professionals are still working with us and have gathered a handsome experience of eight years. After you hand over your IPHONE 15 in the hands of our professionals, you can rest assured and can take a good sleep. We assure you that after the faulty IPHONE 15 battery replacement you will get the same experience as you have got at the time of purchasing a new IPHONE 15.
What is the Charging Port Replacement Cost in Melbourne?
Charging port replacement is needed when you need to charge your IPHONE 15 again and again to work on your IPHONE. If you are facing such an issue in your IPHONE 15 then you need to understand that your IPHONE 15 needs a charging port replacement as the present IPHONE 15 charging port is not working correctly and has gone faulty. City Phones is a team of IPHONE expert professionals who could replace the IPHONE 15 charging port very easily and while you take a sip of coffee at a nearby restaurant your IPHONE 15 charging port gets replaced from the hands of the most experienced professionals. The newly replaced IPHONE 15 charging port takes the same time while charging completely as it used to take when you newly purchased your IPHONE 15.
Is Your IPHONE 15 Camera Repairable?
IPHONE 15 is equipped with an advanced camera system but the sudden slip of the IPHONE 15 could damage the front and back camera lenses. If you are experiencing blurred photos taken from your IPHONE 15 camera and the photos are not clear you need to understand that your IPHONE 15 camera needs camera lens replacement within both front and back cameras. Replacing IPHONE 15 camera lenses is typical work and needs expertise. City Phones with the help of its highly qualified professionals could replace the faulty front and back camera lenses perfectly and enable you to click magnificent photos again.
Where to Get Your IPHONE 15 repair services?
If you are stuck in a dilemma as to which repair store is best for you to get your IPHONE 15 perfectly repaired? Then allow us to answer your query and provide a suitable solution. Your IPHONE 15 is an expensive device and if it is repaired by an inexperienced technician, your IPHONE 15 could need to get frequent repair services. So, to avoid facing such a situation you should always choose experienced and skilled professionals like City Phones possess, who are expert enough to repair your IPHONE 15 perfectly.
Where to Buy the Latest IPHONE 15 Cases and Screen Protectors?
City Phones also sells IPHONE 15 cases and IPHONE 15 screen protectors to save your IPHONE 15 screen after suddenly falling from your hands. To keep your costly IPHONE 15 safe and secure you need to use the world's leading brands IPHONE 15 cases and IPHONE 15 screen protectors. Along with every IPHONE 15 case and IPHONE 15 screen protector, you get 10 days of replacement warranty and free shipping. Along with the free shipping you could also choose the pay later option using the AfterPay facility in which you can buy now and pay later.
We have three stores located in Melbourne and Greensborough, two stores are located on Elizabeth Street and one store in Greensborough.
LOCATION 1:
148 Elizabeth St, Melbourne CBD 3000.
Call on 0426504955.
Email at info@cityphones.com.au
Open all 7 days of the week.
Mon to Fri: 9.30am to 6.30pm Sat, Sun:10am to 5pm
Website: www.cityphones.com.au
LOCATION 2:
219-B Elizabeth St, Melbourne CBD 3000.
Call on 0479114955.
Email at info@cityphones.com.au
Open all 7 days of the week.
Mon to Fri: 9.30am to 6.30pm Sat, Sun:10am to 5pm
Website: www.cityphones.com.au
LOCATION 3:
L 01, Shop 137, 25 Main St, Greensborough, VIC 3088.
Call on 0432754955.
Email at info@cityphones.com.au
Open all 7 days of the week.
Mon to Fri: 9.30am to 6.30pm Sat, Sun:10am to 5pm
Website: www.cityphones.com.au