IPAD 2, IPAD 3, IPAD 4 Repair in Melbourne
IPAD 2/3/4 Repair
| Issue | Price |
| --- | --- |
| IPAD 2/3/4 Screen Repair | $75 |
| IPAD 2/3/4 LCD Repair (Broken LCD, No display, lines, dead pixels, etc ) | $150 |
| IPAD 2/3/4 Battery Replacement | $150 |
| IPAD 2/3/4 Charging Port Repair | $150 |
| IPAD 2/3/4 Microphone Repair | $99 |
| IPAD 2/3/4 Home Button Repair | $75 |
| IPAD 2/3/4 Ringer/loudspeaker Repair | $99 |
| IPAD 2/3/4 Headphone Port Repair | $99 |
| IPAD 2/3/4 Back Camera Repair | $99 |
| IPAD 2/3/4 Front Camera Repair | $99 |
| IPAD 2/3/4 Camera Lens Repair | $75 |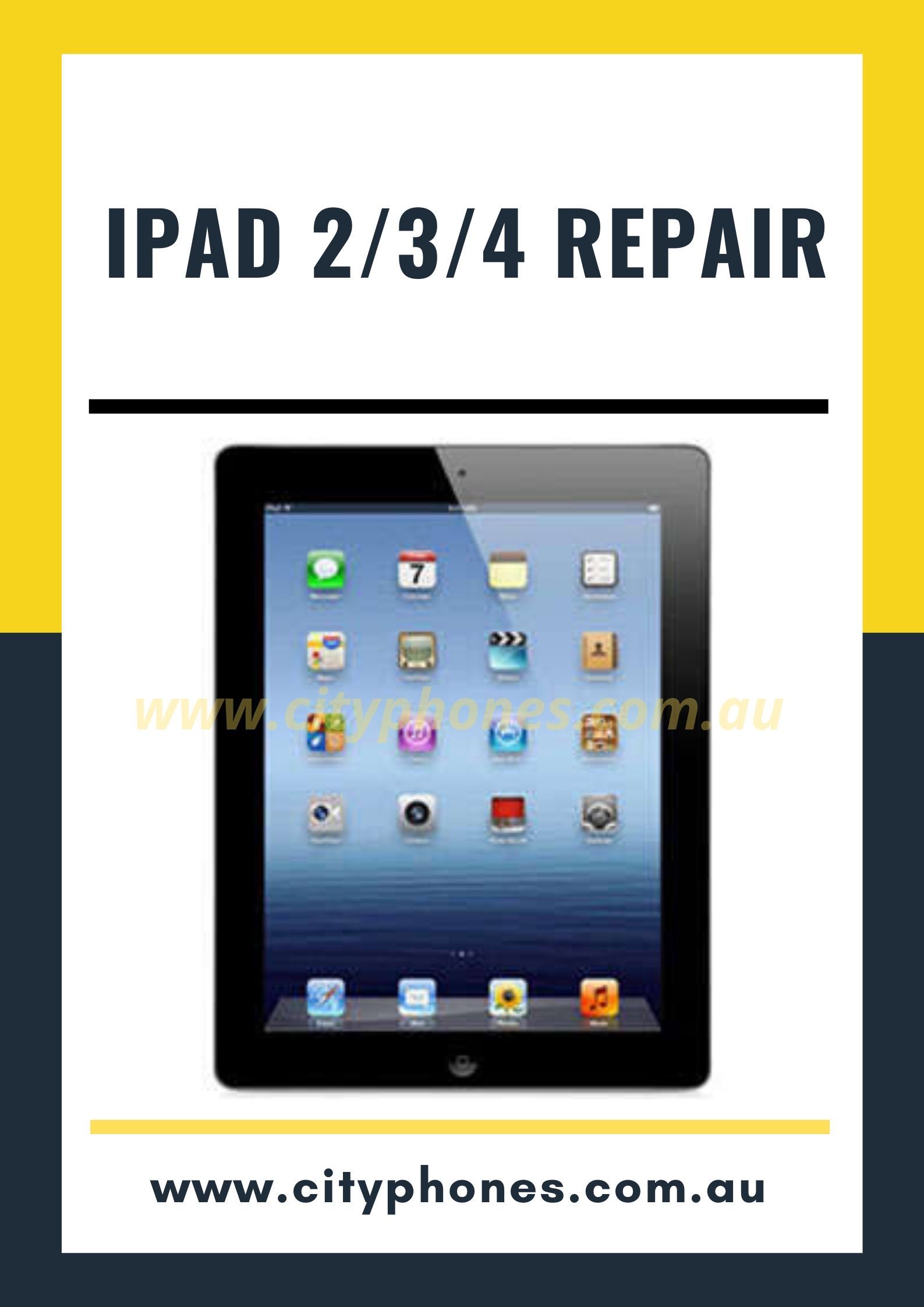 IPAD 2, IPAD 3, IPAD 4 Repair
IPAD 2, IPAD 3, IPAD 4 Repair in Melbourne and Greensborough
Do you possess damaged IPAD 2, IPAD 3, IPAD 4 screens, or cracked IPAD screens? This problem at City Phones can be looked at and provide the best option to repair it for you at an affordable price. Most IPAD repairs require removing the top glass or screen on top. This repair process will take just 30 minutes to an hour from the hands of experienced technicians with the main goal of returning the customer an IPAD in good working condition. We care very much about our IPAD 2, IPAD 3, IPAD 4 repair quality always to ensure the repaired IPAD is in good working condition as new. We simply choose the best quality parts not the cheapest ones as a good quality part will help us to make the repair a quality-based repair and make you happy. At City Phones technicians working with us have more than 6 years of experience so you need not worry as your IPAD repairs are in safe hands. We will make every necessary effort to repair your IPAD as quickly as possible because we understand the importance of an IPAD and why it is necessary to repair it as quickly as possible. We utilize modern equipment and the latest tools to repair your IPAD 2, IPAD 3, IPAD 4 so that we can repair the latest IPAD models as well with perfection.
IPAD 2, IPAD 3, IPAD 4 Screen Repair in Melbourne and Greensborough
We cover all IPAD 2, IPAD 3, IPAD 4 screen repair services using high-quality screens from the experienced hands of our technicians. At City Phones, our expert professional technicians always have in-depth knowledge of how IPAD screens work and how to replace them if it breaks or has several cracks after an accident. If you contact us in an emergency to replace a premium quality IPAD 2-3-4 screen we take minimum time as compared to others as all our screen replacements are done at our store only and we don't send our repair work to others because of which our screen replacement cost is low and affordable. We use only genuine screens or repair parts to accomplish all our repairs. All repairs done by us come with a standard repair warranty to back our repair efforts. We are a reputed IPAD service center with the main aim of providing our customer's total satisfaction and peace of mind after the repair work. We take complete care while providing repair work to your IPAD as we are aware of the importance of an amazing gadget like an IPAD in a user's life.
At Cityphones we can fix your IPAD. Most of repair are completed in same day. Call us today for more details.
City Phones can fix the following issues with your IPAD 2, IPAD 3, IPAD 4 tablets.
    Broken Screens
    Faulty Battery
    Faulty Charging Port
    Faulty Microphone
    Faulty Headphone Port
    Faulty Back/Front Cameras
    Faulty Home Button
    Faulty Loudspeaker
Feel free to get in touch with the Apple IPAD repair experts on 0426504955 or use our online chat service.