Huawei Nova 2 Lite Repair

Huawei Nova 2 Lite Repair
| Issue | Price |
| --- | --- |
| Huawei Nova 2 Lite Screen Repair | $149 |
| Huawei Nova 2 Lite Battery Replacement | $99 |
| Huawei Nova 2 Lite Charging Port Repair | $99 |
| Huawei Nova 2 Lite Microphone Repair | $99 |
| Huawei Nova 2 Lite Ear Speaker Repair | $99 |
| Huawei Nova 2 Lite Ringer/loudspeaker Repair | $99 |
| Huawei Nova 2 Lite Headphone port Repair | $99 |
| Huawei Nova 2 Lite Back Camera Repair | $99 |
| Huawei Nova 2 Lite Front Camera Repair | $75 |
| Huawei Nova 2 Lite Camera Lens repair | $75 |
| Huawei Nova 2 Lite Back Glass Repair | $75 |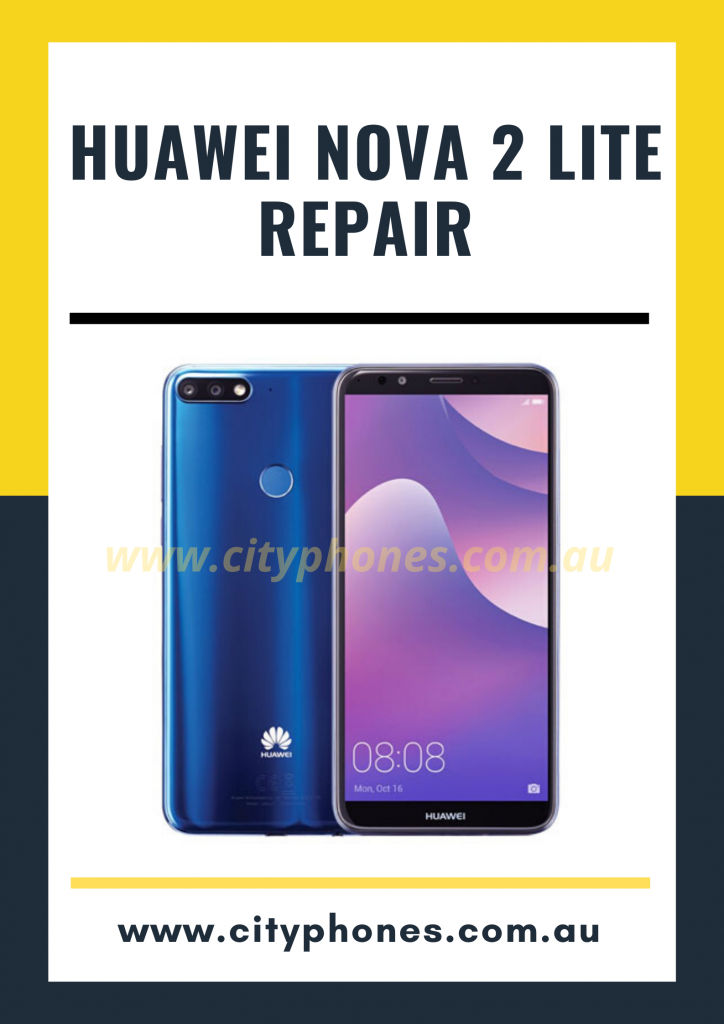 Huawei Nova 2 Lite Repair
Huawei Nova 2 Lite Repair in Melbourne
City Phones provides highly efficient Huawei phone repairs at an affordable price in Melbourne. A team of highly experienced Huawei phone repair specialists is always ready to provide reliable repair service for your damaged Huawei phone. The parts we used are genuine and of high-quality. Our goal is to provide quality and efficient mobile repair service for your Huawei Nova 2 Lite mobile. You will find our service at City Phones the best in Melbourne as we provide the quickest and on-the-spot repair for your damaged mobile phone. We understand that your phone plays an important role in your life. Therefore, we offer quality and fast service for our customers along with competitive prices and high-quality parts. We will try our best to return your phone as soon as possible. With our fully skilled and experienced phone repair technicians, most issues, including Huawei screen replacement and charging port replacement, will be done within 30 min. If you book the service in advance, it is more efficient to get this repair done.
City Phones has two stores in Melbourne CBD and another one inside Greensborough Plaza. Repairs to the Huawei Nova 2 Lite in City Phones Melbourne are done by expert repair technicians using high-quality parts. We provide a standard warranty for all our repair services. Our friendly technicians are trained specially to provide quality repair services for Huawei Nova 2 Lite mobile phones. We provide fast and on-time Huawei Nova 2 Lite repair services which make us the leading Huawei mobile repair service provider in Melbourne. City Phones provides affordable prices for Huawei mobile phone repairs. City phones provide quality repair services at an affordable price, our trained and experienced team of professional technicians provide repairs for most faults in the Huawei Nova 2 Lite mobile phone.
Huawei Nova 2 Lite Repair in Melbourne  
Everyone is looking for the best place to get their Huawei Nova 2 Lite repair services and there are a lot of choices to go with. City Phones is based in Melbourne CBD, has two locations, and can service the vast majority of phone defects. We repair almost all faults with the Huawei Nova 2 Lite, which is affordable for customers. Repairs are conducted in one of the 2 stores in the Melbourne CBD location where you may walk in without making an appointment. You can also post your damaged mobile to one of our stores and we will return your repaired mobile as soon as possible.
The common types of issues we repair for the Huawei Nova 2 Lite phone are as follows:
Screen Replacement:
LCD Replacement
Battery Replacement
Charging Port Replacement
Front Camera Replacement
Back Camera Replacement
Earphone Speaker Replacement
Loudspeaker Replacement
Power Button Replacement
Volume Button Replacement
Motherboard Repair
Water Damage Repair
City Phones is one of the best choices for Huawei mobile phone repair in Melbourne, offering a high-quality repair service at an affordable cost. For queries and questions regarding your mobile phone repair service, feel free to contact us on 0426504955 or email us at info@cityphones.com.au.