Samsung A54 Repair in Melbourne
Samsung A54 Screen Repair
| Issue | Price | Repair Time |
| --- | --- | --- |
| Samsung A54 Screen Repair | Call us for price and stock | 60-90 Minutes |
| Samsung A54 Glass Replacement | Call us for price and stock | 90 Minutes |
Samsung A54 Repair
| Issue | Price | Repair Time |
| --- | --- | --- |
| Samsung A54 Battery Replacement | Call us for price and stock | 60 Minutes |
| Samsung A54 Charging Port Repair | Call us for price and stock | 60 Minutes |
| Samsung A54 Microphone Repair | Call us for price and stock | 60 Minutes |
| Samsung A54 Ear Speaker Repair | Call us for price and stock | 60 Minutes |
| Samsung A54 Ringer/loudspeaker Repair | Call us for price and stock | 60 Minutes |
| Samsung A54 Back Camera Repair | Call us for price and stock | 60 Minutes |
| Samsung A54 Front Camera Repair (without Face id) | Call us for price and stock | 60 Minutes |
| Samsung A54 Camera Lens repair | Call us for price and stock | 60 Minutes |
| Samsung A54 Back Frame Replacement | Call us for price and stock | 60 Minutes |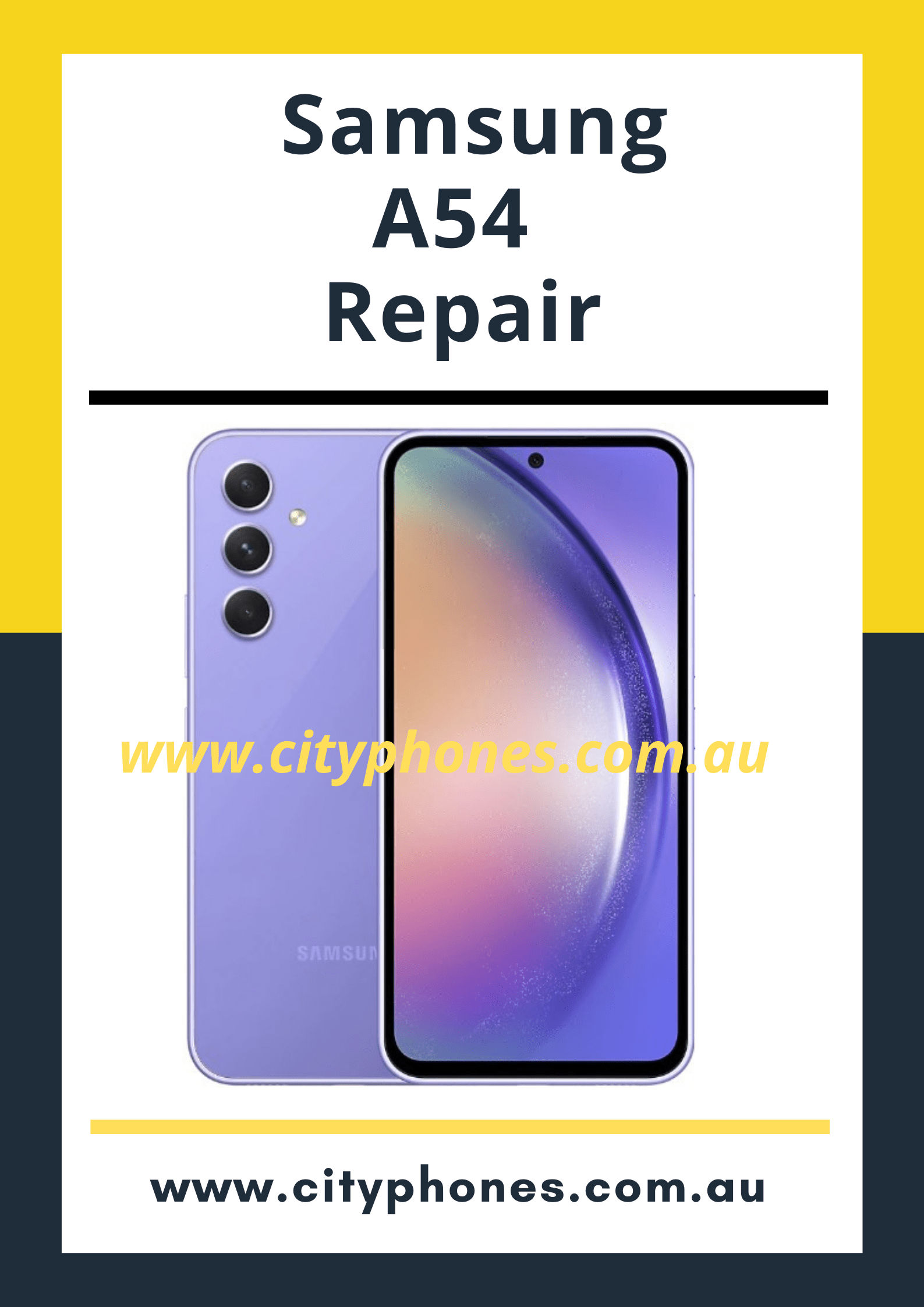 Samsung A54 Screen Repair by City Phones
Here at City Phones, we replace the cracked screen of your damaged Samsung A54 mobile phone on the spot. Cracked screen replacement of mobile phones is the commonest nature of repair needed when your mobile phone gets damaged due to a sudden hand slip. The time it takes to replace the cracked screen is not more than 30 minutes to an hour. Due to the vast experience our Samsung mobile specialists have under their belt, you need not have to worry if your Samsung A54 mobile phone screen is accidentally cracked. Several defects may occur within your Samsung A54 mobile phone due to this accidental drop in which cracking of the screen is the most anticipated one. City Phones' Samsung mobile experts have a wide range of repair parts available all the time with them to get screen replacement done on the spot. With the help of premium Samsung A54 screen replacement parts, we get your cracked screen replaced in the minimum possible time. We never overcharge you while doing screen replacements as we only charge our labor cost and replacement parts cost and nothing extra.
Samsung A54 LCD Repair in Melbourne and Greensborough
Falling of mobile phones from our hands is very common. It may happen that due to a nasty fall of Samsung A54 mobile, the LCD screen has started showing black lines or the screen goes blank. These defects show that the LCD touchscreen of your Samsung A54 mobile phone has gone faulty and needs to be urgently changed so that you continue enjoying the benefits of your new Samsung A54 mobile phone. All the magnificent features of your new Samsung A54 phone are a waste if the LCD touchscreen is not working correctly and you are seeing black lines instead of a bright and colorful mobile phone screen with App icons on it. You need not look forward in search of a qualified and expert Samsung A54 LCD repair technician as City Phones is here. With the help of highly qualified technicians, this leading Samsung mobile repair company will replace the faulty LCD touchscreen using premium Samsung A54 parts at an affordable price.
Samsung A54 Battery Replacement Melbourne CBD
Due to the heavy usage many times it happens that the Samsung A54 battery starts getting weak due to which you need to charge your mobile phone again and again. This situation could become worse with time so it will be better to replace the battery of your Samsung A54 as soon as you discover that your Samsung A54 mobile phone battery has started getting weak. Everyone wants the best replacement parts to be used in their mobile phones when their mobile phone needs repair. City Phones is the leading 
Samsung Authorized Service Centre in Melbourne
 so you can trust us that every part we will replace within your Samsung A54 mobile phone will be 100% original. This assures you that the Samsung A54 faulty battery replacement will be completely durable and will last long. Original 
Samsung A54 battery replacement
 guarantees that you will again be able to enjoy the same battery backup as you did when the phone was new.  City Phones never compromise with the quality of repair despite keeping mobile repair prices lowest in the market. The reason is that we do all the repair work at our repair stores and never transfer our work to another technician. We will employ our best technicians to replace the battery within your Samsung A54 mobile phone.
Samsung A54 Charging Port Replacement in Greensborough

As mentioned earlier several defects may develop in your Samsung A54 mobile phone due to an accidental fall from hands. Charging Port replacement is also one of the common defects which may develop in your Samsung phone. If your phone is not charging due to a faulty charging port of your Samsung A54 mobile phone even after tilting your Samsung A54 mobile at a certain angle. This confirms that your Samsung A54 charging port has gone faulty and needs urgent replacement to keep your phone in good charging condition. If you are looking for a well-qualified professional who could replace the charging port of your Samsung A54 mobile phone perfectly so that you could charge the Samsung A54 mobile phone as before when the phone was new. City Phones with the help of their highly experienced and trained technicians will replace the non-working charging port in just 30 minutes to an hour. After handling your Samsung A54 phone in the hands of our well-qualified technicians you can rest assured that your Samsung A54 charging port will be replaced perfectly.
Samsung A54 Front and Back Camera Repair in Melbourne
Nowadays mobile phones have become a necessity and everyone in this world could be seen carrying a mobile phone. While carrying a mobile phone sometimes it may fall from your hands and the cameras may get damaged. This camera damage may deteriorate the quality of photos taken from it so it becomes hard to recognize the images within the photographs. If you want to again take high-quality photos from your Samsung A54 mobile phone camera you need to replace the faulty front and back camera lenses. To do so you need a Samsung mobile phone repair specialist having good knowledge of replacing the Samsung A54 front and back camera lenses. City Phones has a few of the most experienced Samsung phone repair technicians working with them who are replacing the faulty front and back camera lenses using only genuine Samsung A54 front and back camera parts. Hire us and leave all your camera-related stress on our technicians. These experienced technicians will replace the faulty front and back camera lenses from the hands of their most experienced and talented technicians in 30 minutes to an hour.This phone was released in March 2023 with a weight of 202gm and 8.2mm thickness. The operating system installed in it is Android 13, One UI 5.1. Internal storage provided in this phone is 128GB and 256GB with a microSDXC card slot. Network technology supported in this phone is GSM / HSPA / LTE / 5G. The body dimensions of this phone are 158.2 x 76.7 x 8.2 mm, Gorilla Glass 5 made front glass, Gorilla Glass 5 made glass back, and the whole body is made of a plastic frame. It is IP67 dust/water resistant (up to 1m for 30 min). The display type of this phone is Super AMOLED with a refresh rate of 120Hz and HDR10+ technology. The screen size of this phone is 6.4 inches and has a 1080 x 2340 pixels screen resolution. Various RAM options provided by the manufacturer are 6GB and 8 GB. It has a triple main camera of 50MP, 12MP, and 5MP. It has a single selfie camera of 32MP. Other special features present in this phone are Fingerprint (under display, optical), accelerometer, gyro, compass, and Virtual proximity sensing. The battery type is Li-Po 5000 mAh, non-removable.
Samsung A54 Cases and Screen Protectors
City Phones also sells Samsung A54 cases, covers, and screen protectors at a very competitive price in the markets of Melbourne and Greensborough. Ensuring the safety of our costly mobile phones is very important. Good quality Cases and Covers minimize the effects of the falling of mobile phones and screen protectors prevent the screen of your mobile phone from unwanted scratches. We sell world-class Samsung A54 cases, covers, and screen protectors both
online
 and in-store. On every order placed on City Phones we provide free shipping Australia-wide and a 10-days return guarantee.