Nokia 5 Repair in Melbourne
Nokia 5 Repair
| Issue | Price |
| --- | --- |
| Nokia 5 Screen Repair | $119 |
| Nokia 5 Battery Replacement | $75 |
| Nokia 5 Charging Port Repair | $99 |
| Nokia 5 Microphone Repair | $99 |
| Nokia 5 Ear Speaker Repair | $99 |
| Nokia 5 Ringer/loudspeaker Repair | $99 |
| Nokia 5 Headphone port Repair | $99 |
| Nokia 5 Back Camera Repair | $99 |
| Nokia 5 Front Camera Repair | $75 |
| Nokia 5 Camera Lens Repair | $45 |
| Nokia 5 Back Glass repair | $65 |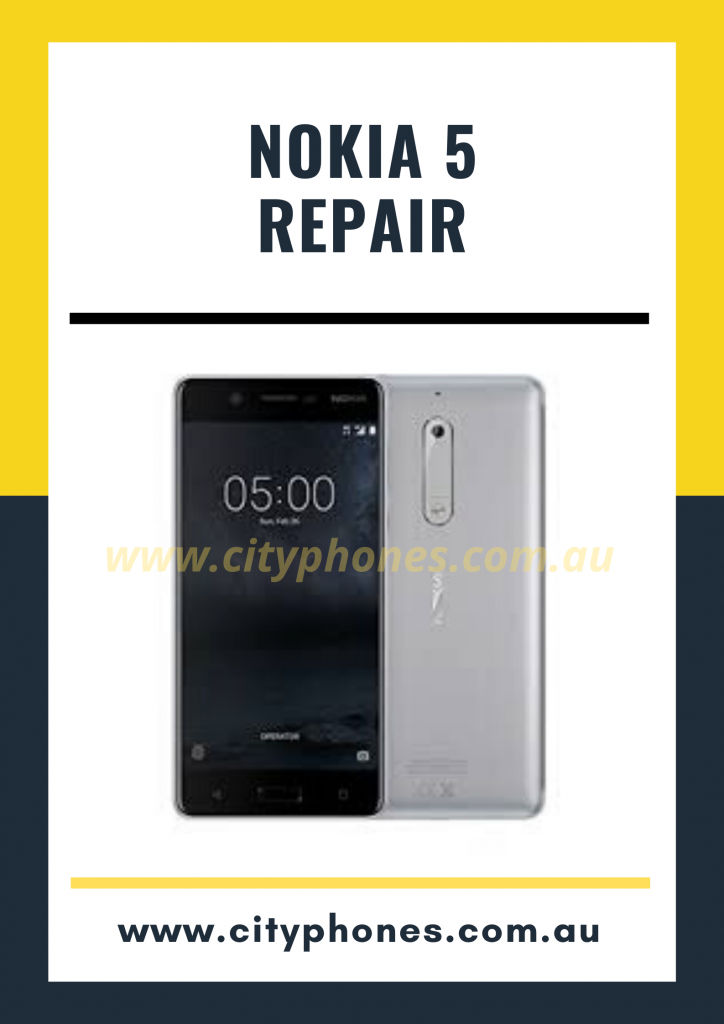 Nokia 5 Repair in Melbourne
Nokia 5 Repair in Melbourne and Greensborough
Are you searching for a high-quality Nokia 5 repair service for your Nokia mobile in Melbourne and Greensborough? Then look no further than City Phones. We are the best Nokia mobile phone repair shop that offers quality-based cell phone repair for your Nokia 5. We cover a wide variety of physical repair services for the Nokia 5. You can visit our stores for any necessary mobile phone repairs in Melbourne and Greensborough. Our experienced technicians are familiar with the repair issues that Nokia 5 may face. Your device is in safe hands as they only use high-quality parts for the repair of your device. To back up our Nokia mobile repair service, we provide a standard repair warranty with each repair we perform, except for water-damaged devices. We use only genuine parts while repairing your Nokia mobile phone. We also accept Nokia 5 repair requests sent by post for which you have to send your Nokia mobile phone to one of our store addresses. We will repair your Nokia phone and send it to your address at the earliest possible.
Nokia 5 Screen Repair
Nokia 5 Repair and Screen Repair in Melbourne and Greensborough. City Phones have quality parts and the most competitive prices in the market. The Nokia 5 is a very durable and fast phone within your budget. This Nokia phone has all the high specifications you can expect from a high-end smartphone. We also understand the value of the device in our lives. We will have your device fixed as soon as possible. Normally, screen repair on Nokia 5 devices takes around one hour. Our expert technicians have been specially trained to repair Nokia 5 mobiles. Our qualified and friendly staff are ready to help you out with any sort of damage. At City Phones, we give the most importance to our customers' phones as we know their value. All repairs come with a standard repair warranty from us. City Phones is the leading mobile repair company in Melbourne and Greensborough, Australia. We provide best-in-class premium phone repair services. We provide repair services from our stores located in Melbourne and Greensborough. Our website can provide you with instant quotes for your Nokia 5 mobile phone, and you can book a repair.
Some of the common Nokia 5 repair services we provide are:
    Broken Screen
    Broken LCD
    Faulty charging port
    Faulty Headphone jack
   Faulty back/front camera
   Water damage
   Battery not charging
   Motherboard issues
Feel free to contact us if you have any query or question regarding the repair of your Nokia 5 mobile phone at 0426504955 or email at info@cityphones.com.au. We are located at 148 Elizabeth Street, Melbourne, VIC 3000 or Shop 2, 231 Elizabeth Street, Melbourne, VIC 3000 and L 01, Shop 137, 25 Main Street, Greensborough, VIC 3088.