Huawei Y9 Prime Repair
| Issue | Price |
| --- | --- |
| Huawei Y9 Prime Screen Repair | $180 |
| Huawei Y9 Prime Battery Replacement | $99 |
| Huawei Y9 Prime Charging Port Repair | $99 |
| Huawei Y9 Prime Microphone Repair | $99 |
| Huawei Y9 Prime Ear Speaker Repair | $99 |
| Huawei Y9 Prime Ringer/loudspeaker Repair | $99 |
| Huawei Y9 Prime Headphone port Repair | $99 |
| Huawei Y9 Prime Back Camera Repair | $99 |
| Huawei Y9 Prime Front Camera Repair | $75 |
| Huawei Y9 Prime Camera Lens repair | $75 |
| Huawei Y9 Prime Back Glass Repair | $75 |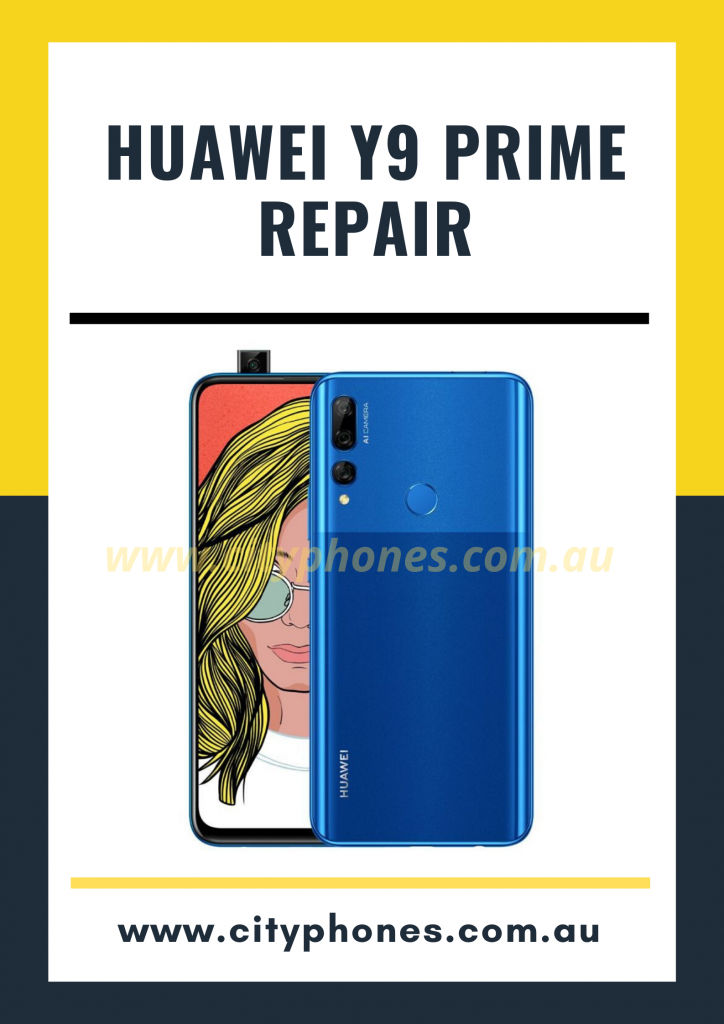 Huawei Y9 Prime Repair in Melbourne
Huawei Y9 Prime Repair in Melbourne
Looking for a Huawei Y9 Prime repair in Melbourne and Greensborough? City Phones is one of the leading Huawei Mobile Repair shops when it comes to repair your damaged Huawei Y9 Prime phone. So, whether you need a Huawei screen repair or screen replacement, we at City Phones offer the best repair service to customers. All the parts we use for Huawei repairs are of the highest quality and we also offer a standard warranty. Our team of experts at Melbourne and Greensborough are dedicated to providing a reliable and efficient Huawei phone repair service. Our team consists of experienced technicians. We also provide competitive pricing and offer same-day service for minor repairs and at the earliest for major complaints. Our team will repair your phone at a reasonable rate and we offer 100% customer satisfaction.
Huawei Y9 Prime Screen Repair in Melbourne
Though the Huawei Y9 Prime screen comes with protective glass, the widescreen is as yet defenseless against drops from hands. A cracked screen is the most common hardware damage which occurs in Huawei phones after a sudden fall or slips from hands. As screens are glass, a single drop may prompt devastating breaks on the screen. Screen repair is likewise perhaps the costliest repair, among others.
If you accidentally broke your screen, you needn't to stress as we have experienced technicians who replace Huawei mobile screens within 30mins to an hour.  We offer an affordable, high-quality, and professional approach in all repairs we perform using genuine parts.
Huawei Y9 Prime Back Cover Replacement
Here at City Phones, we do back cover replacement of your new Huawei Y9 Prime phone at an affordable price. We replace your broken or unworkable back cover with a new one. Each item is checked before installation. We guarantee that the newly replaced back cover will completely fit your Huawei Y9 Prime mobile.
Huawei Y9 Prime Battery Replacement
Is your Huawei Y9 Prime battery draining fast? Surely, you will have a Huawei Y9 Prime battery problem. To resolve this problem you have to replace your Huawei Y9 Prime battery. For Huawei Y9 Prime repairs, City Phones use genuine spare parts that last longer. The leading Huawei Y9 Prime mobile repair shop in Melbourne and Greensborough believes in total customer satisfaction during Huawei Y9 Prime repair and other phone repair as well. We resolve every problem you are likely to face with your new Huawei Y9 Prime mobile phone. We replace cracked screens, damaged batteries, and distorted speakers. Blurry cameras and charging issues are also resolved.
Huawei Y9 Prime Camera Repair
In this busy world, mobile phones have become a part of our every minute activities. With access to them every minute we happen to drop them accidentally or get scratches by regular use. Being a well-made and sturdy phone, such drops and accidents may cause harm to the camera of the Huawei Y9 Prime Phone. At City Phones, we can easily replace the faulty camera of your phone with a new one in your handset. We provide a standard repair warranty for all repairs we perform. If we talk about the time taken to replace the faulty camera of your phone it will take just 30 mins to 1 hour.
Huawei Y9 Prime Camera Lens Repair
City Phones advises to get the repair service by professionals as a small mistake can result in damages to the parts and phone as well. At City Phones, we have a trained team of professional technicians who perform Huawei Y9 Prime Camera Lens Replacement with utmost care and handle all parts gently. We use proper tools to disassemble the device. We repair, replace old, broken, cracked, damaged faulty camera lenses with a new camera lens so that your mobile phone again starts taking amazing photos.
Huawei Y9 Prime Charging Port Repair
Many times we see that Huawei Y9 Prime phone takes longer than usual in charging to full battery capacity, we quickly come to a result that the charging cable or the charger of the phone might have gone faulty but on careful diagnosis, we will find that the charging port of Huawei phone is not working properly and needs to be replaced with a new one. On the off chance that you need to have a Huawei Y9 Prime charging port replacement at a reasonable price, visit our stores in Melbourne and Greensborough. We offer charging port replacement using genuine parts. You can have the repair done in 30 mins to 1 hour.
Huawei Y9 Prime Water Damage Repair
In case your mobile phone is exposed to water you should immediately bring your phone to one of our stores in Melbourne and Greensborough. Our specialist technicians will remove any moisture or dampness off your mobile and check if your phone needs any further repair. We know that water damage is a very serious issue and should be dealt with by expert technicians as a minor error could damage the phone further. Trust the leading Huawei Y9 Prime water damage experts to bring your phone again to life.