Huawei Nova 5t Repair in Melbourne

Huawei Nova 5t Repair
| Issue | Price |
| --- | --- |
| Huawei Nova 5t Screen Repair | $199 |
| Huawei Nova 5t Battery Replacement | $99 |
| Huawei Nova 5t Charging Port Repair | $99 |
| Huawei Nova 5t Microphone Repair | $99 |
| Huawei Nova 5t Ear Speaker Repair | $99 |
| Huawei Nova 5t Ringer/loudspeaker Repair | $99 |
| Huawei Nova 5t Headphone port Repair | $99 |
| Huawei Nova 5t Back Camera Repair | $99 |
| Huawei Nova 5t Front Camera Repair | $75 |
| Huawei Nova 5t Camera Lens repair | $75 |
| Huawei Nova 5t Back Glass repair | $75 |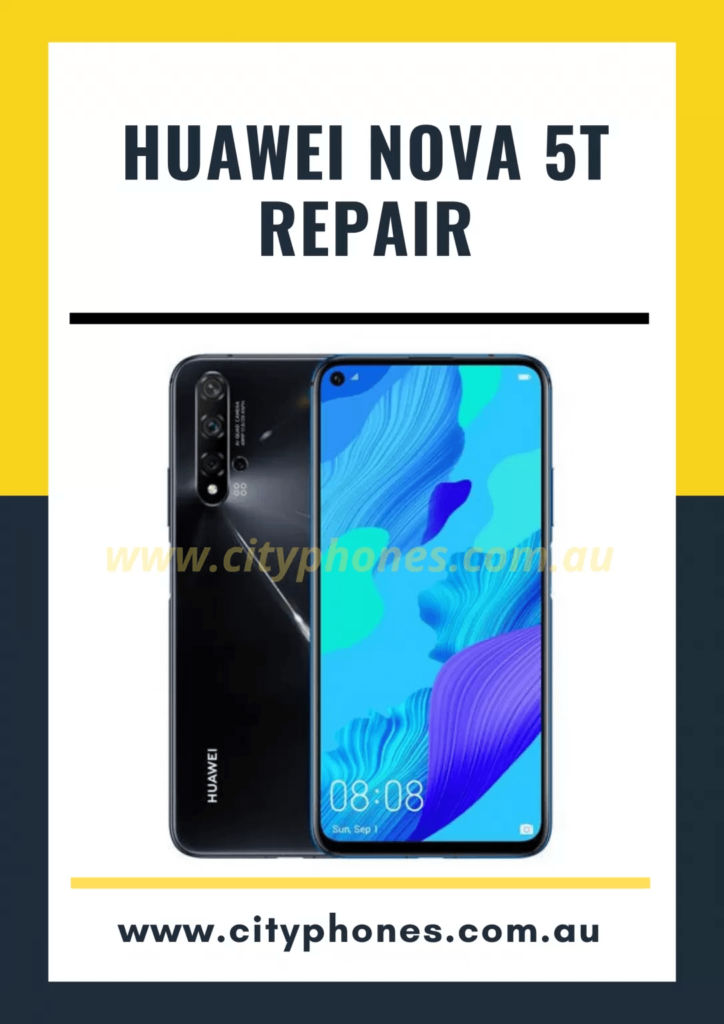 Huawei Nova 5T Repair in Melbourne
Looking for a repair service for your Huawei Phone? City Phones offers a wide range of phone repair services. With many years of experience in this field, we are known to offer you instant, hassle-free solutions to all your repair and replacement issues on any Huawei phone model. We offer all kinds of repair and replacement solutions for your new device, the Huawei Nova 5T phone, including screen repair and replacement, battery replacement, charging port repair, and much more.
HUAWEI Nova 5T Phone Screen Replacement
One of the most common issues that Huawei Nova 5T phone users face is the broken screen. While Huawei phones are a major hit among mobile phone users, they are also highly prone to scratch or broken screens due to the sensitivity of the screen. The best solution to deal with this problem is screen replacement. Some may feel that this can be done easily by anyone, but replacing a Huawei phone screen is crucial and is a complex process, and it should be done by an expert only. Irrespective of the issues you face with your Huawei phone screen, City Phones' highly trained staff can fix all screen-related problems in a short period of time.
Huawei Nova 5T Battery Replacement
Huawei phone batteries are considered very strong as they use Li-Ion batteries, but their life span is highly controversial. When you feel your Huawei phone battery is taking longer than expected to charge or your phone starts draining before the expected run time, it is time to replace your mobile phone's battery. Studies show that the Huawei phone's battery lasts for two years, but that doesn't mean that it cannot have other issues. If you feel your phone's battery is not performing well, call us to get a suitable resolution.
Huawei Nova 5T Charging Port Replacement
The primary problem when your Huawei phone stops charging is to figure out if the problem is with the charger or whether you have a faulty charging port. Our team of experts has a proper understanding of the Huawei phone charging port issues, so they will let you know whether you have a problem with the charging port of your phone or not. We will replace the charging port of your phone with complete care for a reasonable price, and within minutes, your phone will again start charging as usual. We use only genuine parts so that you can remain tension-free after the charging port repair.
Huawei Nova 5T Power Button Repair
The power button problem is highly common not only with Huawei phones but with most of the mobile phones. If your Huawei phone's power button stops working, you will likely feel difficulty switching your phone's power on and off. So, repairing your mobile's power button becomes a must, and City Phones helps you in this regard for a reasonable price.
Huawei Nova 5T Phone Speaker Replacement
Playing and storing music is one of the major uses of mobile phones these days. Huawei phones, in particular, are especially known for their massive storage space, so that the listener can store a large collection of music files in them. Your phone's speakers might start malfunctioning with time By turning the volume level up and down, if your phone's speaker sound doesn't keep rising and falling, you must understand that your phone's speakers are not working, and you need to replace them. Call us at 0426504955 or visit our website to book repair for your phone's model.
City Phones is one of the best choices for Huawei mobile repair, offering a high-quality repair service at an affordable cost. For any queries or questions regarding your mobile phone repair service, feel free to contact us on 0426504955 or email us at info@cityphones.com.au.