Nokia 7.2 Repair in Melbourne
Nokia 7.2 Repair
| Issue | Price |
| --- | --- |
| Nokia 7.2 Screen Repair | $169 |
| Nokia 7.2 Battery Replacement | $75 |
| Nokia 7.2 Charging Port Repair | $99 |
| Nokia 7.2 Microphone Repair | $99 |
| Nokia 7.2 Ear Speaker Repair | $99 |
| Nokia 7.2 Ringer/loudspeaker Repair | $99 |
| Nokia 7.2 Headphone port Repair | $99 |
| Nokia 7.2 Back Camera Repair | $99 |
| Nokia 7.2 Front Camera Repair | $99 |
| Nokia 7.2 Camera Lens Repair | $45 |
| Nokia 7.2 Back Glass repair | $65 |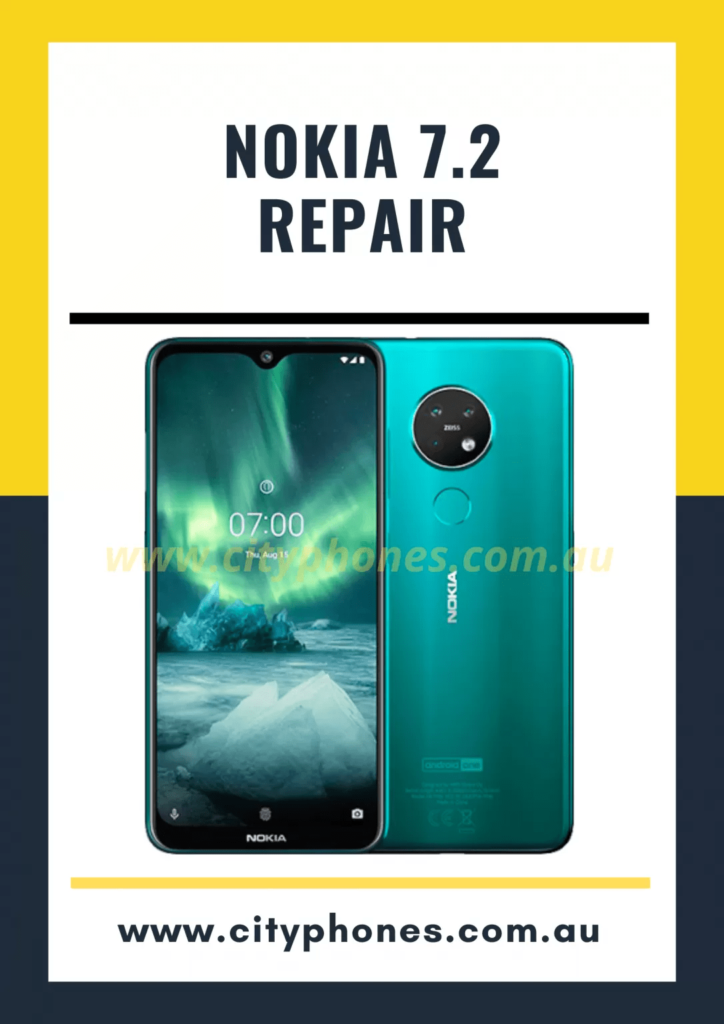 Nokia 7.2 Repair in Melbourne
Nokia 7.2 Repairs in Melbourne
We understand that your Nokia 7.2 is valuable to you, and in today's busy lifestyle, it's impossible to live without your smartphone for even an hour. That's why we offer comprehensive repairs for the Nokia 7.2, and if you might feel that you're out of the loop without the smartphone, we've made the repair process simple and easy, which means you're online sooner rather than later. At City Phones, we believe that technology repair should be convenient and easy. That's why we offer services which are customer centric and prove to be problem solver. Whether you need a Nokia 7.2 replacement screen or just some standard Nokia repairs, we can help you to get your phone working again. Our team of Nokia repair experts can help you to get your mobile phone repaired.
Nokia 7.2 Screen Repair 
Though the Nokia 7.2 screen comes with protective glass, the large screen mobile phone is as yet defenseless against accidental drops and slips from hands. If your Nokia 7.2 mobile hits a hard surface, it is likely that the phone's screen will get shattered. A messed-up screen is probably the most common damage which may occur to your Nokia 7.2 mobile phone. Screen repair is likely to be the costliest repair, among other repairs needed on Nokia phones. We offer excellent screen repairs in Melbourne and Greensborough at a reasonable price.
City Phones will repair the following damage to the Nokia 7.2 series mobile phone.
• Broken Screen
• Broken LCD
• Faulty charging port
• Faulty Headphone jack
• Faulty back/front camera
• Water damage
• Battery not charging
• Motherboard issues
Feel free to get in touch with our experts on 0426504955 or you can email them at info@cityphones.com.au