IPHONE 11 Pro Max Repair in Melbourne
IPHONE 11 Pro Max Screen Repair
| Issue | Price | Repair Time |
| --- | --- | --- |
| IPHONE 11 Pro Max Screen Repair ( LCD and touch are Still working ) | $199 ( Original Refurbished ) | 30 Minutes |
| IPHONE 11 Pro Max LCD Repair (Broken LCD, No display, lines, dead pixels, etc ) | $279 ( Aftermarket Quality ), $499 ( Original Refurbished ) | 30 minutes |
| IPHONE 11 Pro Max Back Glass Replacement | $149 | 1-2 hours |
| Issue | Price | Repair Time |
| --- | --- | --- |
| IPHONE 11 Pro Max Camera Lens repair | $75 | 30 Minutes |
| IPHONE 11 Pro Max Back Camera Repair | $199 | 30 Minutes |
| IPHONE 11 Pro Max Battery Replacement | $220 | 30 Minutes |
| IPHONE 11 Pro Max Charging Port Repair | $249 | 60 Minutes |
| IPHONE 11 Pro Max Microphone Repair | $249 | 60 Minutes |
| IPHONE 11 Pro Max Ear Speaker Repair | $149 | 60 Minutes |
| IPHONE 11 Pro Max Ringer/loudspeaker Repair | $149 | 60 Minutes |
| IPHONE 11 Pro Max Front Camera Repair (without Face id) | $149 | 30 Minutes |
| IPHONE 11 Pro Max Back Frame Replacement | $299 | 1-2 Hours |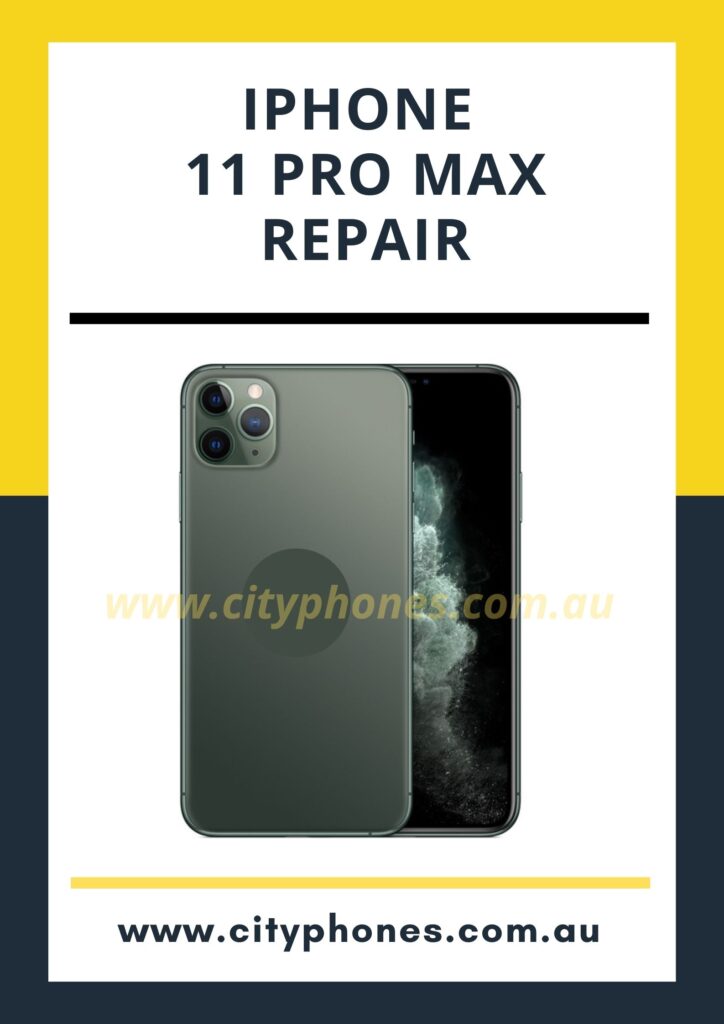 IPHONE 11 Pro Max Repair in Melbourne
IPHONE 11 Pro Max Screen Repair in Melbourne at best price. Call Now! Or book your repair here.
We have two different screen repair service for this model
1, If your phone LCD and touch are still working. In this case we can replace just front screen or glass and this service is cheaper then complete LCD replacement.
2, But if phone has following issues
Broken LCD
No Display
No Touch
Ghost Touch or Auto touch
Lines in LCD
Phone working but dark screen
In all these cases we have to replace complete LCD replacement. At City phones we can do IPHONE 11 pro max screen repair in 20-30 minutes. We use best quality parts and all our repairs come with warranty.
Other main issue in this phone broken back glass. We can do IPHONE 11 pro max broken back glass in 1-2 hours and phone will look like new again. Some times camera lens gets cracks due to drop. We have camera lens in stock and we can do IPHONE 11 pro max camera lens repair.
We will have your device fixed as soon as possible.Our qualified and friendly staff is ready to help you out in any sort of damage.
Please Note:
After repair the waterproof devices may not remain waterproof anymore.
After screen repair phone will display message: Unable to verify this phone has genuine display.
At Cityphones we give most importance to our customer's phone as we know their value. All repair comes with a warranty from us. It is always good idea to use phone case and tempered glass so that if you accidently drop your phone chances of damage get less. We have huge stock of accessories which you can buy from our online store.
Cityphones can fix the following damages to IPHONE 11 Pro max
-Broken Screens
-Broken LCD
-Faulty charging port
-Faulty Headphone Jack
-Faulty back/front cameras
-Water damage
-Battery not charging
-Motherboard issues
Please feel free to get in touch with an expert on 0426504955