IPHONE XS Max Repair in Melbourne
IPHONE XS MAX Screen Repair
Issue
Price
IPHONE Xs MAX Screen Repair

Price Drop

$109
IPHONE XS MAX Back Glass Replacement
$119
IPHONE XS MAX Battery Replacement
$99
IPHONE XS MAX Charging Port Repair
$119
IPHONE XS MAX Microphone Repair
$119
IPHONE XS MAX Ear Speaker Repair
$99
IPHONE XS MAX Ringer/loudspeaker Repair
$99
IPHONE XS MAX Back Camera Repair
$149
IPHONE XS MAX Front Camera Repair (without Face id)
$129
IPHONE XS MAX Camera Lens repair
$75
IPHONE XS MAX Back Frame Replacement
$175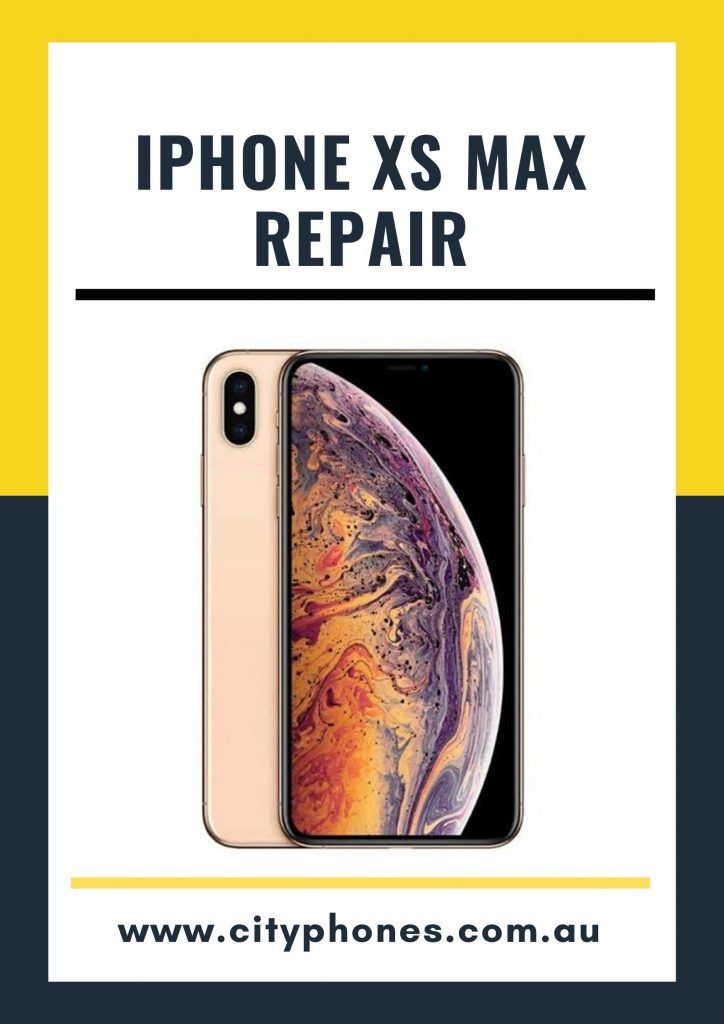 IPHONE XS Max Repair in Melbourne
IPHONE

XS

Max

Repair in Melbourne and Greensborough
Apple once again surprised its regular customers with introducing the IPHONE XS Max smartphone in the market. With very good specifications to keep all its customers on their toes, the tech giant has delivered us a super high-powered smartphone to make our lives efficient. In IPHONE XS Max mobile phone Apple has adopted a technique in which it increased its screen size within a smaller mobile device. This high-end smartphone offers a 6.5-inch diagonal display in a smartphone which changed all of our smartphone experiences. Apple manufactured IPHONE XS Max has one of the biggest IPHONE displays. It has a stronger screen and also apple claims that IPHONE XS Max is water-resistant as well. Although the IPHONE XS Max is one of the best IPHONE still accidents can occur. If you break your phone screen accidentally or if it has other issues such as battery problems or mainboard issues and need IPHONE XS Max repair service in Melbourne CBD. City Phones invites you to visit our stores in Melbourne and Greensborough as we are the best place to get your IPHONE repaired at an affordable price in Melbourne and Greensborough.
IPHONE

XS

Max

Screen Repair in Melbourne and Greensborough
IPHONE XS Max is a well-built smartphone best known for its sleek design and top-of-the-line features. However, the widescreen is still vulnerable to physical damage. Screen repair is also one of the most expensive repairs, among others. If you just broke your screen, City Phones offer cracked screen repair for IPHONE XS Max with the assistance of experienced and expert technicians who have been doing screen repairs for the last six years since 2015 when the company came into existence in Melbourne. We offer genuine IPHONE repair parts for the screen repair service here at Melbourne CBD and Greensborough Plaza which is also affordable. Getting your screen fixed can be simple, and it prevents your phone from getting other hardware issues that can't be fixed, even by an expert. At City Phones, we take complete care to replace the shattered screen of your IPHONE with a genuine one as our technicians have mastered the art of screen replacement to provide a swift and efficient screen replacement which you can rely upon.
IPHONE

XS

Max

LCD Repair in Melbourne and Greensborough
City Phones provides the best-in-class LCD repair and replacement service in Melbourne and Greensborough. In case your IPHONE XS Max LCD screen goes black, shows purple or green lines on the touch screen or you are experiencing touch issues while operating your IPHONE then the experienced technicians having more than six years working with City Phones will replace the faulty LCD of your IPHONE XS Max conveniently with ease in just 30 minutes to an hour. The best part of our LCD replacement service is that City Phones provides a standard repair warranty with every LCD replacement we perform. We assure you that we will use only genuine repair parts while performing LCD replacement for your IPHONE XS Max mobile phone.
IPHONE

XS

Max

Battery Repair in Melbourne and Greensborough
If you're looking to have your IPHONE XS Max battery replacement, then look no further than City Phones as we are the leading IPHONE mobile phone battery replacement service provider at an affordable price within Melbourne and Greensborough. Battery Replacement covers the replacement of the faulty battery on your mobile phone. With high-quality parts being used for the battery replacement service City Phones makes all efforts to provide its customers a swift and time bound IPHONE XS Max battery replacement experience. In City Phones, you get a brand-new battery replacement which enhances the durability and thus increases the lifespan of your IPHONE XS Max battery replacement service.
IPHONE

XS

Max

Charging Port Repair in Melbourne and Greensborough
If you want to have high-quality IPHONE XS Max charging port repair or replacement at an affordable price, then visit City Phones stores within Melbourne and Greensborough. We offer the charging port replacement using only high-quality genuine repair parts which increases the durability of our IPHONE charging port replacement service. In case your mobile phone is not charging with your charging adapter. You can change your IPHONE charging adapter and also the charging cable and see if your IPHONE is charging or not. If it is not charging, then it becomes sure that the charging port of your IPHONE is faulty and it needs to be replaced with a new one. City Phones has some of the most experienced technicians who can easily replace the IPHONE XS Max charging port with a genuine IPHONE charging port to enhance the durability of our repair service.
IPHONE

XS

Max

Front and Back Camera Repair in Melbourne and Greensborough
If you accidentally dropped your IPHONE XS Max mobile phone and you experienced that your IPHONE camera started taking blurred photos which are of a very bad quality not able to recognize anybody within the photograph, then you need to replace the lens of your IPHONE XS max mobile phone front and back camera which is a very crucial replacement service and it should only be done by an experienced IPHONE repair technician. City Phones has a team of technicians which are having good experience of more than six years in replacing the IPHONE XS Max front and back camera lens. With the use of original IPHONE replacement parts, your IPHONE XS max will be able to take magnificent photos just in 30 minutes to an hour.
City Phones also deals with the world's leading brands IPHONE XS Max cases, covers, and IPHONE XS Max Screen Protectors at competitive prices than the market. These cases, covers, and screen protectors will minimize the damage if your IPHONE suddenly drops from your hands and provide protection to your IPHONE XS Max's screen from accidental slips. To purchase premium quality branded IPHONE XS Max cases, covers, tempered glass, and screen protectors visit our online store to order online IPHONE XS Max accessories available at competitive prices with free shipping and AfterPay facility which enables you to buy your favorite IPHONE case and screen protector now and pay for it later.