IPHONE 6 Plus Repair
| Issue | Price |
| --- | --- |
| IPHONE 6 plus Screen Repair ( LCD and touch are Still working ) | $79 |
| IPHONE 6 plus LCD Repair (Broken LCD, No display, lines, dead pixels, etc ) | $89 (non-original) or $99(original Refurbished) |
| IPHONE 6 plus Battery Replacement | $59 |
| IPHONE 6 plus Charging Port Repair | $69 |
| IPHONE 6 plus Microphone Repair | $69 |
| IPHONE 6 plus Ear Speaker Repair | $50 |
| IPHONE 6 plus Home Button Repair | $50 |
| IPHONE 6 plus Ringer/loudspeaker Repair | $50 |
| IPHONE 6 plus Headphone Port Repair | $69 |
| IPHONE 6 plus Back Camera Repair | $69 |
| IPHONE 6 plus Front Camera Repair | $69 |
| IPHONE 6 plus Camera Lens repair | $35 |
| IPHONE 6 plus Back Frame Replacement | $99 |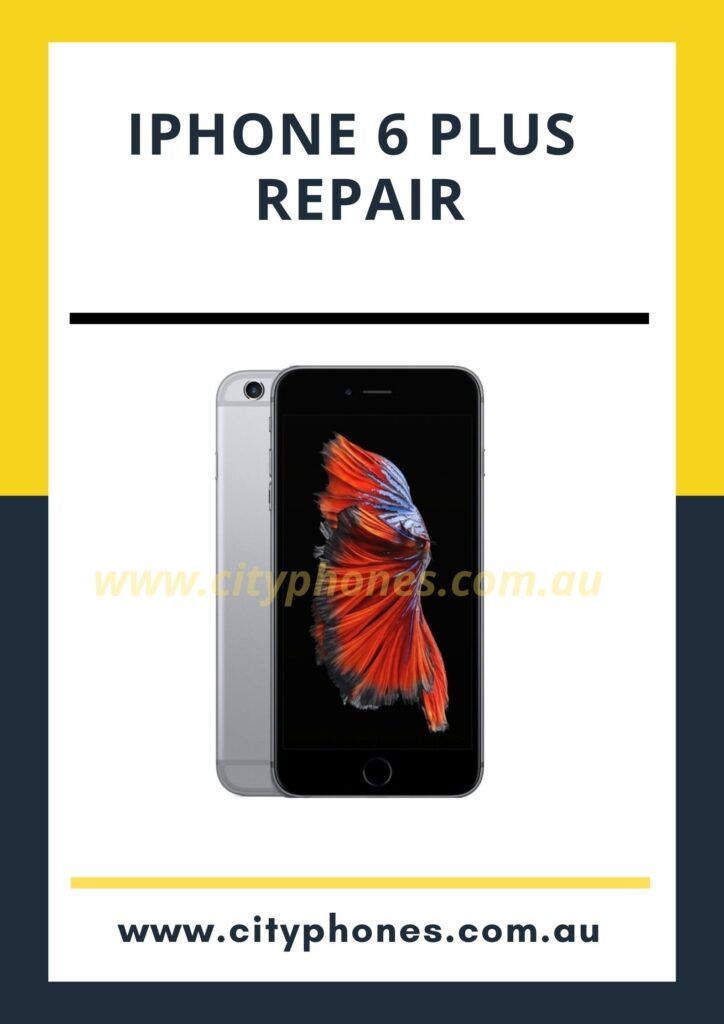 IPHONE 6 Plus Repair in Melbourne and Greensborough
IPHONE 6 Plus was announced in Sep 2014 and released on 19 Sep 2014 with a sleek dimension of 158.1 x 77.8 x 7.1 mm with a weight of 172gm. It carries over its aluminum body from its predecessors. It sports a LED black lit IPS LCD with a capacitive touchscreen capable of multi-touch. The screen size is 5.5 inches with a 67.8% screen-to-body ratio. The screen is protected from Ion-strengthened glass with an oleophobic coating. It houses iOS 8 which is upgradable to iOS12.5.5version. It has a dual-core 1.4Ghz Typhoon CPU and PowerVR GX6450 graphics. It is one of the most classical IPHONE ranges but that doesn't mean the phone exists without flaws. From the most common problems like screen breakage, charging port damage, battery issues to LCD issues, front and back camera issues, and so on…Any one of these problems may occur at any given time. Unfortunately, if you face these issues look no further just bring your IPHONE to City Phones we will access your IPHONE and provide assistance at an affordable price.  We are experts in IPHONE 6 Plus all types of repairs and provide hassle-free and easy repair options for mobile phones.
IPHONE 6 Plus Screen Repair in Melbourne and Greensborough
The most common problem you will face with any kind of mobile device is the problem of screen breakage which creates a hassle in our daily lives. For the customer getting IPHONE 6 Plus screen replacement within a reasonable price and of the highest quality is the priority. In case you are looking to free yourself from the hassle of using a broken screen or you want to have a brand-new screen on your IPHONE but the fear of the quality of the screen takes you over. Look no further just visit City Phones' stores to get a suitable resolution to your problem at a reasonable price. We provide the best possible screen replacement you could ask for. We sport a range of LCD and screen replacement screens of the best possible quality for your IPHONE 6 Plus mobile phone. All the parts we use for the screen replacement are of the highest quality and genuine.
IPHONE 6 Plus LCD Repair in Melbourne and Greensborough
If your IPHONE 6 Plus LCD Screen is damaged or broken and it needs repair, then visit City Phones today as with us you will get a genuine LCD replaced in just 30 minutes to an hour. In case the glass of your LCD screen is broken we will repair your glass screen instead of the whole LCD touchscreen. But in case your LCD screen is gone blank or showing multicolored lines on its screen then we need to replace the whole LCD touchscreen as your whole LCD screen is defective. We know that having a glass or the LCD broken is annoying and therefore we offer one of the lowest prices for this repair in the market. Our skilled technicians are experts in LCD repair, and we guarantee that after LCD replacement your IPHONE 6 Plus will work just like before.
IPHONE 6 Plus Battery Repair in Melbourne and Greensborough

If you discover that your IPHONE 6 Plus battery does not last the whole day, phone overheats without much use, the phone is running slow and showing symptoms which shows your IPHONE 6 Plus battery needs replacement then visit City Phones stores in Melbourne and Greensborough where we use genuine IPHONE 6 Plus repair parts and replace your faulty IPHONE 6 Plus battery with a new branded genuine battery which will prolong your IPHONE 6 Plus battery and you will not face the same battery problem with your IPHONE for a long time in the future.
IPHONE 6 Plus Charging Port Repair in Melbourne and Greensborough
Here at City Phones stores we do Charging Port replacement only after determining that the port of your IPHONE 6 Plus phone is faulty. The team of technicians working at City Phones checks properly whether the charging port, charging adapter, or charging cable has gone faulty. If one of these components is not working, then it will directly affect the charging process. In the event, you find you could charge, or your charging cable could not detect the connection on your phone, then there is a possibility that your charging port is damaged. In our stores located in Melbourne and Greensborough, we have brand new IPHONE 6 Plus charging port parts in stock. Do send your IPHONE 6 Plus to us so that we can repair or replace the charging port as needed. IPHONE 6 Plus charging port repair or replacement will not take more than 30 minutes to an hour.
IPHONE 6 Plus Front and Back Camera Repair in Melbourne and Greensborough
If your IPHONE 6 Plus phone's front and back camera takes distorted or blurry photos which are hard to recognize then your IPHONE 6 Plus phone needs a front and back camera lens replacement. City Phones offers front and back camera lens replacement in Melbourne and Greensborough at an affordable price. We offer you the best camera lens replacement service for your IPHONE 6 Plus with the highest quality parts. Get your IPHONE 6 Plus front and back camera fixed today! Our repair service is available via mail also where you send your faulty IPHONE 6 Plus phone to us and we will return your repaired IPHONE 6 Plus to your address after replacing the front and back camera lens and checking whether they are working fine or not. We have quality parts and competitive prices in the market.  IPHONE 6 plus is a very durable and fast phone within budget. It has all the high specifications you can expect from a high-end smartphone.  We also understand the value of the device in our lives these days. We will have your device fixed as soon as possible, normally screen repair on Apple IPHONE devices takes around one hour. Our qualified and friendly staff is ready to help you out with any sort of damage.
Along with IPHONE 6 Plus repair services City Phones also deals with IPHONE 6 Plus cases, IPHONE 6 Plus covers, and IPHONE 6 Plus screen protectors. We have a rich collection of the world's best brands IPHONE 6 Plus cases, covers, tempered glass, and screen protectors available at a competitive price. Visit our online store to get premium quality IPHONE 6 Plus accessories available with free shipping and afterpay facility in which you buy your favorite IPHONE cases now and pay later. At Cityphones we give most importance to our customer's phones as we know their value. All repair comes with a warranty from us.
Cityphones can fix the following damages to Apple IPHONE 6 plus,
-Cracked Screen
-Cracked LCD
-Non-Working charging port
-Non-Working Headphone Jack
-Non-Working Back/Front camera
-Water Damage
-Battery Issues
-Motherboard Problem