Samsung A50 Repair
| Issue | Price |
| --- | --- |
| Samsung A50 LCD Replacement (Broken LCD, No display, lines, dead pixels, etc ) | $199 |
| Samsung A50 Battery Replacement | $75 |
| Samsung A50 Charging port replacement | $75 |
| Samsung A50 Microphone Repair | $75 |
| Samsung A50 Ear Speaker Repair | $75 |
| Samsung A50 Ringer Repair | $75 |
| Samsung A50 Headphone Socket Repair | $75 |
| Samsung A50 Back Camera Repair | $99 |
| Samsung A50 Front Camera Repair | $99 |
| Samsung A50 Camera lens Repair | $45 |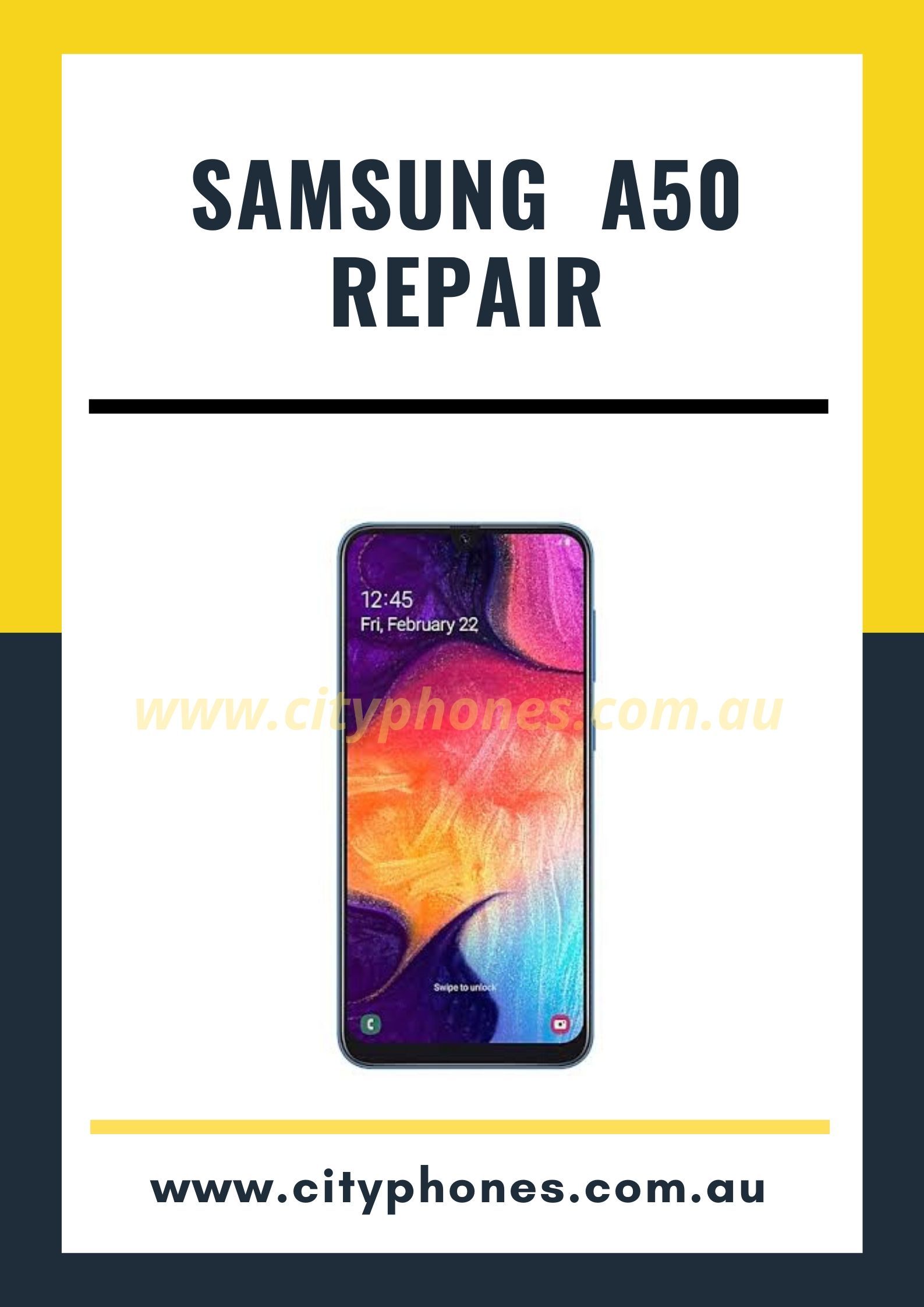 Samsung A50 Repairs by City Phones Melbourne CBD 
Everyone looks for the best place to get their device repaired, fixed fast and good quality, and professional, there are a lot of choices available in front of them choose for their Samsung mobile repair. City Phones is a Melbourne CBD-based service shop and can service most faults in your device.
Samsung Galaxy A50 Screen Repairs – City Phones Melbourne CBD
We repair almost every fault with Samsung Galaxy A50 which is a costly smartphone. Samsung Galaxy A50 repairs are conducted in our City Phones Melbourne location store where you may walk in without taking an appointment with your faulty device. We offer best-in-class screen repair services for your priceless Samsung Galaxy A50 smartphone. All repairs are carried out by our experienced and trained staff with many years of screen repairing experience under their belt. We understand very well that breaking or damaging your smartphones' screen could be bothersome but you need not panic as our experts can replace the broken screen of your smartphone within minutes. City Phones offer mail-in service by post or courier for most locations Australia-wide. All you have to do is send your faulty device to our store in Melbourne and we will return your repaired device to your address.
Samsung Galaxy A50 Battery Replacement
Phone batteries of Samsung phones are good enough especially in the case of the Samsung Galaxy A50 which has a 1440mAh battery that lasts up to 10hrs once it is fully charged. However, if accidentally, you drop your mobile phone and your mobile phone drops charging or it takes longer to charge then it might be some problem with the battery. Here at City Phones, we can fix your phone's battery issues and perform battery replacement if required.
Samsung Galaxy A50 Charging Port Repair
This is one of the common problems with this Samsung Mobile Phone as we all at some points have experienced or have seen people having trouble with smartphone charging. Everyone thinks this might be happening due to a faulty charger, but it is mobile phones charging port fault and it needs to be replaced. At City Phones, our experts can replace your smartphone's charging port in a few minutes and bring it back to life.
Samsung Galaxy A50 Camera Repair
Samsung Galaxy A50 has 3 rear cameras with an autofocus feature and a 25MP front camera. This is a camera phone with the main feature of 3 rear cameras and an improved Front camera as compared to Samsung A70. At City Phones, we are experts in performing all jobs related to Samsung Galaxy A50 camera repair. We strongly believe in the satisfaction of our customers as our staff tries to give its best by repairing smartphones with extra care and makes every effort to bring back your faulty phone to life.
Samsung Galaxy A50 Motherboard Repair service
Our staff members are trained and are equipped with the latest technology and tools to carry our motherboard repair of the Samsung Galaxy A50 smartphone. Either it is some sort of soldering work or IC replacement in your phone's motherboard we conduct every task with perfection and expertise. Our only concern is to bring back your smartphone to life. One another factor which we work on carefully is taking minimum time in repairing your device so that your work doesn't get hampered.
City Phones also provides smartphones accessories online like mobile phone cases, back covers, tempered glass, and screen protectors at a competitive price available in the market. To protect your phone, you could order them online or directly purchase them by visiting our store in Melbourne CBD.
Common Samsung Galaxy A50 Repairs
We are aware of the fact that the Samsung Galaxy A50 device is now 4 years old in the market. And because of that, they might need some repairs from time to time.
Screen Replacement
Battery Replacement
Charging Port Replacement
Camera Lens Replacement
Rear Camera Replacement
Rear Glass Replacement
Our Store Address:
148 Elizabeth Street,
Melbourne CBD 3000
Victoria Australia