IPHONE 13 Repair in Melbourne
IPHONE 13 Screen Repair
| Issue | Price | Repair Time |
| --- | --- | --- |
| IPHONE 13 Screen Repair ( LCD and touch are Still working ) | Call us for price and stock | 30 Minutes |
| IPHONE 13 LCD Repair (Broken LCD, No display, lines, dead pixels, etc ) | Call us for price and stock | 30 minutes |
| IPHONE 13 Back Glass Replacement | Call us for price and stock | 90 Minutes |
IPHONE 13 Repair
| Issue | Price | Repair Time |
| --- | --- | --- |
| IPHONE 13 Battery Replacement | Call us for price and stock | 60 Minutes |
| IPHONE 13 Charging Port Repair | Call us for price and stock | 60 Minutes |
| IPHONE 13 Microphone Repair | Call us for price and stock | 60 Minutes |
| IPHONE 13 Ear Speaker Repair | Call us for price and stock | 60 Minutes |
| IPHONE 13 Ringer/loudspeaker Repair | Call us for price and stock | 60 Minutes |
| IPHONE 13 Back Camera Repair | Call us for price and stock | 60 Minutes |
| IPHONE 13 Front Camera Repair (without Face id) | Call us for price and stock | 60 Minutes |
| IPHONE 13 Camera Lens repair | Call us for price and stock | 60 Minutes |
| IPHONE 13 Back Frame Replacement | Call us for price and stock | 60 Minutes |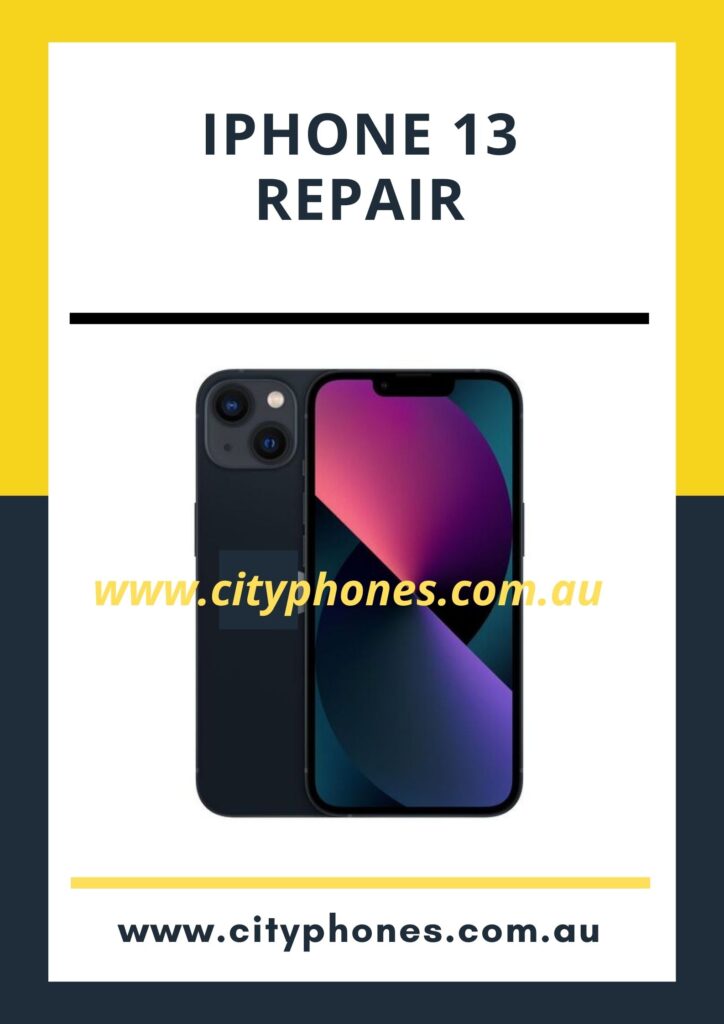 IPHONE 13 Screen Repair in Melbourne
IPHONE 13 Repair in Melbourne and Greensborough
IPHONE 13 is the world's best smartphone featuring a sleek and durable design with an advanced dual camera that takes perfect photos and videos in low light and cinematic mode. IPHONE 13 introduces major innovations in technology which includes the most advanced dual-camera system ever included within an IPHONE along with a powerful processor and improved battery life. IPHONE 13 includes a brighter XDR display and a ceramic shield front cover that increases the phone's durability. This newest IPHONE model comes with a 6.1-inch display featuring a ceramic shield on the front specially designed for IPHONE which is, in Apple's own words, tougher than any existing smartphone glass. Although the presence of ceramic shield front cover provides durability to the screen of this IPHONE, yet if the phone gets slipped from the hands accidentally and it hits a hard surface the screen of the IPHONE 13 is likely to get several cracks and using a cracked screen IPHONE invites frustration within its user. In this situation repairing your IPHONE 13 becomes mandatory this is where City Phones' role comes into play. City Phones offers a convenient and efficient IPHONE 13 repair service which is affordable and fast as compared to other IPHONE repair service providers.
IPHONE 13 Screen Repair in Melbourne and Greensborough
Although the IPHONE 13 display screen is made of tougher glass than any other existing smartphone glass, they are highly prone to scratch or broken screens due to the sensitivity of the display screen made of glass. The best solution to deal with a cracked screen IPHONE 13 is to replace the screen of IPHONE 13 with the help of experienced technicians which is the major advantage you have in repairing your IPHONE 13 screen at City Phones. We have some of the most experienced IPHONE screen repair technicians working with us doing IPHONE screen repairs for more than 5 years. Some may feel that replacing an IPHONE screen can be done easily by anyone but replacing an IPHONE screen is crucial and is a complex process, and it should be done by an expert only.  Choose City Phones, the leading IPHONE screen repair service provider in Melbourne and Greensborough to repair your IPHONE cracked screen with perfection.
IPHONE 13 LCD Repair in Melbourne and Greensborough
All the IPHONE 13 repairs are performed by experienced technicians who have been working in the IPHONE repair field for more than 5 years. IPHONE 13 LCD replacement is only conducted in case your IPHONE screen goes black, showing purple or green lines on the touch screen, or having touch issues. In that case, City Phones can provide IPHONE LCD repair in Melbourne and Greensborough. We resolve every issue you are likely to face with your new IPHONE 13 mobile phone touch screen using premium quality repair parts that provide long-lasting repair to our LCD repair service in Melbourne and Greensborough.
IPHONE 13 Battery Replacement in Melbourne and Greensborough
When you feel your IPHONE 13 battery is taking longer than expected to charge or the IPHONE battery starts draining before the expected run time, your IPHONE 13 battery certainly needs replacement. You need to resolve the battery issues with your IPHONE 13 as soon as possible as the IPHONE plays a very important role in your life. For IPHONE 13 battery replacement choose City Phones as your IPHONE battery replacement service provider as we use only genuine repair parts. City Phones is the leading IPHONE 13 repair shop in Melbourne and Greensborough specialized in battery replacement at an affordable price using high-quality repair parts of IPHONE. We believe in total customer satisfaction during IPHONE 13 repairs and other IPHONE repairs as well.
IPHONE 13 Charging Port Repair in Melbourne and Greensborough
Many times it happens that your IPHONE stops charging and you start believing that your IPHONE charger cable or the charger itself is not working properly. But after changing both these things your IPHONE is not charging then you need to replace your IPHONE charging port. Our team of expert technicians has a proper understanding of various charging issues you may face with your IPHONE 13 mobile so we can provide your IPHONE 13 with a new charging port that enables IPHONE 13 to charge again as usual before the damage of your mobile phone. We take complete care while replacing your IPHONE 13 charging port as we understand the importance of a working mobile phone in hands so we make every effort to bring back your IPHONE in the working state as soon as possible.
IPHONE 13 Front/Back Camera Repair in Melbourne and Greensborough
With the newly introduced dual-camera system introduced in IPHONE 13 mobile phone, it features dual-camera system ever introduced in an IPHONE, as well as a new wide camera with larger pixels and sensor-shift optical image stabilization(OIS), which enables the IPHONE owner to take amazing photos and videos in low light. Clicking amazing photos is the major advantage of owning IPHONE 13 and if accidentally the IPHONE 13 camera starts taking blurry photos after a sudden fall from hands. At City Phones, we can replace the faulty camera of your IPHONE with a new one in your smartphone. Camera repair is a very sensible repair done by expert technicians so always repair your front and back camera of your IPHONE taking the help of expert IPHONE repair technicians available at City Phones. We at City Phones have a trained team of technicians who perform the IPHONE front and back glass replacement with utmost care and handle all parts gently. With the use of modern tools and equipment, we at City Phones make a faulty camera lens replacement with the new one so that your IPHONE again starts taking amazing photos.
City Phones also deals with IPHONE 13 cases, covers, and screen protectors to prevent your IPHONE 13 from physical damages. Visit our store online to book IPHONE accessories and get free shipping. Get in touch with our IPHONE repair experts at 0426504955 or email at info@cityphones.com.au in case you have any query in your mind regarding your IPHONE repair.