IPHONE 13 Repair in Melbourne
IPHONE 13 Repair Price
| Issue | Apple Genuine Parts | Aftermarket Parts | Estimated Repair Time |
| --- | --- | --- | --- |
| IPHONE 13 Screen Replacement | $549 | $169 | 30-60 Minutes |
| IPHONE 13 Battery Replacement | $199 | NA | 30-60 Minutes |
Genuine Apple Parts are sourced from Apple.  1 Year Warranty on the repair.
After Market Parts are High-quality parts not from Apple.  6 Months warranty on the repair.
IPHONE 13 Repair Price with Aftermarket parts
| Issue | Aftermarket Parts | Repair Time |
| --- | --- | --- |
| IPHONE 13 Backglass Replacement | $199 | 120 Minutes |
| IPHONE 13 Charging Port Repair | $199 | 60 Minutes |
| IPHONE 13 Microphone Repair | $199 | 60 Minutes |
| IPHONE 13 Ear Speaker Repair | $199 | 60 Minutes |
| IPHONE 13 Ringer/loudspeaker Repair | $199 | 60 Minutes |
| IPHONE 13 Back Camera Repair | $199 | 60 Minutes |
| IPHONE 13 Front Camera Repair (without Face id) | $199 | 60 Minutes |
| IPHONE 13 Camera Lens repair | $75 | 60 Minutes |
| IPHONE 13 Back Frame Replacement | $249 | 60 Minutes |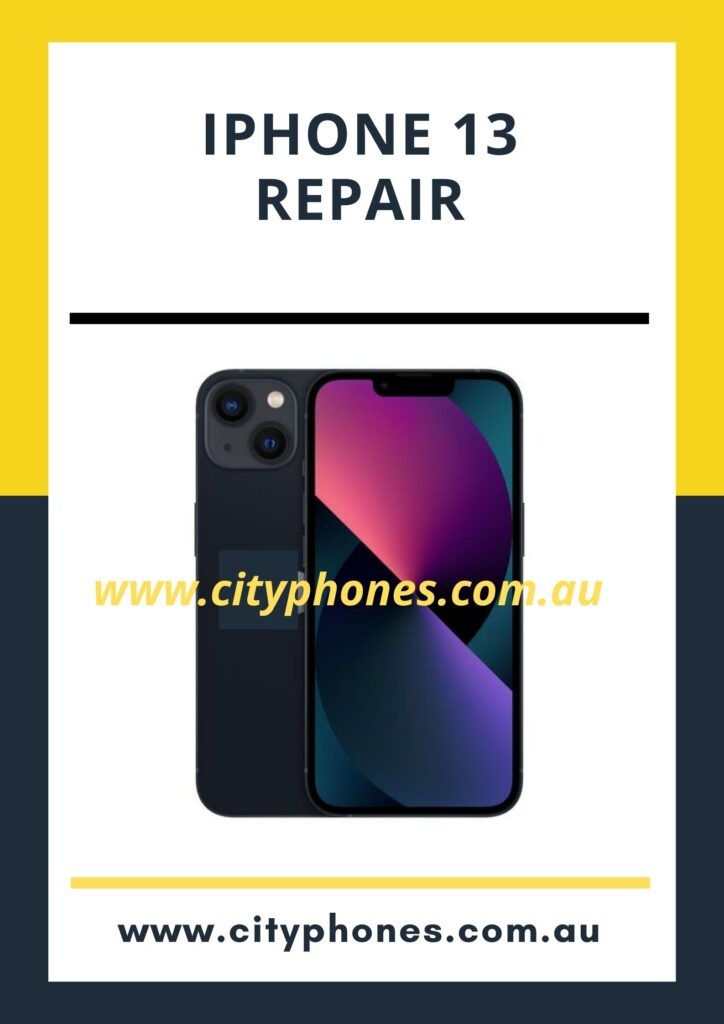 IPHONE 13 Screen Repair in Melbourne
IPHONE 13 Repairs – Independent Repair Provider
One of the world's best smartphones featuring a sleek and durable design with an advanced dual camera. IPHONE 13 includes a brighter XDR display and a ceramic shield front cover that increases the phone's durability. Although the presence of a ceramic shield front cover provides durability to the screen of this IPHONE, if the phone gets slipped from the hands accidentally and hits a hard surface the screen of the IPHONE 13 is likely to get several cracks. City Phones offers a convenient and efficient IPHONE 13 repair service using the original replacement parts.
IPHONE 13 Screen Repair Greensborough
Although the IPHONE 13 display screen is made of tougher glass than any other existing smartphone glass, but they are highly prone to scratch or broken screens due to the sensitivity of the display screen made of glass. The best solution to deal with a cracked screen IPHONE 13 is to replace the screen of IPHONE 13 with the help of experienced technicians which is the major advantage you have in repairing your IPHONE 13 screen at City Phones. We have some of the most experienced IPHONE screen repair technicians working with us doing IPHONE screen repairs for more than 6 years. City Phones, is one of the leading IPHONE screen repair service provider in Melbourne and Greensborough.
IPHONE 13 LCD Repair 
At City Phones, all the IPHONE 13 repairs are performed by experienced technicians who have been working in the IPHONE repair field for more than 6 years. IPHONE 13 LCD replacement is only conducted in case your IPHONE screen goes black, showing purple or green lines on the touch screen, or having touch issues. In that case, City Phones can provide IPHONE LCD repair in Melbourne and Greensborough. We resolve every issue you are likely to face with your new IPHONE 13 mobile phone touch screen using premium quality repair parts.
IPHONE 13 Battery Replacement Melbourne CBD
When you feel your IPHONE 13 battery is taking longer than expected to charge or the IPHONE battery starts draining before the expected run time, your IPHONE 13 battery certainly needs replacement. For IPHONE 13 battery replacement choose City Phones as we use only genuine and high-quality repair parts. City Phones is one of the leading IPHONE 13 repair shops in Melbourne and Greensborough specialized in battery replacement at an affordable price. We believe in total customer satisfaction during IPHONE 13 repairs and other IPHONE repairs as well.
IPHONE 13 Charging Port Repair in Greensborough
Our team of expert technicians has a proper understanding of various charging issues you may face with your IPHONE 13 mobile. We can provide your IPHONE 13 with a new charging port that enables charging again as usual. We take complete care while replacing your IPHONE 13 charging port and aim to provide complete customer satisfaction.
IPHONE 13 Camera Repair in Melbourne and Greensborough
Camera repair is a very sensible repair done by expert technicians so always repair your front and back camera of your IPHONE taking the help of expert IPHONE repair technicians available at City Phones. We at City Phones have a trained team of technicians who perform the IPHONE front and back glass replacement with utmost care and handle all parts gently. With the use of modern tools and equipment, we at City Phones make a faulty camera lens replacement with the new one so that your IPHONE again starts taking amazing photos.
Some of the most common IPHONE repair services are as below:
Screen Replacement Service
LCD Repair
Battery Replacement Service
Front Camera repair
Back Camera repair
Power Button Repair
Vibrator Replacement
Motherboard Repairs Melbourne
Water Damage Repair Diagnosis
Fault Diagnosis & Quote Service
Insurance Damage Report & Quote Service
Charging port repair/replacement service
City Phones also deals with IPHONE 13 cases, covers, and screen protectors to prevent your IPHONE 13 from physical damage. Visit our store online to book IPHONE accessories and get free shipping. Get in touch with our IPHONE repair experts at 0426504955 or email at info@cityphones.com.au in case you have any query in your mind regarding your IPHONE repair.