IPAD Mini 4 Repair in Melbourne
IPAD Mini 4 Repair
| Issue | Price |
| --- | --- |
| IPAD Mini 4 Screen Repair ( LCD and touch are still working ) | $199 |
| IPAD Mini 4 LCD Repair (Broken LCD, No display, lines, dead pixels, etc ) | $249 |
| IPAD Mini 4 Battery Replacement | $150 |
| IPAD Mini 4 Charging Port Repair | $150 |
| IPAD Mini 4 Microphone Repair | $149 |
| IPAD Mini 4 Home Button Repair | $149 |
| IPAD Mini 4 Ringer/loudspeaker Repair | $149 |
| IPAD Mini 4 Headphone Port Repair | $149 |
| IPAD Mini 4 Back Camera Repair | $149 |
| IPAD Mini 4 Front Camera Repair | $99 |
| IPAD Mini 4 Camera Lens Repair | $75 |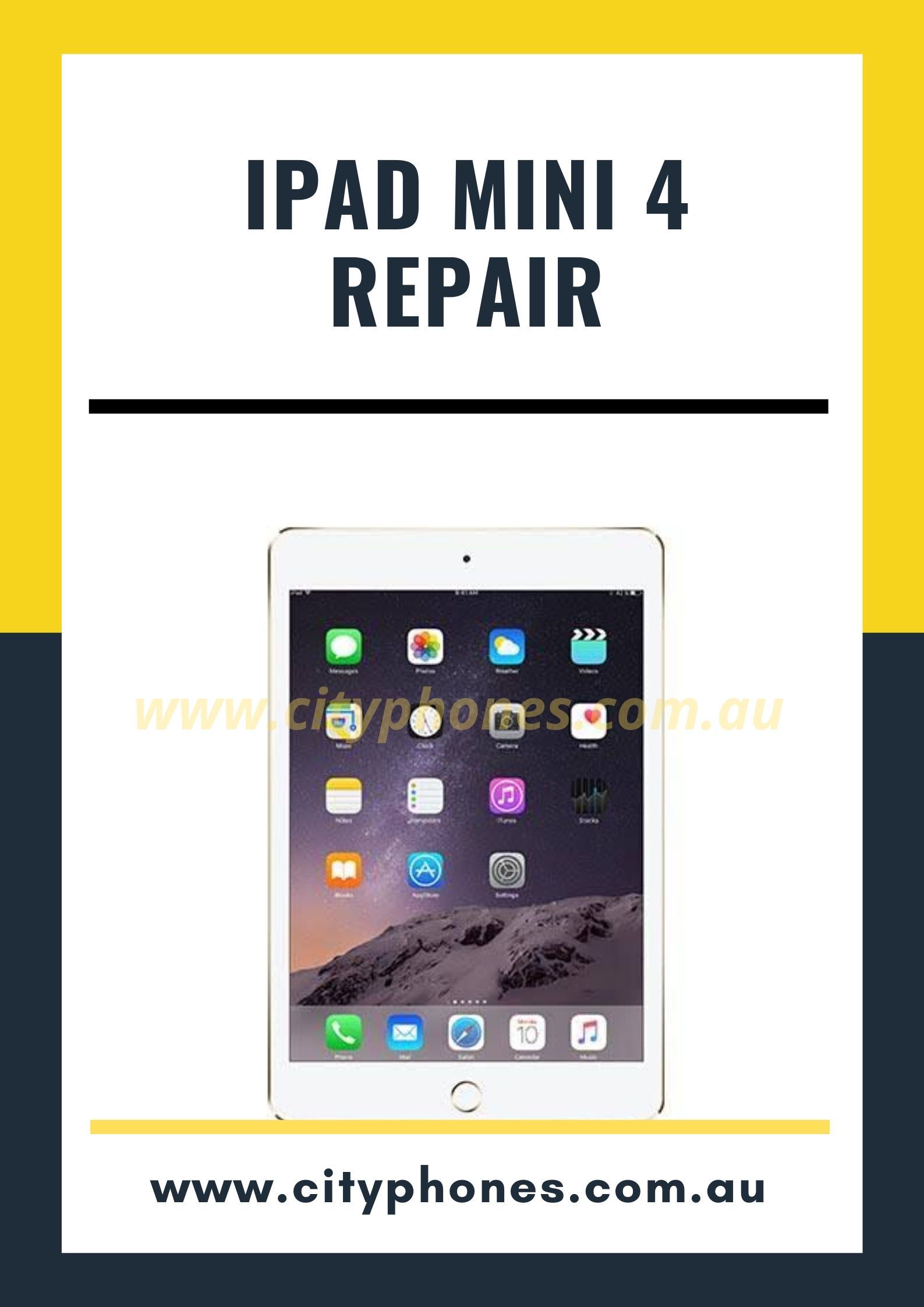 IPAD Mini 4 Repair in Melbourne and Greensborough
When it comes to the IPAD Mini 4 repair service, making an intelligent choice is important because it can save you money and a lot of valuable time. City Phones offers the best quality, fast, and completely reliable IPAD Mini 4 repair services that you can trust. Have you dropped your IPAD Mini 4 in a quick mishap which resulted in cracking the screen of your IPAD? If the screen on your IPAD breaks, you can repair it for an out-of-warranty charge. The Apple warranty does not cover any accidental damage to the IPAD. The Apple warranty covers the screen if it cracks due to any manufacturing defect. Screen replacement of the IPAD depends on various factors. The cost of IPAD screen repair by Apple may cost you a fortune. One can always opt for IPAD repairs by companies like City Phones who do it at a fraction of the price while delivering it quickly. The technicians at City Phones always give their best efforts to quickly deliver your IPAD to you as we understand the importance of your device. It is used frequently in studying and in entertaining yourself in your free time.
IPAD Mini 4 Screen Repair in Melbourne and Greensborough
Got a smashed IPAD screen and wondering where to fix your IPAD screen? City Phones offer hassle-free Apple IPAD screen repairs in Melbourne and Greensborough. Our technicians provide a fast and affordable screen repair on the spot taking just 30 minutes to an hour to completely transform your cracked screen IPAD Mini 4 and turn it into a newly purchased IPAD. Screen replacement is the commonest repair performed after an IPAD is accidentally dropped from the hands of the owner. We know it is quite frustrating to look at the shattered screen glass of your IPAD Mini 4 tablet and therefore we offer an affordable screen replacement service that will include a standard repair warranty with it for your peace of mind. Our skilled technicians have been replacing the IPAD Mini 4 screens for more than 6 years since the establishment of the company in the year 2015 and we provide your assurance that your glass screen will look perfect as if new. We carry out the quickest repairs of all devices at our stores and do not send your IPAD to another service provider. This allows us to have the fastest and the most affordable screen repair services in the market.
At Cityphones we can fix your IPAD Mini 4 Tablet. Most of repair are completed in same day. Call us today for more details.
City Phones can fix the following issues with your IPAD Mini 4 tablet.
Broken Screens
Faulty Battery
Faulty Charging Port
Faulty Microphone
Faulty Headphone Port
Faulty Back/Front Cameras
Faulty Home Button
Faulty Loudspeaker
Feel free to get in touch with the Apple IPAD repair experts on 0426504955 or use our online chat service.