IPAD Pro 9.7 Repair in Melbourne
IPAD Pro 9.7 Repair
| Issue | Price |
| --- | --- |
| IPAD Pro 9.7 Screen Repair | $249 |
| IPAD Pro 9.7 LCD Repair (Broken LCD, No display, lines, dead pixels, etc ) | $349 |
| IPAD Pro 9.7 Battery Replacement | $199 |
| IPAD Pro 9.7 Charging Port Repair | $199 |
| IPAD Pro 9.7 Microphone Repair | $149 |
| IPAD Pro 9.7 Home Button Repair | $149 |
| IPAD Pro 9.7 Ringer/loudspeaker Repair | $149 |
| IPAD Pro 9.7 Headphone Port Repair | $149 |
| IPAD Pro 9.7 Back Camera Repair | $149 |
| IPAD Pro 9.7 Front Camera Repair | $99 |
| IPAD Pro 9.7 Camera Lens Repair | $75 |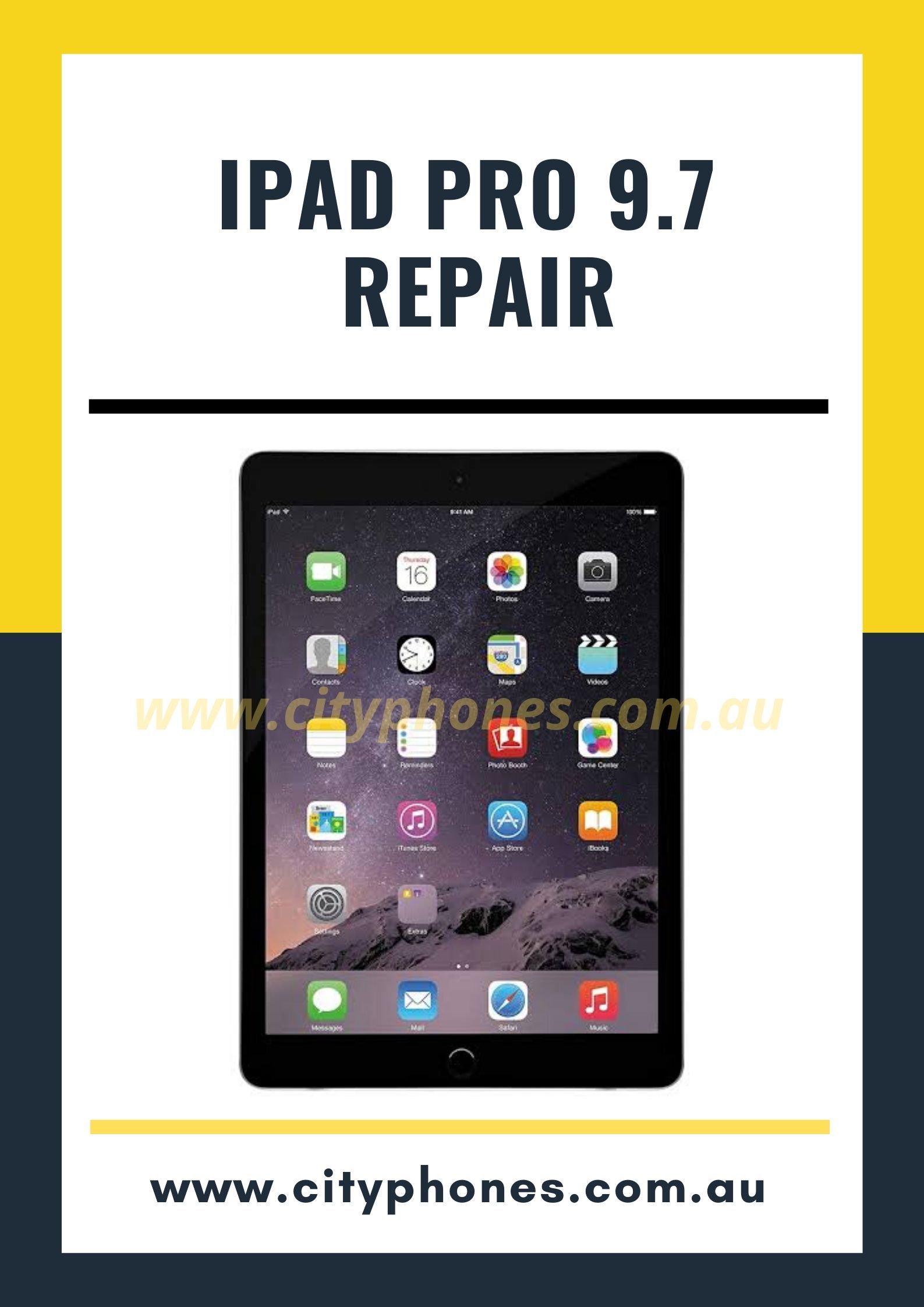 IPAD Pro 9.7 Repair in Melbourne and Greensborough
The IPAD Pro 9.7 is a big, incredible device. The device is popular by the name Apple IPAD Pro (9.7-inch). It comes with an IPS LCD with a screen size of 9.7 inches with a 71.6% screen-to-body ratio. With a screen resolution of 1536 X 2048 pixels, the IPAD Pro 9.7 looks amazing. The delicate glass screen of this powerful IPAD is vulnerable to physical damages like accidental drops so unexpected damages could occur with this device. You need a professional IPAD Pro 9.7 repair service provider who understands the value of an important device like an IPAD and could provide IPAD repairs at an affordable price. With the use of genuine repair parts and experienced technicians with more than 6 years of IPAD repair experience, City Phones is the best IPAD Pro 9.7 repair shop in Melbourne and Greensborough to provide repair services for your IPAD. We keep stock of all necessary IPAD Pro 9.7 replacement parts. We aim to produce our best work with every repair work we perform.
IPAD Pro 9.7 Screen Repair in Melbourne and Greensborough
Screen repair is one of our most popular services. If you have an IPAD Pro 9.7-inch with a crack of any size whether it is a tiny one or a big crack on the glass screen visit City Phones for instant screen replacement which will just take 30 minutes to an hour and your cracked screen IPAD will be turned into a new IPAD. Our technicians combine the expertise of IPAD repairs and know well the repair process of IPAD Pro 9.7 screen replacement service with genuine replacement parts along with a standard repair warranty. If you possess a cracked screen IPAD it is very important to fix the broken screen of your IPAD Pro 9.7. The screen replacement of your IPAD Pro 9.7 can be performed in just 30 minutes to an hour, we keep all necessary parts of the IPAD Pro 9.7 in stock. With the assistance of our experienced technicians, IPAD repairs are performed at an affordable price in Melbourne and Greensborough. At Cityphones we can fix your IPAD Pro 9.7. Most of the repairs are completed on the same day. Call us today for more details.
City Phones can fix the following issues with your IPAD Pro 9.7 tablet.
     Broken Screens
     Faulty Battery
     Faulty Charging Port
     Faulty Microphone
     Faulty Headphone Port
     Faulty Back/Front Cameras
     Faulty Home Button
     Faulty Loudspeaker
Feel free to get in touch with the Apple IPAD repair experts on 0426504955 or use our online chat service.