Samsung A520 Repair
| Issue | Price |
| --- | --- |
| Samsung A520 Screen Replacement ( LCD and Touch are still working ) | $199 |
| Samsung A520 LCD Replacement (Broken LCD, No display, lines, dead pixels, etc ) | $199 |
| Samsung A520 Battery Replacement | $89 |
| Samsung A520 Charging port replacement | $99 |
| Samsung A520 Microphone Repair | $99 |
| Samsung A520 Ear Speaker Repair | $99 |
| Samsung A520 Ringer Repair | $75 |
| Samsung A520 Headphone Socket Repair | $99 |
| Samsung A520 Back Camera Repair | $99 |
| Samsung A520 Front Camera Repair | $99 |
| Samsung A520 Camera lens Repair | $45 |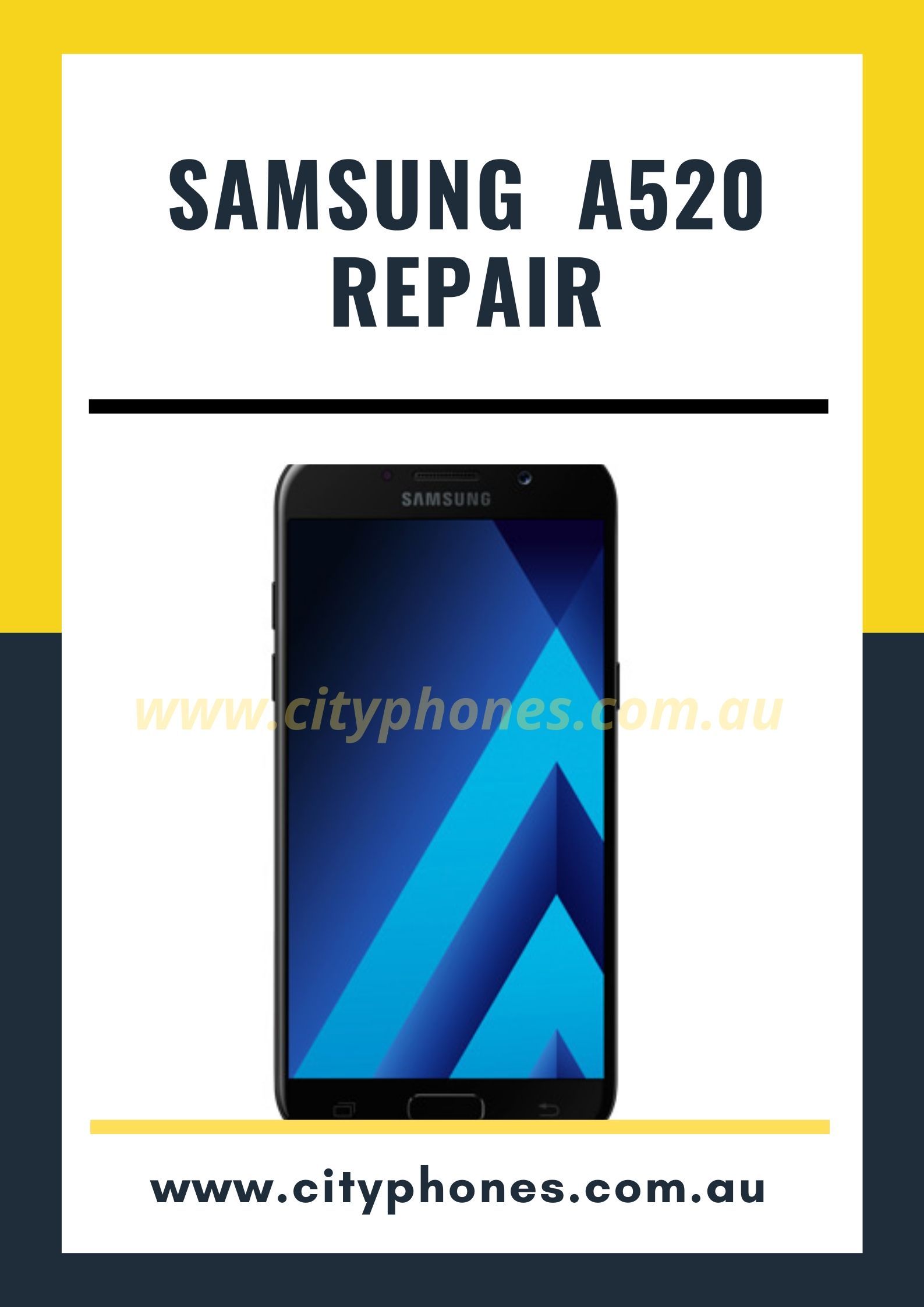 Samsung A520 Repair in Melbourne
Samsung A520 Repairs and Screen Replacement in Melbourne Australia
Our stores are equipped with the latest repair tools to fix our Samsung A520 screen on the spot. Samsung A520 repair in Melbourne at City Phones can be done in 30-90 minutes. We strongly believe in customer satisfaction and aim to provide our customers with the best experience and quality Samsung screen repair service. In addition to on-the-spot repair service in Melbourne, we have pick-up and drop-off repair service, and repair by post in Melbourne Australia. 
Samsung A520 Repair in Melbourne at City Phones
City Phones is your trusted one-stop Samsung repair shop in Melbourne. We are a Samsung Authorized Service Centre having specialties in all Samsung mobile repairs. Whether it is screen replacement, LCD replacement, battery replacement, charging port replacement, Microphone repairs, and any other Samsung phone-related issues, we at City Phones address your concern with great care and help you out with Samsung repairs in Melbourne. All our repairs come with a standard repair warranty other than liquid damage, physical damage, and other human-caused damages. You can also send your damaged mobile phone by post or courier to us and we will return your repaired smartphone earliest to your address in Australia.
City Phones also offer price matches, in case you find the repair cheaper somewhere, let us know and we will match the price to provide you the affordable and quality service.
Samsung A520 Screen Repair in Melbourne
At City Phones, our trained and experienced technicians are equipped with everything to carry Samsung A520 Screen Repair. At City Phones, we can replace the broken glass on the screen if the display and the touch screen are functional.
Samsung A520 LCD repair at City Phones Melbourne is only required if you are unable to use your Samsung A520 screen. We can replace the complete Samsung A520 glass & display screen.
Samsung A520 Battery Replacement
At City Phones, our technicians can assist you with charging-related issues and are capable of replacing the battery if required. When a Samsung mobile phone starts taking longer to charge the phone or suddenly drops off the charging, it means your phone needs battery replacement. City Phones is specialized in solving battery related issues and can help you solve all battery related issues. You need to just walk-in into one of our stores with your phone, we will replace your phone's battery in no time and in a few minutes, you will have your working phone.
Samsung A520 Charging Port Repair
City Phones can replace faulty Samsung A520 charging port within 1-2 Hours. The phone will come back to life in no time. When your Samsung A520 stops charging it may be due to a faulty charging port that needs replacement. City Phones have all the genuine parts in stock so whenever you need urgent Samsung mobile charging port replacement, we will help you by replacing charging port from Samsung at a reasonable price.
Samsung A520 Rear, Front and Camera Lens Replacement
At City Phones, we can perform all the jobs related to Samsung A520, front camera repair, rear camera repair and camera lens replacement. We strongly believe in customer satisfaction and our staff always try their best to bring your phone back to as good as new. Samsung A520 rear camera repair can be done in 30 minutes.
Motherboard repair
At City Phones, we also provide the service of motherboard repairs. We have state of the art tools and technology, certified and experienced technicians to perform motherboard repairs. Furthermore, we have phone accessories and protective cases to protect your phone. You can either look at them in-store or at our online store. For all the repair services you can either visit our store, or you can click on the Book Repair button on this page to book your repair.
Repair services
The most common services we provide for the device are as mentioned below.
 Screen replacement
 LCD Replacement
 Battery replacement
 Charging Port Replacement
 Microphone Repair
 Earphone Speaker Repair
 Ringer Repair
 Headphone Socket Repair
 Back Camera Repair
 Front Camera Repair
 Camera lens Repair
Store timings:
148 Elizabeth Street
Melbourne CBD 3000
Mon-9.30 AM to 6.30 PM
Tue-9.30 AM to 6.30 PM
Wed-9.30 AM to 6.30 PM
Thur-9.30 AM to 6.30 PM
Fri-9.30 AM to 6.30 PM
Sat-10.00 AM to 5.00 PM
Sun-10.00 AM to 5.00 PM
Apart from doing Samsung Phone Repair we also sell mobile phone accessories like smartphone cases, covers, screen protectors, chargers and cables, earphones and headphones, power banks online for all brands and models. Book online genuine mobile phone accessories available at reasonable rates online with an Afterpay facility and 10-day return guarantee.
In case of any query and questions regarding repairing your Samsung A520 smartphone please contact us at 0426504955 or email us at info@cityphones.com.au.