IPAD 12.9 2nd Gen Repair in Melbourne
IPAD 12.9 2nd generation repair
| Issue | Price |
| --- | --- |
| IPAD 12.9 2nd Generation LCD Repair (Broken LCD, No display, lines, dead pixels, etc ) | $599 |
| IPAD 12.9 2nd Generation Battery Replacement | $249 |
| IPAD 12.9 2nd Generation Charging Port Repair | $249 |
| IPAD 12.9 2nd Generation Microphone Repair | $199 |
| IPAD 12.9 2nd Home Button Repair | $199 |
| IPAD 12.9 2nd Generation Ringer/loudspeaker Repair | $199 |
| IPAD 12.9 2nd Generation Headphone Port Repair | $199 |
| IPAD 12.9 2nd Generation Back Camera Repair | $199 |
| IPAD 12.9 2nd Generation Front Camera Repair | $199 |
| IPAD 12.9 2nd Generation Camera Lens Repair | $75 |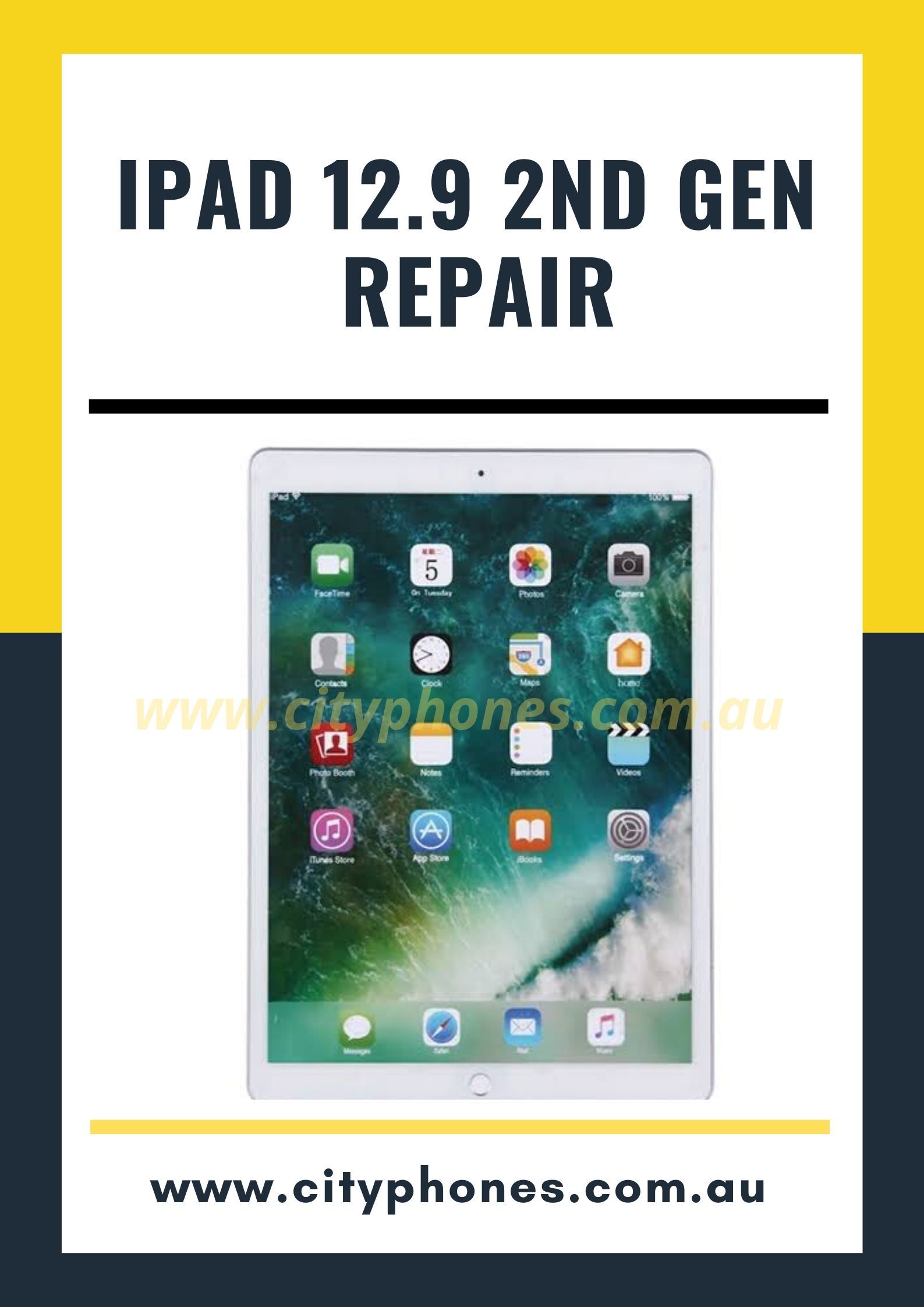 IPAD 12.9 2nd Generation Repair
IPAD 12.9 2nd Generation Repair in Melbourne and Greensborough
For quick and convenient IPAD repairs in Melbourne and Greensborough, contact the experts at City Phones. IPADs are very important devices which are mostly used at workplaces and are a main source of entertainment all over the world. In case you are experiencing problems with your IPAD 12.9 2nd Generation, we understand that you need quick repair service with assistance for your IPAD 12.9 2nd Generation device. Whether you need IPAD screen repairs or are experiencing a different issue with your IPAD 12.9 2nd Generation repair service, our team will be able to get to the root cause of the existing problem with your IPAD and provide a reliable solution to the problem you are facing with your IPAD with assistance. We provide screen replacement service for your IPAD 12.9 2nd Generation in just 30 minutes to an hour using the genuine repair parts which are best for long-lasting repair of the display screen. We provide an efficient and affordable IPAD screen repair service with a standard repair warranty included with every repair we perform.
IPAD 12.9 2nd Generation Screen Repair in Melbourne and Greensborough
As we know IPADs are amazing products, they are also quite vulnerable to cracks or breaking the screen also. In case you have accidentally dropped it on the ground, and it caused an unsightly crack on the screen. Even if the crack is small on the screen of your IPAD 12.9 2nd Generation, it could enlarge, and you may even risk hurting your fingers on the cracked screen. Here at City Phones, we completely replace the cracked screen of your IPAD with the assistance of our trained and experienced technicians. We use good quality replacement glass for replacing the cracked screen and with that, you get a fresh new look to your cracked IPAD 12.9 2nd Generation. For an accurate diagnosis of the problem in your IPAD and to get the convenient solution to the problem, contact City Phones. Most of the repairs are completed on the same day that is within 30 minutes to an hour with the help of our experienced technicians.
At Cityphones we can fix your IPAD 12.9 2nd generation. Most of repair are completed in same day. Call us today for more details.
City Phones can fix the following issues with your IPAD 12.9 2nd Generation tablet.
Broken Screens
Faulty Battery
Faulty Charging Port
Faulty Microphone
Faulty Headphone Port
Faulty Back/Front Cameras
Faulty Home Button
Faulty Loudspeaker
Feel free to get in touch with the Apple IPAD repair experts on 0426504955 or use our online chat service.