Samsung A72 Screen Repair
| Issue | Price | Repair Time |
| --- | --- | --- |
| Samsung A72 Screen/LCD Repair | $280 | 60 Minutes |
| Samsung A72 Back Glass Replacement | $75 | 60 Minutes |
Samsung A72 Repair
| Issue | Price | Repair Time |
| --- | --- | --- |
| Samsung A72 Battery Replacement | $75 | 60 Minutes |
| Samsung A72 Charging Port Repair | $99 | 60 Minutes |
| Samsung A72 Microphone Repair | $99 | 60 Minutes |
| Samsung A72 Ear Speaker Repair | $75 | 60 Minutes |
| Samsung A72 Ringer/loudspeaker Repair | $75 | 60 Minutes |
| Samsung A72 Back Camera Repair | $99 | 60 Minutes |
| Samsung A72 Front Camera Repair | $75 | 60 Minutes |
| Samsung A72 Camera Lens repair | $45 | 60 Minutes |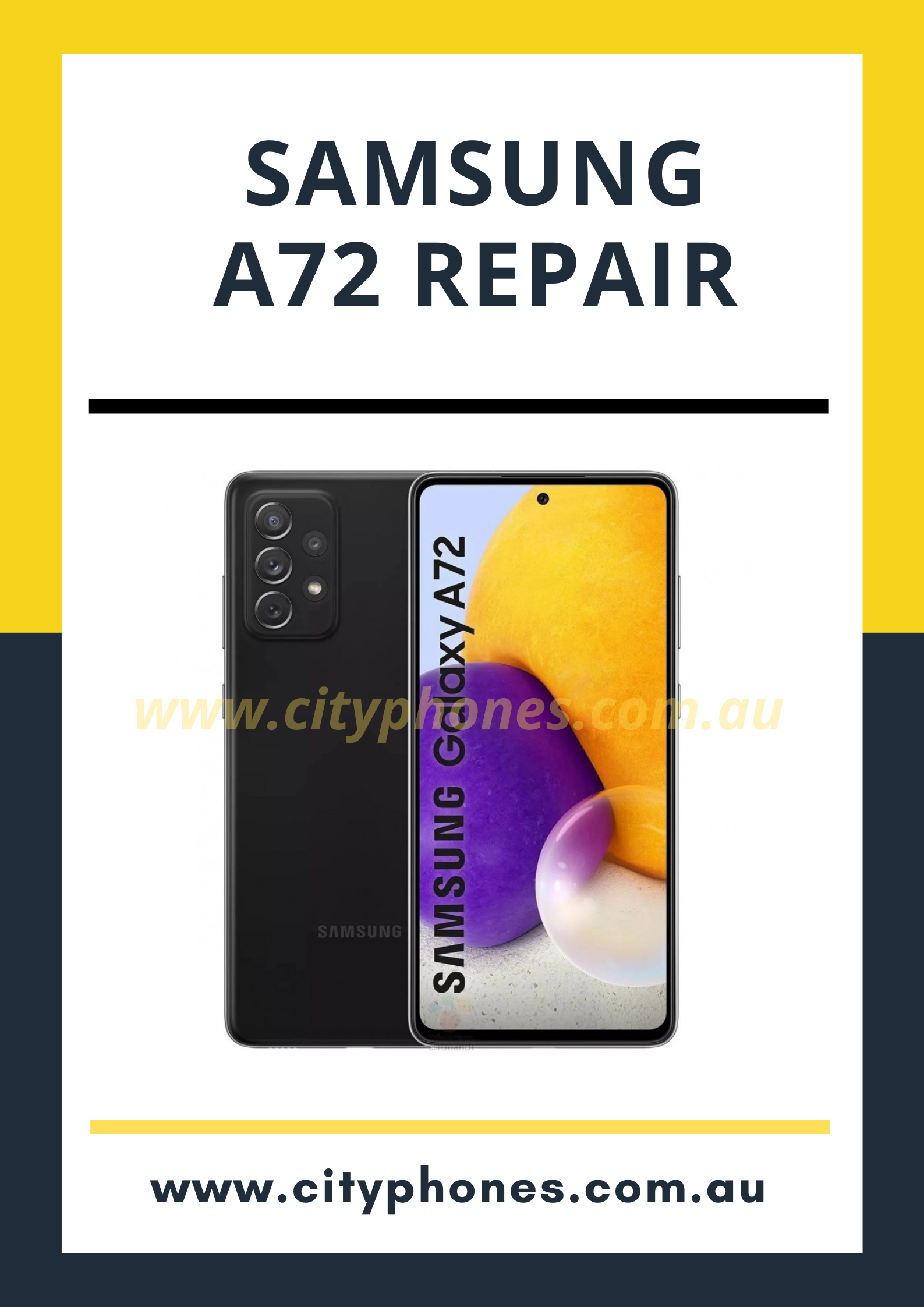 The Samsung Galaxy A72 was announced on March 17, 2021. It might not be as high-profile and flashy as the Samsung Galaxy S21 range, but it's a whole lot cheaper and has a respectable assortment of specs.
These include a 90Hz FHD+ screen, a big battery, and water resistance, among other things – so you're still getting some quite premium features here, potentially making this a good fit if you want a capable but not quite cutting-edge handset. It's available in Awesome Black, Awesome White, Awesome Violet, or Awesome Blue, and has an IP67 rating, meaning it's dust and water-resistant.
There's a quad-lens rear camera on the Samsung Galaxy A72, consisting of a 64MP f/1.8 main camera with optical image stabilization (OIS), an 8MP f/2.4 telephoto one (with OIS, 3x optical zoom, and 30x digital zoom), a 12MP f/2.2 ultra-wide one (with a 123-degree field of view), and a 5MP f/2.4 macro one.
It can also record 4K video at 30fps (or 1080p video at up to 60fps), and there's a 32MP f/2.2 selfie camera on the front. The battery meanwhile is a 5,000mAh one, with 25W charging. That's a good size, but there's no wireless charging.
Samsung A72 repair in Melbourne
One of the most common repairs is Phone screen repair. With the increase in screen size, there are always more chances that the screen cracks with a small drop. We can do Samsung a72 screen repair in 45 minutes. We use the original screen and come with a warranty. So if you are looking for a Samsung A72 screen repair or want to know the Samsung A72 screen repair cost, Call us today or come to a store located in Melbourne CBD. 
Sometimes due to the drop camera lens gets cracked. We can do a Samsung A72 camera glass repair. Or if your phone is not charging we can replace the charging port. We can do Samsung A72 charging port repair on the same day and mostly in 1 hour.
Call us today for more details or book online for repair.
Related services are
Samsung A72 repair price
Samsung A72 repair cost
Samsung A72 battery replacement
Samsung A72 charging port repair
Samsung Phone repair in Melbourne
Samsung Screen repair in Greensborough
Samsung A72 LCD repair
Samsung A72 not charging
Samsung A72 no display
If you are looking for cases or tempered glass. Please check our online store or check the following link.