Microsoft Surface Pro 8 Repair
Microsoft Surface Pro 8 Repair
| Issue | Price |
| --- | --- |
| Microsoft Surface Pro 8 Screen Repair | Call Us |
| Microsoft Surface Pro 8 Battery Repair | Call Us |
| Microsoft Surface Pro 8 Charging Port Repair | Call Us |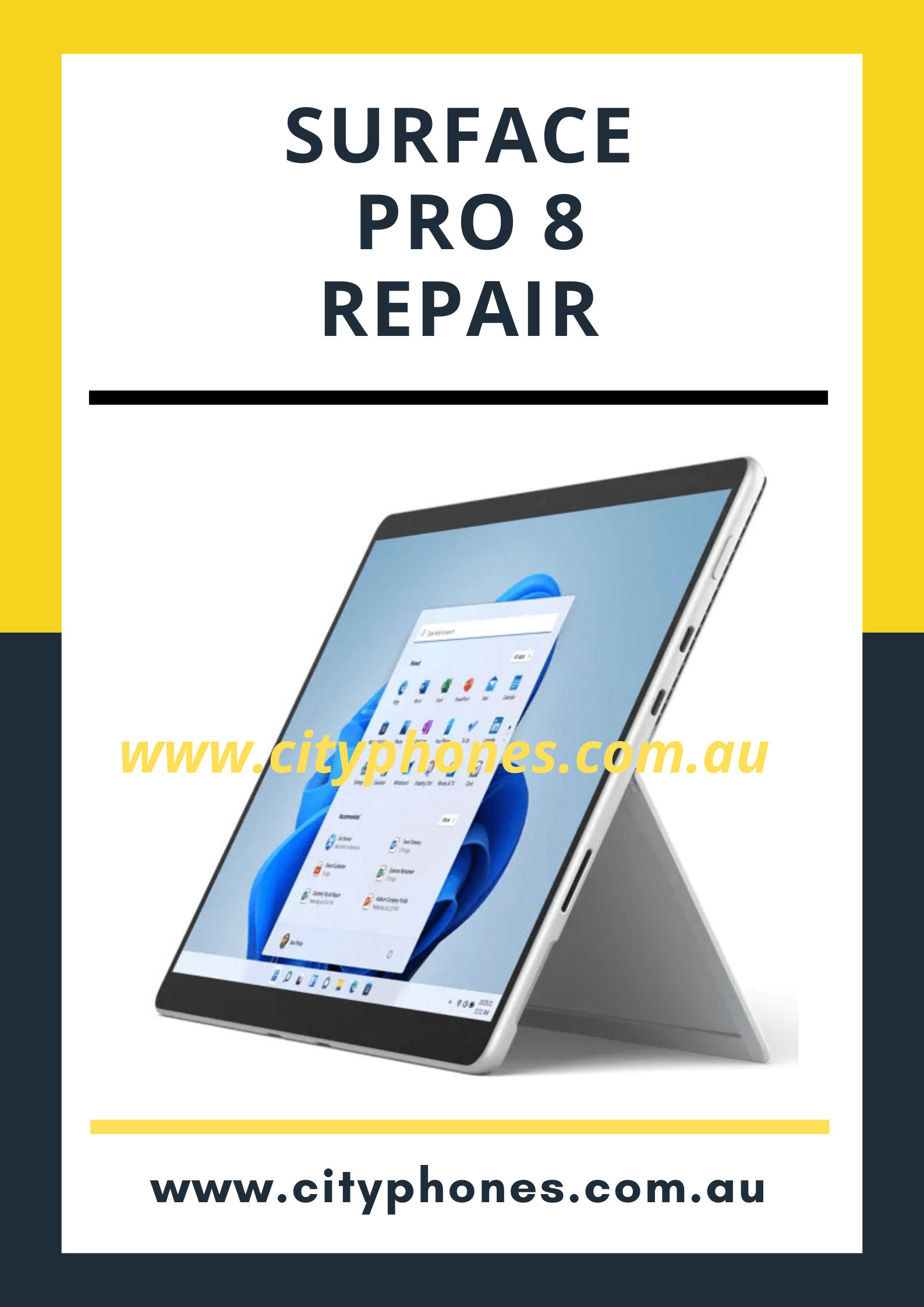 Microsoft Surface Pro 8 Screen Repair
Microsoft Surface Pro 8 Screen Repair Greensborough
Microsoft Surface Pro 8 combines the power of a laptop with the flexibility of a tablet and every angle in between. Microsoft Surface Pro 8 is the first Surface Pro device powered with Intel Evo on selected configurations with preloaded Windows 11. This device includes the iconic kickstand and a detachable keyboard with built-in slim pen storage and charging. Microsoft Surface Pro 8 gives you the power to do great things with the help of its larger 13″ touchscreen, and faster connections with Thunderbolt 4 ports. This device manufactured by Microsoft is designed to deliver unexpected performances. This device enables you to stay connected with your friends and family members with an all-day battery with up to 16 hours of battery life and fast charging ability which enables you to go from low battery to full battery in very less time which was not possible in the previous versions of the Microsoft Surface Pro series tablets. Although Surface Pro 8 is made to be durable and a perfect device, accidents do happen and may cause the screen of your Microsoft Surface Pro 8 device to break. City Phones repair almost every fault within your Microsoft Surface Pro 8 tablet from the hands of more than six years of experienced technicians. You can visit us with or without taking an appointment and get your Microsoft Surface Pro 8 repaired on the spot within the minimum possible time. All the repair works are conducted at our repair center within Melbourne and Greensborough, and we don't send our repair work to other technicians to get the work done at a low price. We never compromise with the quality of the Microsoft Surface Pro 8 repair and despite the low price of the repair work we use only authentic Microsoft Surface Pro 8 parts to get it repaired.
Microsoft Surface Pro 8 Battery Replacement in Melbourne
In case you need to replace your Microsoft Surface Pro 8 battery because of the battery drainage issue you are facing in your Microsoft Surface Pro 8 device. Look no further and contact City Phones because for the last six years we have been providing high-quality Microsoft Surface battery replacement service. When your Surface Pro 8 device needs to be charged again and again to keep it in use, as if not charged the tablet will get discharged because of lack of minimum battery power, you need to understand that your Microsoft Surface Pro 8 needs battery replacement immediately. City Phones is providing the second most essential repair service which is battery replacement. We replace the faulty Surface Pro 8 battery at a reasonable price. Our highly skilled and experienced technicians are experts in replacing the Microsoft Surface Pro 8 battery in just 30 minutes to an hour. We are committed to providing our customers with highly durable and long-lasting repair solutions using which our customers can make their life easier and more comfortable. Keeping this commitment in our mind we replace your faulty Surface Pro 8 battery with an original Surface Pro 8 battery.
Microsoft Surface Pro 8 Charging Port Replacement in Greensborough
If you need Microsoft Surface Pro 8 Charging Port Repair, let the professional repair technicians at City Phones help you out. Charging Port repair may be what you need if your device is charging slowly or not at all. Due to a nasty fall, the charging port in your Microsoft Surface Pro 8 tablet may need to be replaced. Whatever the case, the professional technicians at City Phones can help. All our repair services come with a standard repair warranty that covers all but accidental damage.
The Microsoft Surface Pro 8 features an 11th Gen Intel CPU and a larger 13-inch display. This tablet is the latest release in the company's line of 2-in-1 Surface Pro tablets. It includes an 11th-generation Intel CPU, a 13-inch 120Hz display and two Thunderbolt 4 ports, and a removable SSD. The tablet ships with Windows 11 and it has 11.3 x 8.2 x 0.37 inches dimensions and 1.96 pounds weight. The Surface Pro 8's small and lightweight design makes it a suitable portable design which makes it suitable to use at home or on the road. The dark anodized casing is very catchy and eye-pleasing which makes this 2-in-1 device feel tough and study. Feel the brilliant picture quality within your Microsoft Surface Pro 8 13-inch PixelSense touchscreen display with a 2880 x 1920px screen resolution. This tablet also sports Dolby vision and Adaptive color technology. As far as performance is concerned Surface Pro 8 provides solid performance on everyday tasks.
We are here to help you with the Microsoft Surface Pro 8 Repair in Melbourne and Greensborough so if you have any queries about the repair service don't hesitate to ask us. We are available at our customer care number 0426504955, or you can also email us your query about the repair at our email address info@cityphones.com.au. Visit our store addresses for on-the-spot resolution to your problem you are facing with your Microsoft Surface Pro 8. Our store addresses are Location 1: 148 Elizabeth Street Melbourne, VIC 3000 or Location 2: 219-B Elizabeth Street Melbourne, VIC 3000 and Location 3: L 01, Shop 137, 25 Main St, Greensborough, VIC. Our store opening timings are Monday to Friday 9.30 AM to 6.30 PM and Sat-Sun 10 AM to 5 PM.