IPHONE XS Repair in Melbourne
IPHONE XS Screen Repair
Issue
Price
Repair Time
IPHONE XS screen Repair

Price Drop

$99 ( Aftermarket quality )
30 minutes
IPHONE XS Back Glass Replacement
$99
60 Minutes
| Issue | Price | Repair Time |
| --- | --- | --- |
| IPHONE XS Battery Replacement | $99 | 30 Minutes |
| IPHONE XS Back Camera Repair | $149 | 30 Minutes |
| IPHONE XS Charging Port Repair | $119 | 60 Minutes |
| IPHONE XS Microphone Repair | $119 | 60 Minutes |
| IPHONE XS Ear Speaker Repair | $119 | 30 Minutes |
| IPHONE XS Ringer/loudspeaker Repair | $119 | 30 Minutes |
| IPHONE XS Front Camera Repair (without Face id) | $129 | 30 Minutes |
| IPHONE XS Camera Lens repair | $75 | 30 Minutes |
| IPHONE XS Back Frame Replacement | $149 | 60 Minutes |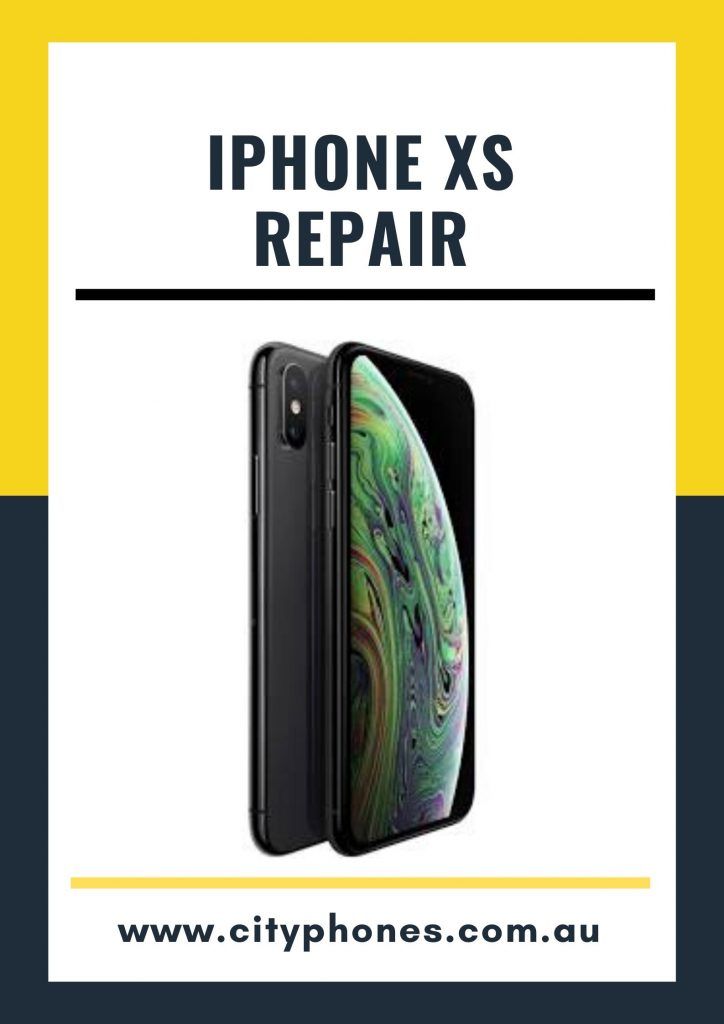 IPHONE XS Repair in Melbourne
IPHONE XS Repair in Melbourne and Greensborough
IPHONE XS is a widebody mobile phone that lies within the favorite list of everybody. The IPHONE XS is the most competent with the software part amongst all the IPHONE mobiles. This smartphone was released on 21st Sept 2018. The display screen of IPHONE XS is 5.8 inches (diagonal) with OLED Multi-touch having display size (5.65*2.79*0.30 inches) and 177 grams weight. The back camera of IPHONE XS is a 12MP wide-angle, 2x optical zoom, and 10x digital zoom while 7MP is the front camera of this smartphone.  The operating system which comes installed with IPHONE XS is iOS12 which is upgradable up to iOS 15.2. Special features which come with this phone are IP68 dust/water resistant technology with scratch-resistant glass, oleophobic coating IPHONE XS has one of the sharpest screens among all the IPHONE smartphones but it is breakable during an accident as these are not in our control to stop sudden drop of an IPHONE from the hands or sudden slip of the phone from the hands of the owner, in both these situations your IPHONE XS is likely to get damages resulting in cracks on the screen of the IPHONE XS mobile phone.
IPHONE XS Screen Repair in Melbourne and Greensborough
One of the major damages that your Apple IPHONE is likely to face is screen damage. Screen damage is one of the most common issues which is caused by the accidental drop from hands of the user of the IPHONE XS mobile phone. At City Phones this particular problem can be resolved on the spot within just 30 minutes to an hour. We use only genuine repair parts which ensures durability to our repair service and increases the longevity of the screen repair service. We know how important and precious a mobile phone is to our customers, so we use original repair parts so that they don't face the problem again with their mobile phone. Whenever you need IPHONE XS screen repair service within Melbourne and Greensborough with quality parts and from expert IPHONE repair technicians always choose City Phones as we provide affordable IPHONE XS screen repair.
IPHONE XS LCD Repair in Melbourne and Greensborough
In case your IPHONE XS starts showing purple or green lines on the screen or your IPHONE XS LCD screen goes black or you start experiencing problem while using your IPHONE XS mobile phone then the more than six years experienced IPHONE XS repair technicians will replace the broken LCD screen of your IPHONE conveniently with ease in just 30 minutes to an hour. The best part of City Phones' IPHONE XS LCD replacement is that with every LCD replacement we provide a standard replacement warranty to back our LCD replacement service also we use high-quality parts in our LCD replacement service. You will start experiencing an LCD screen with a brand new IPHONE mobile phone within 30 minutes to an hour. At City Phones we understand that being without your IPHONE is a major inconvenience, so we focus on providing you with a quick LCD replacement service so that you start using your IPHONE like before the accident.
IPHONE XS Battery Repair in Melbourne and Greensborough
If you are experiencing problems with your IPHONE like your IPHONE battery is not holding the charge or the battery is draining quickly or your IPHONE is taking longer than expected while charging IPHONE completely, then your IPHONE XS mobile phone battery needs replacement. Look no further than City Phones if your IPHONE XS mobile phone needs new batteries as we provide original IPHONE battery replacement service at an affordable price. Don't let your IPHONE faulty battery hamper your productivity, go for new batteries for your IPHONE XS mobile phone from the hands of your expert IPHONE repair technicians who have more than six years of experience in IPHONE XS battery replacement. With every IPHONE XS battery replacement service, we provide a standard repair warranty to back our IPHONE XS battery replacement service.
IPHONE XS Charging Port Repair in Melbourne and Greensborough
If your IPHONE XS mobile phone is not charging as usual with your IPHONE charger, you need to see if your IPHONE is charging by changing your IPHONE charger. But still, if you are experiencing a problem with your IPHONE charging then you can see by changing your IPHONE charging cable and seeing if your IPHONE starts charging. Again, if your IPHONE XS is creating problems with its charging process then it is sure your IPHONE needs a new charging port as your old one has gone faulty and needs immediate replacement. City Phones is the best place to get your IPHONE XS charging port replaced with a new one. Our repair prices are low, but that doesn't diminish the quality of our repairs. We assure you that only the original repair parts will be used in all our repairs, and we strive to produce our best work with every repair. We aim to replace the faulty charging port of your IPHONE mobile phone on-the-spot taking just 30 minutes to an hour.
IPHONE XS Front and Back Camera Repair in Melbourne and Greensborough

If your IPHONE XS is accidentally dropped from your hands resulting in taking blurred photos from your IPHONE then you need to replace your IPHONE mobile phone front and back camera lens. In such a situation you need a professional IPHONE front and back camera lens replacement service using a brand-new lens so that your IPHONE XS original photo quality is restored at an affordable price. IPHONE lens replacement is very precise work and it should only be performed by an expert IPHONE repair technician. City Phones is one of the leading IPHONE XS mobile repair service providers within Melbourne and Greensborough so choose one of the leading IPHONE front and back camera providers which provides complete satisfaction to the customer. It will not take more than 30 minutes to an hour to get a new camera lens for your front and back camera enabling you to take good quality photos again.
With IPHONE XS repair in Melbourne and Greensborough City Phones also deals with the world's leading brands IPHONE XS cases, IPHONE XS covers, and IPHONE XS Screen Protectors at competitive prices than the market. These cases, covers, and screen protectors will minimize the damage if your IPHONE suddenly drops from your hands and provide protection to your IPHONE XS's screen from accidental slips. To purchase premium quality branded IPHONE XS cases, covers, tempered glass, and screen protectors visit our online store to order online IPHONE XS accessories available at competitive prices with free shipping and Afterpay facility which enables you to buy your favorite IPHONE XS case and screen protector now and pay for it later.
IPHONE XS repairs in Melbourne CBD Australia. Most advanced and high-tech phone for the year 2018. IPHONE XS is the next level up for IPHONE X.  IPHONE XS is a very strong device and its lot more durable as compared to any other phone in the market. It also has back glass along with the front screen glass, which makes it more fragile than the previous IPHONE models. When it comes to repairing Cityphones has all the right and advanced tools to fox the modern-day devices. In terms of repairing IPHONE XS, we can fix the most of issues with IPHONE XS. Starting from Screen repair, speaker repair, battery replacement to motherboard issues.
Following are a few examples of recent IPHONE XS repairs,
-Screen Replacement
-Non-Working LCD
-Non-Working Battery
-Non-Working Camera
-Non-Working Back glass
-Speaker Replacement
-Headphone Replacement