Samsung A30 Repair
| Issue | Price |
| --- | --- |
| Samsung A30 LCD Replacement (Broken LCD, No display, lines, dead pixels, etc ) | $199 |
| Samsung A30 Battery Replacement | $75 |
| Samsung A30 Charging port replacement | $75 |
| Samsung A30 Microphone Repair | $75 |
| Samsung A30 Ear Speaker Repair | $75 |
| Samsung A30 Ringer Repair | $75 |
| Samsung A30 Headphone Socket Repair | $75 |
| Samsung A30 Back Camera Repair | $75 |
| Samsung A30 Front Camera Repair | $75 |
| Samsung A30 Camera lens Repair | $45 |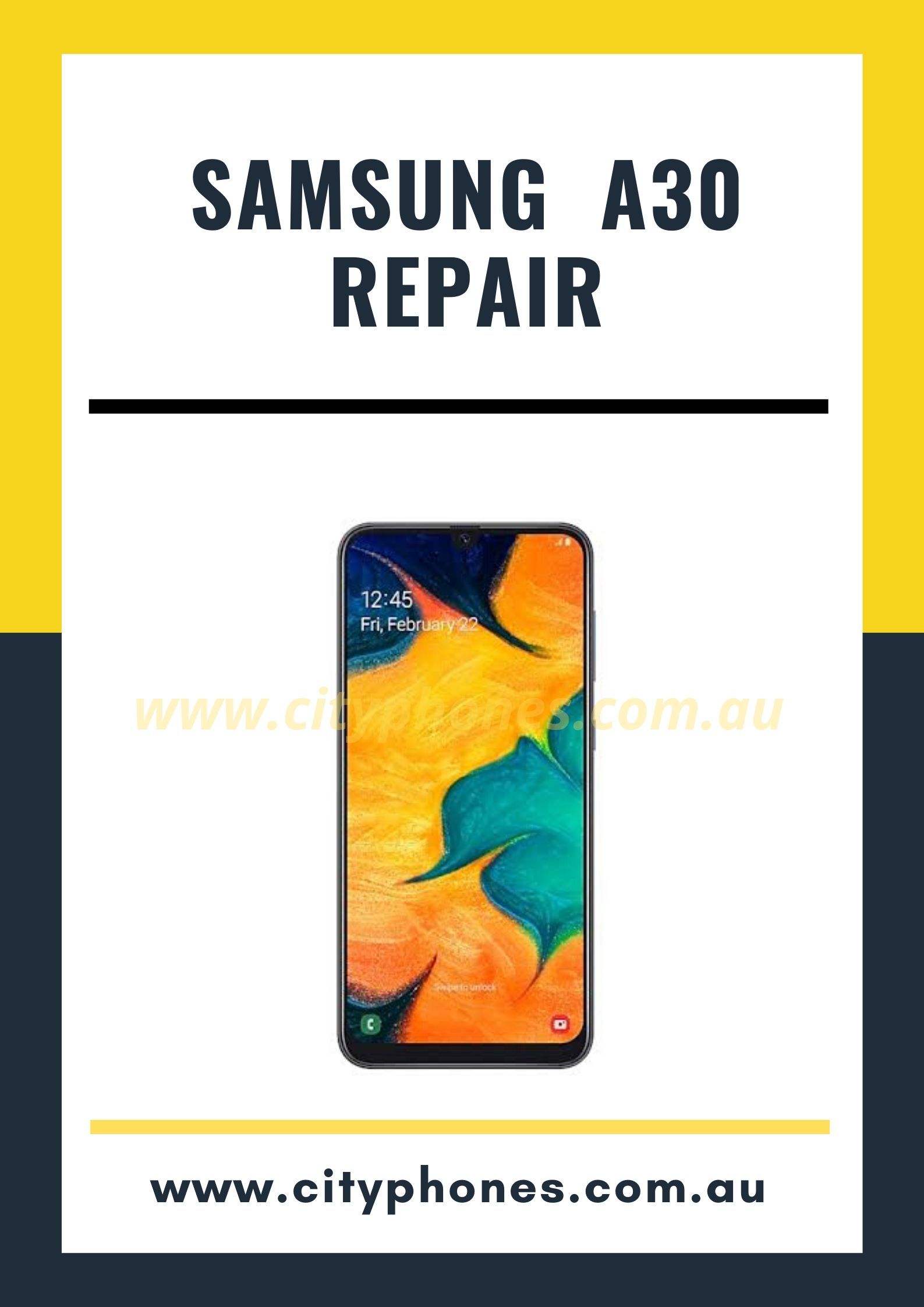 Samsung A30 Mobile Phone Repair in Melbourne CBD Australia
City Phones is a leading Smartphone repair company based in Melbourne CBD, Australia. We provide best in class online premium phone repair service booking where you have to visit mobile phone model and click on Book Repair Online. We provide repair services from our two stores located in the Melbourne area. Visit our website to get instant quotes for mobile phone repair and you can book repair for your mobile phone also. We provide convenient options to get your mobile phone repaired like mail-in service where you have to post or courier faulty smartphone to our store address, and we will return your repaired smartphone at your address. We have a well-trained team of technicians that can PERFORM almost all the repairs within 30 minutes to 1 hour. We repair common as well as major faults which people face in their routine life with their Samsung mobile phones. These faults are cracked screen repair, battery replacement, headphone socket repair, charging port repair, back camera repair, Front camera repair, camera lens repair, Ear Speaker repair, and much more.
Samsung Galaxy A30 Screen Repair in Melbourne
The screen is the most delicate portion of a smartphone. City Phones Melbourne CBD provides you the service for Screen and LCD replacement of your Samsung A30 mobile phone. We have with us in our team the best mobile phone technicians in Melbourne being Samsung repair specialists as well. We are a Samsung Authorized service center and strictly use only original parts to repair your Samsung mobile phone. The Screen and LCD replacement service for Samsung Galaxy A30 comes under a guaranteed warranty period. The warranty gets void if there is any trace of physical or water damage to the device. We always aim to provide the best service for our customers not only in terms of repairs but also in terms of customer support.
Timely Service of Your Samsung A30 Mobile Phone
City Phones have the fastest turnaround time for Samsung Galaxy A30 repair. We always provide repair services in the quoted timeframe. Being a Samsung authorized service center, we have vast experience in repairing Samsung mobile phones. The majority of phone repairs take 30 minutes to 1 hour. Thus, people prefer us for fast Samsung phone repair.
Battery Replacement of Samsung Galaxy A30 
The battery replacement of your Samsung A30 mobile phone is carried out by our expert technicians. We also repair cracked screens for Samsung phones. In addition, we install a high-quality resolution LCD for the broken screen of the Samsung Galaxy A30. During the screen replacement, we use only original Samsung parts.
Apart from Samsung Phone Repair, we sell mobile phone accessories like back covers, cases, and screen protectors which protect your costly smartphone from accidental damages. Buy online accessories for your smartphone at an affordable rate with the guarantee of genuine products.
For any queries and questions regarding your mobile phone repair service feel free to contact us on our contact us numbers which are 0426504955 or email us at info@cityphones.com.au.