Samsung Note 5 Repair
| Issue | Price |
| --- | --- |
| Samsung Note 5 Screen Repair ( If phone LCD and Touch are still working) | $249 |
| Samsung Note 5 LCD Replacement (Broken LCD, No display, lines, dead pixels, etc ) | $249 |
| Samsung Note 5 Battery replacement | $99 |
| Samsung Note 5 Charging port replacement | $99 |
| Samsung Note 5 Microphone Repair | $99 |
| Samsung Note 5 Ear Speaker Repair | $75 |
| Samsung Note 5 Ringer Repair | $99 |
| Samsung Note 5 Headphone Socket Repair | $99 |
| Samsung Note 5 Back Camera Repair | $99 |
| Samsung Note 5 Front Camera Repair | $99 |
| Samsung Note 5 Camera lens Repair | $45 |
| Samsung Note 5 Back Glass Replacement ( Cracked Backglass ) | $69 |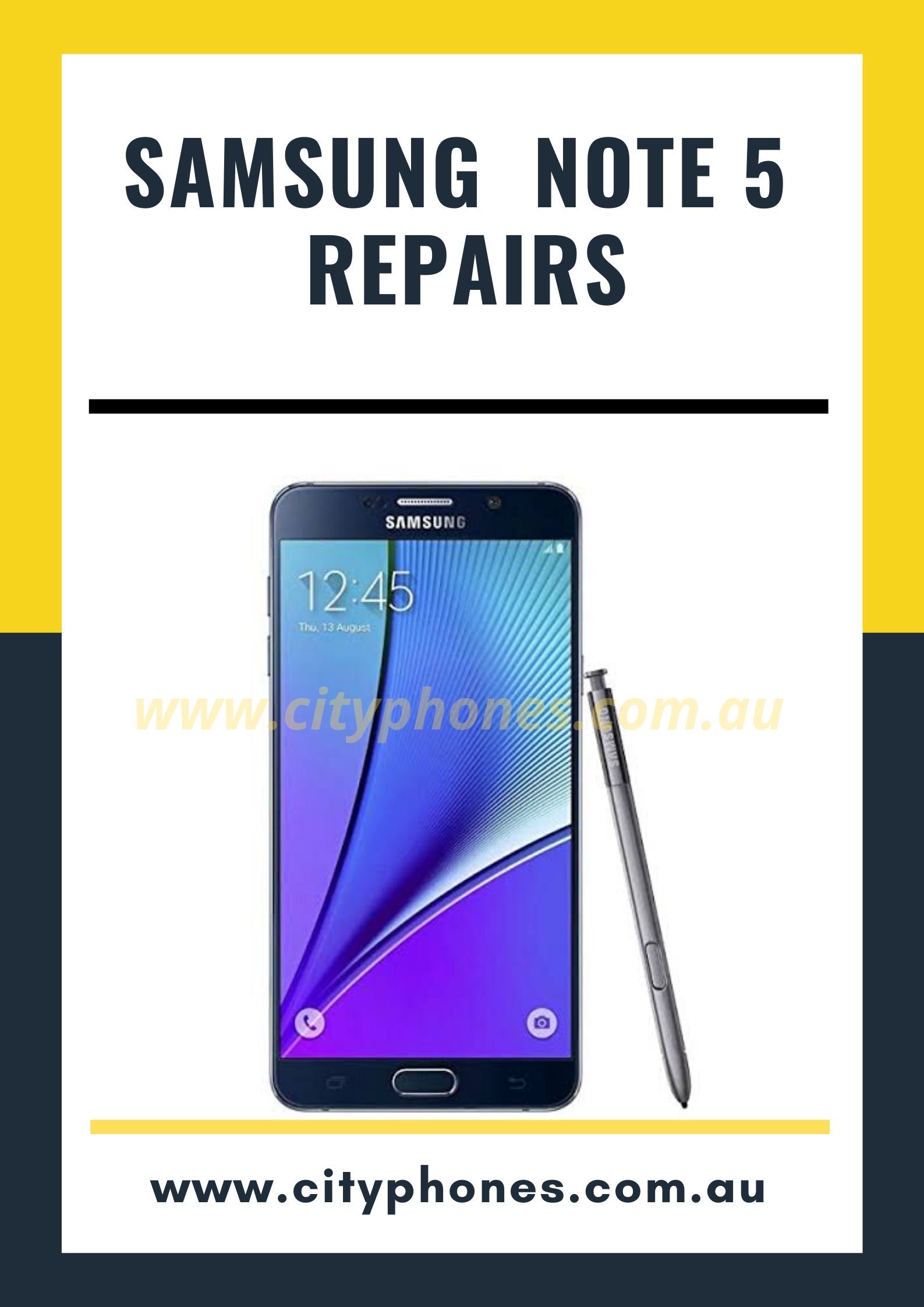 Samsung Note 5 Repair
Samsung released Samsung Note 5 and gave them a reason to buy newly released smarter smartphone which comes with a S Pen, a versatile tool to give your dreams new wings. By introducing this new smartphone in the market Samsung is giving a low-cost way of experiencing slimmer design framed by sleek metal and glass to you. At City Phones, our trained and certified technicians are equipped with all that is needed to perform Samsung screen repair services in Melbourne.
At City Phones, we can fix the following issues with your Samsung Note 5 smartphone.
Samsung Note 5 Screen Repair
Think of Samsung Note 5 as a lot like Samsung Note 4 with improved 0.58% higher pixel density, 518ppi vs 515ppi and 1GB more RAM. The screens on every phone are the most delicate part that shatters easily by falling down. One should use a protective case or Samsung Note screen protector to prevent their phone from getting damaged. At City Phones our experienced technicians can fix your broken Samsung Note 5 screen repair in Melbourne within few minutes.
Samsung Note 5 LCD Replacement
Talking about the performance Samsung Note 5 is 1.58x faster in CPU speed than Samsung Note 4. This Samsung smartphone is having 5.7" display with OLED screen with full HD+ resolution. Samsung Note 5 LCD repair at City Phones Melbourne only comes into the picture if your screen has bizarre lines, it went totally black, or it is showing the touch issues. In that case, one needs to get the Samsung Note 5 LCD replacement service instead of the Samsung Note glass repair service.
Samsung Note 5 Battery Replacement
Samsung phone batteries are quite good especially in the case of Samsung Note 5 which supports 3000mAh battery which lasts up to 22h once it is fully charged. Fast Charging of 15W support and music play of 64 hrs. However, if the phone suddenly drops off the charging or takes a long time to charge then there might be some problem with the battery. At City Phones, we can fix your battery issues and perform Samsung Note battery replacement if required.
Samsung Note 5 Charging Port Repair
This is a common problem with Samsung phones as we all at some points have experienced or have seen people having trouble with smartphone charging. The obvious issue, in that case, one can think of is the faulty charger, but the issue might also with faulty charging port. As the time passes the mobile phone's charging port gets faulty and need to replace. At City Phones we can replace your smartphone's charging port in few minutes and bring back your smartphone to life.
Samsung Note 5 Camera Repair
Samsung Note 5 is having 16MP camera rear camera with autofocus and 5MP front camera. Samsung camera phones come with the software and the slightly improved front camera as compared with Samsung Note 4. At City Phones we can perform all the jobs related to Samsung Note 5 camera repair. We strongly believe in customer satisfaction and our staff always try their best to bring your phone back to as good as new.
Samsung Note 5 Motherboard Repair
At City Phones we also provide the service of motherboard repairs. Whether it is some soldering work or replacing an IC on the motherboard, we have a state-of-the-art tools and technology to perform repairs. Our staff is experienced and well trained to perform motherboard repairs of all Samsung mobile phones.
Few of the other Samsung Note 5 repairs performed at City Phones include:
Faulty motherboard repair
Faulty cameras repair
Camera lens repair
Back glass replacement
Faulty microphone repair
Faulty ringer/loudspeaker
Data recovery
Samsung Note 5 Insurance and Damaged Report
City Phones also provides phone accessories and protective cases to protect you phone, you can either look at them in-store or on our online store. For all the repair services you can visit our store, or Book Repair sitting at your home. We also provide pick-up and drop-off repair, on the spot repair service in Melbourne, and repair by post in Australia.
Our Store Address:
148 Elizabeth Street
Melbourne CBD 3000