IPHONE 12 Pro Repair in Melbourne
IPHONE 12 Pro Repair
Issue
Apple Genuine Parts
Aftermarket Parts
Estimated Repair Time
IPHONE 12 Pro Screen Repair
$549

Price Drop

$149
30-60 minutes
IPHONE 12 Pro Battery Replacement
$179
$149
30-60 minutes
Genuine Apple Parts are sourced from Apple.  1 Year Warranty on the repair.
After Market Parts are High-quality parts not from Apple.  6 Months warranty on the repair.
IPHONE 12 Pro Other Repair Service
| Issue | Aftermarket Parts | Repair Time |
| --- | --- | --- |
| IPHONE 12 Pro Backglass Replacement | $199 | 2-3 Hours |
| IPHONE 12 Pro Charging Port Repair | $149 | 60 Minutes |
| IPHONE 12 Pro Microphone Repair | $149 | 60 Minutes |
| IPHONE 12 Pro Ear Speaker Repair | $149 | 60 Minutes |
| IPHONE 12 Pro Ringer/loudspeaker Repair | $149 | 60 Minutes |
| IPHONE 12 Pro Back Camera Repair | $249 | 60 Minutes |
| IPHONE 12 Pro Front Camera Repair (without Face id) | $149 | 60 Minutes |
| IPHONE 12 Pro Camera Lens repair | $75 | 60 Minutes |
| IPHONE 12 Pro Back Frame Replacement | $299 | 60 Minutes |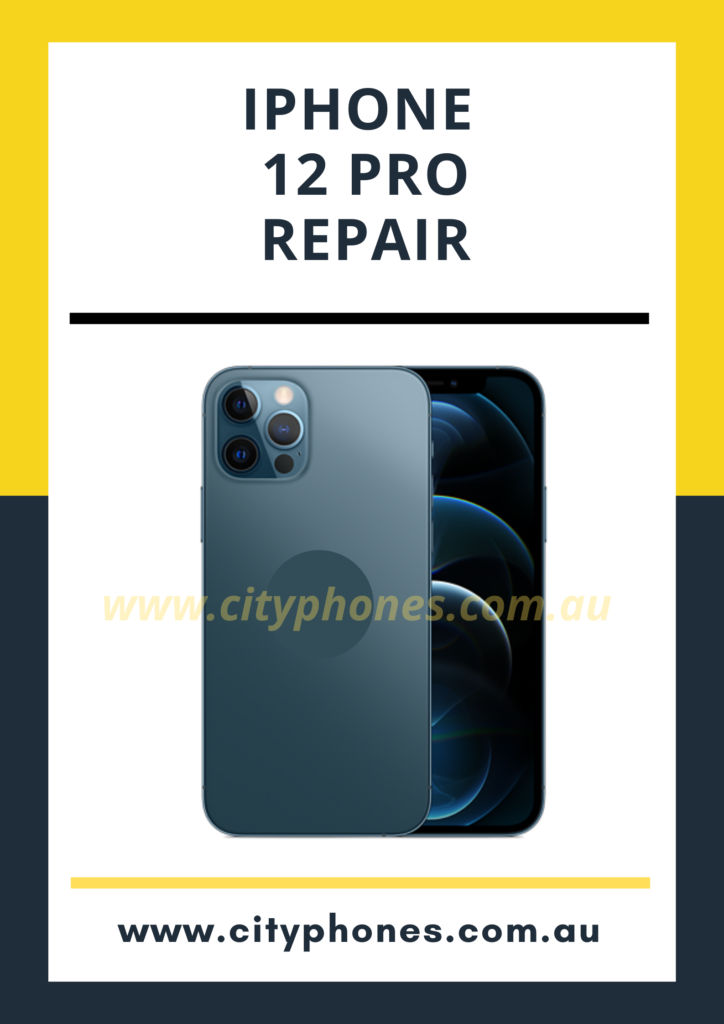 IPHONE12 Pro repair in Melbourne
At Cityphones, we are equipped with everything to carry IPHONE 12 pro repair. All of our IPHONE12 Pro repairs come with 12 months of warranty and can be done in 30-90 minutes.
We strongly believe in customer satisfaction and aim to provide our customers with the best experience and service. In addition to on-the-spot repairs, we have pick-up and drop-off repair service, and repair by post in Melbourne Australia.
IPHONE12 Pro screen repair
Our experienced technicians at Cityphones can replace the broken IPHONE 12 Pro Glass if the display and the touch screen are functional. IPHONE 12 Pro glass replacement, IPHONE 12 Pro Retina OLED display screen. One can use a protective case or IPHONE 12 screen protector to prevent their phone. Our experienced staff and technicians are capable of carrying screen repair within a couple of hours.
IPHONE 12 Pro screen and display replacement
This is the first IPHONE generation that has an OLED display in every model. IPHONE12 Pro LCD repair at City Phones Melbourne is only required if you are totally unable to use your IPHONE screen. For an instance, if your screen has got lines or it went totally black, or it has touch issues. In that case, we can replace the complete IPHONE 12 Pro glass & OLED display screen.
IPHONE 12 Pro back glass replacement
Cityphones is equipped with all the devices required to replace the IPHONE 12 Pro rear glass replacement in Melbourne. Our expert technicians can perform this repair within hours or on the same day.
IPHONE 12 Pro battery replacement
If the phone suddenly starts to drop the charging, unable to charge or takes a long time to charge then there might be some problem with the battery. At CityPhones our technicians can assist you with the charging-related issues and are capable of replacing the battery if needed.
IPHONE12 Pro Charging port repair
We all at some point have experienced the problem of phone not charging. One can think of it as the faulty charger, but it can also be the faulty charging port. Cityphones can repair the charging port in no time.
IPHONE12 Pro camera repair
At City Phones, we can perform all the jobs related to IPHONE12 Pro camera repair. We strongly believe in customer satisfaction and our staff always try their best to bring your phone back to as good as new.
Motherboard repair
In addition to the services above, we also provide the service of motherboard repairs. We have a state of the art tools and technology, certified and experienced technicians to perform motherboard repairs. We also provide phone accessories and protective cases to protect your phone, you can either look at them in-store or at our online store. For repair services, you can visit our store, or alternatively, you can click on the Book Repair button on this page to book your repair.
The most common services we provide for the device are as mentioned below
Screen replacement
Glass repair
Back glass repair
Battery replacement
Camera repair
Charging port repair
Data recovery
Charging Port Replacement
Front Camera Replacement
Back Camera Replacement
Earpiece Speaker Replacement
Headphone Jack Replacement
Loud Speaker Replacement
Power Button Replacement
Volume button Replacement
Vibrator Replacement
Motherboard Repairs
Water Damage Repair Assessment
Fault Diagnosis & Quote Service
Insurance Damage Report& Quote Service
Store timings
148 Elizabeth Street
Melbourne CBD 3000
Mon-9.30 AM to 6.30 PM
Tue  -9.30 AM to 6.30 PM
Wed -9.30 AM to 6.30 PM
Thr  -9.30 AM to 6.30 PM
Fri    -9.30 AM to 6.30 PM
Sat   -10.00 AM to 5.00 PM
Sun -10.00 AM to 5.00 PM
IPHONE 12 Pro screen repair cost – Cityphones Melbourne
Cityphones cover all the faults with your device. The expert technicians and staff are able to provide all the repairs. we also provide pick-up and mail service for areas around Melbourne CBD. Please submit your query for pick-up service if required.
IPHONE 12 Pro screen repair price
Our Melbourne CBD store provides all the services required for your IPHONE 12 Pro repairs. Please refer to the table above for all the prices or simply contact us.