Huawei Mate 10 Pro Repair

Huawei Mate 10 Pro Repair
| Issue | Price |
| --- | --- |
| Huawei Mate 10 Pro Screen Repair | $275 |
| Huawei Mate 10 Pro Battery Replacement | $99 |
| Huawei Mate 10 Pro Charging Port Repair | $99 |
| Huawei Mate 10 Pro Microphone Repair | $99 |
| Huawei Mate 10 Pro Ear Speaker Repair | $99 |
| Huawei Mate 10 Pro Ringer/loudspeaker Repair | $99 |
| Huawei Mate 10 Pro Headphone port Repair | $99 |
| Huawei Mate 10 Pro Back Camera Repair | $99 |
| Huawei Mate 10 Pro Front Camera Repair | $75 |
| Huawei Mate 10 Pro Camera Lens Repair | $45 |
| Huawei Mate 10 Pro Back Glass repair | $99 |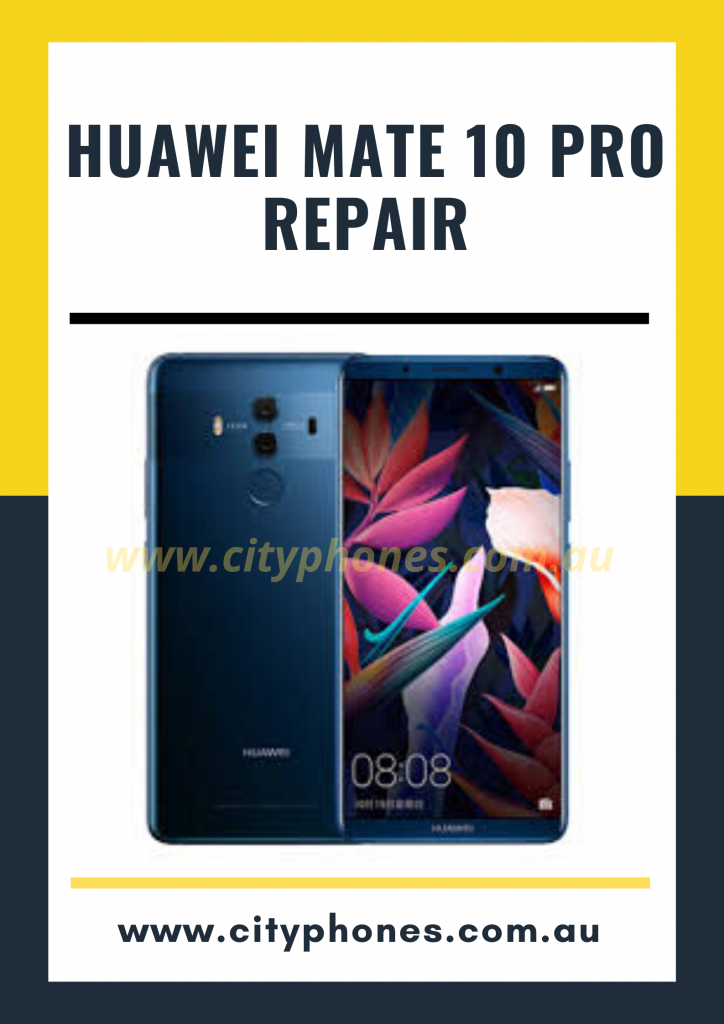 Huawei Mate 10 Pro Repair in Melbourne
Instead of marching in lockstep, the Huawei Mate 10 and Mate 10 Pro will be chasing each other from one place to the next, quite unlikely to catch up except in a select few regions. It's not a parade then, it's a pursuit and therefore more exciting. So, which one would you pick? The super-sharp Mate 10 or the have-it-all-but-not-quite Mate 10 Pro? The former had its primetime slot already, it's now the Pro's turn to take the spotlight.
The Mate 10 Pro is quite different from the regular model, coming with a 6″ 18:9 AMOLED screen with even slimmer bezels, a water-tight body, faster LTE, more RAM and storage and a rear-mounted fingerprint scanner. The upgrades come at a bitter price though, costing the Mate 10 Pro the QuadHD screen resolution, the audio jack and the memory card slot.
The new Kirin 970 with the hyped Neural-Network Processing Unit (NPU) is shared among the two to hopefully set the standard in machine-learning-driven hardware acceleration on Android. The cool Leica Dual Camera is a top performer with a high-res monochrome sensor, manual mode and smart scene recognition. There's also the fast-chargeable 4,000mAh battery, which at this point is almost a given on a Mate device.
Huawei Mate 10 pro screen repair in Melbourne CBD by qualified professionals. We have high-quality parts available to fix your Huawei mate 10 pro screen on the spot.
Our friendly and welcoming staff is capable to have it ready while you have lunch or a cup of coffee. New devices are high tech these days and they also have very fragile parts inside. So, if these devices are handled by unprofessional, they can cause more damage it.
BEST HUAWEI MATE 10 Pro SCREEN REPAIR IN MELBOURNE
With Cityphones, you do not have to worry about it. Our trained experts can fix it in just minutes.  We cover all types of repair for Huawei Mate 10 pro phones, whether its broken screen or broken LCD, broken charge port, headphones not working properly or any other issue.
Cityphones can fix the following damages to Huawei Mate 10 Pro.
-Broken Screens
-Broken LCD
-Faulty charging port
-Faulty Headphone Jack
-Faulty back/front cameras
-Motherboard issues
-Broken parts
Please feel free to contact us on 0426504955
Huawei Screen Repair Melbourne.
Huawei Mate 10 Pro Screen Repair in Melbourne.
Huawei Mate 10 Pro battery Repair in Melbourne.