IPHONE 7 Plus Repair in Melbourne
IPHONE 7 Plus Repair
| Issue | Price |
| --- | --- |
| IPHONE 7 Plus Screen Repair | $89 |
| IPHONE 7 Plus Battery Replacement | $69 |
| IPHONE 7 Plus Charging Port Repair | $99 |
| IPHONE 7 Plus Microphone Repair | $99 |
| IPHONE 7 Plus Ear Speaker Repair | $75 |
| IPHONE 7 Plus Home Button Repair (without touch id) | $75 |
| IPHONE 7 Plus Ringer/loudspeaker Repair | $75 |
| IPHONE 7 Plus Back Camera Repair | $145 |
| IPHONE 7 Plus Front Camera Repair | $99 |
| IPHONE 7 Plus Camera Lens repair | $75 |
| IPHONE 7 Plus Back Frame Replacement | $175 |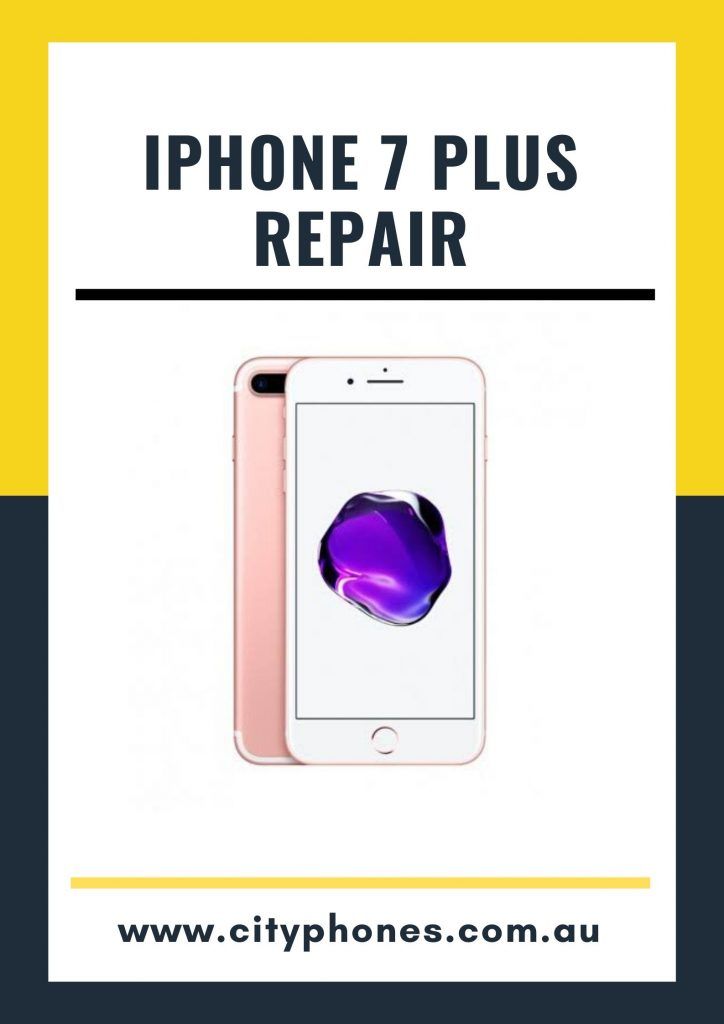 IPHONE 7 Plus Repair in Melbourne and Greensborough
Released on 16 Sep 2016 IPHONE 7 Plus is a good phone with an aluminum frame body, aluminum back, and Gorilla Glass front glass display. IPHONE 7 Plus dimensions are 158.2 x 77.9 x 7.3 mm with 188g weight, Retina IPS LCD display screen size of 5.5 inches, 67.7% screen-to-body ratio and 1080 x 1920 pixels screen resolution. This phone has got ion-strengthened glass with an oleophobic coating. IPHONE 7 Plus has been a favorite among its customers, but it is not without its faults. Even a phone with the build quality of IPHONE 7 Plus is still prone to damages. A drop onto a hard surface can crack the glass, making it difficult to view your IPHONE screen or use it properly. At City Phones, we combine the knowledge of our technicians, high-quality replacement parts, and a standard repair warranty to provide your perfect IPHONE repair service.
IPHONE 7 Plus Screen Repair in Melbourne and Greensborough
Broken screens are one of the most common issues IPHONE users have. Usually, a broken screen is the result of an IPHONE taking a nasty fall onto a hard surface. There's only so much a screen protector can do to protect the delicate glass screen that makes up your touchscreen; and although a cracked screen is still usable, it's a hassle to see through a cracked screen. Also, it is dangerous to text on a cracked screen. Our expert technicians have mastered the art of screen replacements to provide a swift and easy screen fix which you can rely upon. For on-the-spot screen replacement on your IPHONE 7 Plus just bring your cracked screen phone to us. We will replace the cracked screen without any hassle using genuine IPHONE replacement parts and you will have a new screen in no time.
IPHONE 7 Plus LCD Repair in Melbourne and Greensborough
In case your IPHONE 7 Plus glass screen has broken glass or the glass is peeling away or coming out of the frame, but the LCD is fine then we repair the glass of your IPHONE screen. However, if your display is affected as well, whether it displays nothing at all or just vertical bars or lines, you'll need our glass and LCD repair service. We will replace the LCD screen in just 30 minutes to an hour using original IPHONE repair parts so that all our repair service is long-lasting and durable thus providing complete peace of mind to our customers.

IPHONE 7 Plus Battery Repair in Melbourne and Greensborough
City Phones is a leading IPHONE repair shop within Melbourne and Greensborough. We perform the quick and accurate repair for any IPHONE model. Efficient and convenient IPHONE repair services are provided for all types of physical damages, battery problems, charging port issues, front and back camera issues, etc. In case your IPHONE battery is not holding the charge, or your phone is taking more time to charge, it is sure your IPHONE 7 Plus battery needs replacement. City Phones has some of the most experienced technicians available to replace the faulty battery of your IPHONE 7 Plus phone. We replace the faulty battery of your IPHONE with a new original one so that it provides longevity to your IPHONE 7 Plus battery replacement service, and you don't need to face the same situation again in the future.
IPHONE 7 Plus Charging Port Repair in Melbourne and Greensborough
People are plugging their IPHONE 7 Plus on charging almost every day. When you do this in an improper way you can damage the charging port. Fortunately, you can use IPHONE 7 Plus charging port replacement and repair services whenever something like this happens. The best services of this kind in Melbourne and Greensborough are provided by City Phones. With the help of our IPHONE repair specialist, we will determine whether your IPHONE 7 Plus needs repairing, or replacement and we will finish the process as soon as possible. Simply visit our stores in Melbourne and Greensborough to have to charge port repair or replacement at an affordable price in the minimum possible time.
IPHONE 7 Plus Front and Back Camera Repair in Melbourne and Greensborough
Most IPHONE 7 Plus users are taking a few photos with their phones every week. If the front and back cameras on your IPHONE 7 Plus are not working, this could be a huge problem for you. For the IPHONE 7 Plus repair technicians at City Phones replacing the lens of both the front and back camera is a routine job and we perform each front and back camera lens replacement with perfection and at an affordable price so that you could again enjoy taking splendid photos from your IPHONE 7 Plus mobile phone.
Looking for IPHONE 7 Plus repair in Melbourne? The IPHONE 7 Plus boasts both the greatest surface area and the highest number of cameras. Like with the IPHONE 7, the headphone jack got kicked out to make space for more Taptic Engine. However, Apple has stayed loyal to the Pentalobe. Two now-familiar screws guard each side of the Lightning connector. The black and white adhesives sealing the perimeter of the 7 Plus are considerably stronger than the adhesives found in its predecessor, an effort to improve the IPHONE's water resistance attribute. There are also a few tri-point screws guarding the cable bracket that cover the battery connector and two of the display cables, which means that it takes a pair of skillful hands and up to four different types of drivers to perform successful battery and screen replacements.
Mechanical buttons are a thing of the past when you have a Taptic Engine that uses haptic feedback to simulate the push of a button, without having a real button. The upgraded cameras have resulted in a bigger exterior camera bump built into the chassis in another suspected waterproofing/dust-fighting tactic. In fact, there are four metal pads around one camera, which are possibly the magnets that enable OIS. Before removing the logic board from the rear case, we need to remove portions of the antenna assembly like the antenna flex cable, which acts as a bridge between antenna pathways.
The loudspeaker has a few spring contacts and some mesh with ingress protection, as it shares design similarities with the speakers in the 6 Plus and 6S Plus and bears a familiar antenna appendage. Tiny ribbon cables attach the Lightning connector assembly to the microphones, which are firmly adhered to the speaker grilles. While the previous year's models used foam adhesive to keep out water and dust, this one features a full-on rubber gasket, capable of holding back a 50-meter column of water. This means that when we need to replace a component, we need to make sure we get the gasket in place and that it creates a very good seal.
The earpiece speaker does double duty: for the first time, it also serves as a loudspeaker, giving the IPHONE stereo sound. Cityphones also offers vibrator repair in addition to IPHONE screen repair in Melbourne. Take a look at our list of IPHONE 7 Plus repair services below.
Along with IPHONE 7 Plus repair service, City Phones also deals with IPHONE 7 Plus cases, IPHONE 7 Plus covers, and IPHONE 7 Plus screen protectors. We have a rich collection of the world's best brand IPHONE cases, covers, tempered glass, and screen protectors available at a competitive price. Visit our online store online to order premium quality IPHONE 7 Plus accessories with free shipping and afterpay facility with which you can order your favorite IPHONE 7 Plus case, cover, or screen protector now and pay for it later.