IPHONE XR Screen Repair in Melbourne
IPHONE XR Screen Repair
Issue
Price
Repair Time
IPHONE XR Screen Repair

Price Drop

$99
30 Minutes
IPHONE XR Back Glass Replacement
$99
1-2 hours
| Issue | Price | Repair Time |
| --- | --- | --- |
| IPHONE Xr Camera Lens repair | $49 | 30 Minutes |
| IPHONE Xr Battery Replacement | $89 | 30 Minutes |
| IPHONE Xr Charging Port Repair | $99 | 60 Minutes |
| IPHONE Xr Microphone Repair | $99 | 60 Minutes |
| IPHONE Xr Ear Speaker Repair | $99 | 30 Minutes |
| IPHONE Xr Ringer/loudspeaker Repair | $99 | 30 Minutes |
| IPHONE Xr Back Camera Repair | $129 | 60 Minutes |
| IPHONE Xr Front Camera Repair (without Face id) | $129 | 30 Minutes |
| IPHONE Xr Back Frame Replacement | $149 | 60 Minutes |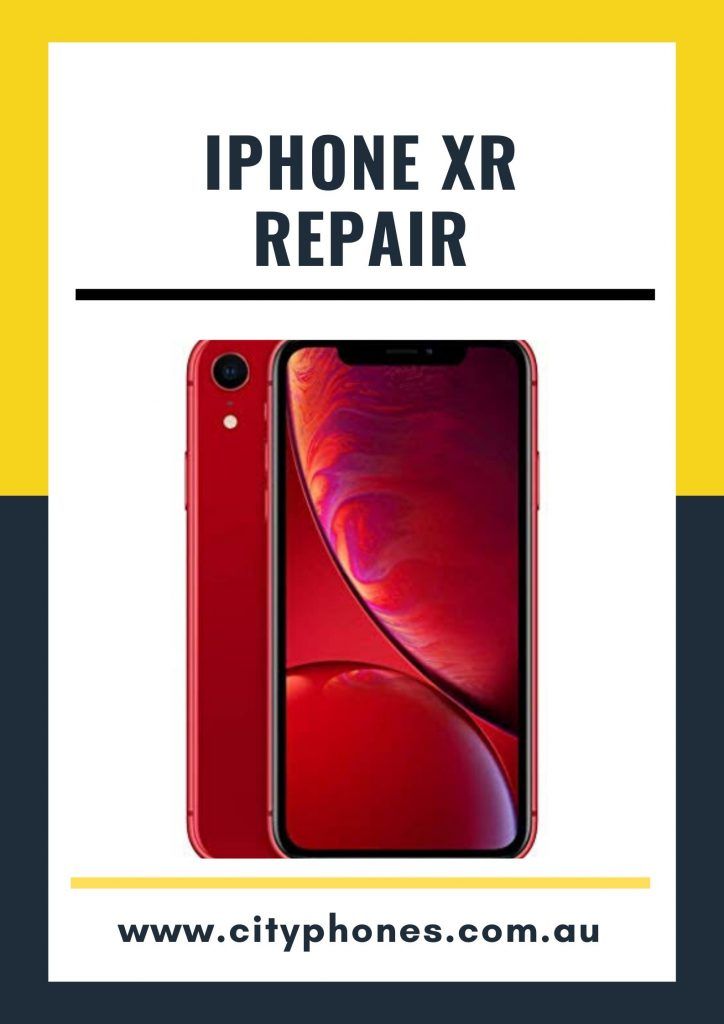 IPHONE XR Repair in Melbourne
IPHONE XR Repair in Melbourne and Greensborough
The IPHONE XR released in 2018 has a similar design to the IPHONE X mobile phone. The IPHONE XR has similar hardware to the IPHONE XS, which was released together with IPHONE XS Max being the third phone in the group that were released together. However, the price has been considered with IPHONE XR and some features are removed to lower the price. The display of IPHONE XR is 6.1 inches with screen resolution 828 x 1792 pixels and 326 PPI density and a screen body ratio of 79.3. Unlike most other phones in the X-series, the XR ships with a single camera on the back of the phone. IPHONE XR has a dimension of 150.9 mm * 75.7 mm * 8.3 mm and weighs 194 gm. IPHONE XR, though has fewer features as compared to the phones released along with it, can be considered as one of the brilliant creations of Apple.
IPHONE XR Screen Repair in Melbourne and Greensborough
However, this phone has scratch-resistant glass on the display screen having an oleophobic coating on it, this high-tech device isn't flawless. The most common issue to be seen with Apple IPHONE mobile phones after dropping from the hands of the user is screen damage. If you are facing a screen damage issue with your IPHONE XR mobile phone and are not able to use your IPHONE mobile phone as usual, then you need to replace the cracked screen of your IPHONE with a brand-new screen. City Phones is there to help you with IPHONE XR screen replacement service as our team of experienced technicians are expert in screen replacement with a genuine and high-quality IPHONE screen. We know that an IPHONE mobile is very important to our customers, so we use only original parts for the screen replacement as these parts provide good durability to the screen of your IPHONE XR mobile phone and increase the longevity of our IPHONE screen repair service.
IPHONE XR LCD Repair in Melbourne and Greensborough
If the LCD screen of your IPHONE XR mobile phone is not working as usual after a sudden drop, then it might need a new LCD replacement. If your screen has gone black or showing purple or green lines on the screen of your IPHONE XR mobile phone or you are experiencing touch issues with the touch screen of your IPHONE XR mobile phone, then it is sure your IPHONE XR mobile phone needs LCD replacement service. The team of technicians working with City Phones are having more than six years of experience in LCD replacement service as after 2015 we are replacing the faulty LCD screens with a high-quality LCD touch screen. We aim to provide our customers complete satisfaction after our IPHONE repair service as we understand well that customer satisfaction is quite important for our service-based mobile phone repair industry.
IPHONE XR Battery Repair in Melbourne and Greensborough
Battery repair is the second most common issue experienced by an IPHONE owner. Most IPHONE mobile phones start experiencing battery-related issues after two years of continuous usage, so you are also experiencing the same problem with the battery of your IPHONE XR mobile phone like the battery is draining very fast or the IPHONE is taking very long in charging completely. It becomes sure that the IPHONE needs a battery replacement. Look no further than City Phones if you need battery replacement for your IPHONE XR mobile phone as we are the leading IPHONE battery replacement service provider within Melbourne and Greensborough. The main advantage you have replacing your IPHONE XR battery with us is that we use genuine repair parts in all our IPHONE repair services providing a standard repair warranty with all our repairs. City Phones provides simple, easy, and fast service for IPHONE battery replacement in Melbourne and Greensborough. At City Phones, we are well aware of how precious your IPHONE is to you so we strive to provide quality repairs at an affordable price. IPHONE battery replacement is done at City Phones just in 30 minutes to an hour at our stores within Melbourne and Greensborough.
IPHONE XR Charging Port Repair in Melbourne and Greensborough
If your IPHONE XR is not charging, City Phones can replace your Apple IPHONE XR charging port conveniently and efficiently at an affordable price within Melbourne and Greensborough. When you experience a charging-related issue with your IPHONE XR check first if by changing the charger your IPHONE starts charging. If after changing the charger your IPHONE doesn't start charging as before you need to check if by changing the charging cable your IPHONE XR starts charging as before. If again by changing the charger cable your IPHONE doesn't start charging as before, it becomes sure that your IPHONE XR mobile phone needs a charging port replacement with a new one. In this case, choose City Phones to replace your IPHONE XR charging port as we believe in total customer satisfaction that is why we use original repair parts for all IPHONE repairs. By using original repair parts in your IPHONE repair we ensure the durability and longevity of your IPHONE repair service.
IPHONE XR Back Camera Repair in Melbourne and Greensborough
If you accidentally dropped your IPHONE XR and unfortunately the back camera of the IPHONE XR starts experiencing a problem like the photos clicked are blurred or they are not clear, you need to get your IPHONE back camera repaired. Camera repair is a very crucial repair service and must only be conducted by an expert, professional and experienced IPHONE repair service provider technician. City Phones is a more than six years old IPHONE repair store having two stores in Melbourne and one store within Greensborough. The professionals working with us are also very experienced and could carry out the back camera lens replacement within just 30minutes to an hour using high-quality repair parts. You will start taking amazing photos again with your IPHONE XR after the back camera lens replacement.
City Phones also deals with the world's best brands IPHONE XR cases, IPHONE XR covers, and IPHONE XR screen protectors. With premium-quality IPHONE XR cases and screen protectors, you can protect your IPHONE from various physical damage like sudden falls from your hands or an accidental slip. Visit our store online to order IPHONE XR accessories with free shipping and an AfterPay facility where you can buy our favorite IPHONE case and screen protector and pay for it later.
IPHONE XR screen repair in Melbourne CBD Australia. Introduced with two new flagships IPHONE XS and XS Max, IPHONE XR is a budget but high specification phone from Apple. With its rounded edges and edge-to-edge display, the likelihood of drop damage is increased because of the glass in the front and back. We can do IPHONE XR repair in 30 minutes. We use the best quality parts and all repairs come with a warranty.
If you need a hand with IPHONE XR repair in Melbourne, Cityphones is here to help. With the single camera at the back and advances selfie camera with wireless charging and much more.  At Cityphones we give most importance to our customer's phone as we know their value. All repair comes with a warranty from us.
Cityphones can fix the following damages.
IPHONE XR screen replacement
IPHONE XR charging port repair.
IPHONE XR back glass repair
IPHONE XR battery replacement
Please feel free to get in touch with an expert on 0426504955.
We also have IPHONE XR accessories in stock. Check our Online store.