Get Guaranteed Same Day Third-Party IPHONE Repair Service
A.V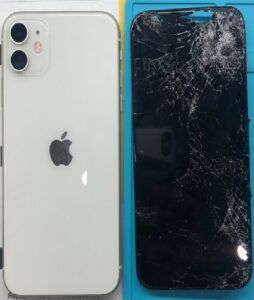 Recently a statement came out from an Apple official which revolutionized the complete approach to making third-party IPHONE repair within Greensborough and Melbourne CBD. In that statement, Apple said that now genuine IPHONE spare parts are available for purchase. It was impossible before and required an official license issued by Apple to do so. With this news City Phones is happy to announce that now you can get your IPHONE repair service on the same day if your IPHONE breaks in unfortunate circumstances. You can avail of this premium service at our stores located in Greensborough and Melbourne CBD. City Phones is a team of highly-skilled and talented technicians experts in the field of making all kinds of IPHONE repair service. The best thing is that you get your precious IPHONE back after the repair service, fully working, functional, and repaired on the same day you reported a problem within your IPHONE.
High-Quality IPHONE Screen Repair Service in Greensborough and Melbourne

IPHONE is a mobile phone which is highly durable but this phone also breaks. The screen is the most vulnerable part of an IPHONE and is the commonest repair needed after an accidental fall over a hard surface. It is made by using cutting-edge technology and is one of the most important parts of an IPHONE. If the screen of an IPHONE malfunctions or behaves differently then you may experience serious problems with your IPHONE. You are lucky that IPHONE screen replacement is now very easy and is a matter of just 30 minutes to an hour to get a new screen replaced in place of a cracked screen. As mentioned earlier, you can visit any of their mobile phone repair stores within Greensborough and Melbourne CBD to get genuine IPHONE screen replacement done in your cracked screen IPHONE with complete satisfaction. City Phones has one store located within Greensborough Plaza at address L 01, Shop 137, 25 Main St, Greensborough, VIC 3088, next to coles, and two stores located in Melbourne CBD at addresses 148 Elizabeth St, Melbourne CBD 3000, and Shop 2, 231 Elizabeth St, Melbourne CBD 3000. Moreover, after this announcement that genuine IPHONE spare parts are available to be purchased, third-part repairers like City Phones will have access to premium spare parts from Apple. And this includes cutting-edge technology screens which only Apple could manufacture. In case you want to replace the broken Apple IPHONE screen with a genuine Apple manufactured premium screen head towards any of City Phones's stores located in Melbourne and Greensborough. Here they will not only repair the repairable screen but will also replace it if the cracked screen is not repairable in no time. This means that your IPHONE will be repaired on the same day of the submission to us.
Fast IPHONE Battery Replacement Service
The IPHONE battery is very important but often it is overlooked. If the battery of your IPHONE is dead your IPHONE is without any use. In case your PHONE battery is draining very fast, or it is slow in charging or it is not able to hold the charge for long you have some serious issues with the IPHONE battery. The smart way to get your faulty IPHONE battery replaced is to visit City Phones stores in Greensborough and Melbourne CBD IPHONE repair stores in Australia. Our technicians will almost immediately replace your faulty IPHONE battery with a new one. The battery they will replace will be a genuine Apple manufactured IPHONE battery with the premium level quality for which the company is known. The new battery they will replace will serve you and your IPHONE for a long time because of the originality it holds with itself. Apple manufactured batteries are known to be extremely resilient and durable, a guarantee that they will last for a long time. Unfortunately, after a while, these batteries also start malfunctioning. In case you start experiencing issues with your IPHONE battery, look no further contact City Phones as it is a group of highly experienced technicians who could replace the IPHONE battery in no time using a premium quality battery.
IPHONE Repair Service Near Me
It doesn't matter where you live in Australia to get your IPHONE repaired with complete satisfaction. City Phones has its phone repair stores within Greensborough and Melbourne CBD. If you don't live in these cities there is a solution to your problem. You can use an Australia-wide mail-service service to send your broken IPHONE to them via Australia post. The technicians working with them will repair your IPHONE as soon they receive it for repair. After repairing your IPHONE the technicians working at City Phones will send it back as good as new in no time. So for every problem you experience they have a solution ready for your convenience. If you accidentally damaged your IPHONE by any means you can come to their stores to get it repaired conveniently at an affordable price. City Phones makes use of only genuine and premium quality Apple repair parts for making the third-party repair service. The majority of customers working with them are totally satisfied with their service.
IPHONE 13 Repair Service
IPHONE 13 is made with the latest technology and presently it is the most durable IPHONE ever released by Apple. But this doesn't mean that this IPHONE is invincible. And this is where City Phones' role comes into play. If your IPHONE gets damaged by any means you can visit City Phones stores to get it repaired conveniently. Their highly skilled technicians use solely genuine parts made exclusively by Apple for all the repair services they make. In addition to this for every IPHONE 13 repair they make they provide a standard repair warranty which ensures that your IPHONE 13 after getting repair services will serve you for a long long time in the future. So in case you need good quality IPHONE repair service, don't hesitate to visit them. Complete satisfaction of their customers is their top priority.