Know Everything You Want to Know About IPHONE 15 Pro and IPHONE 15 Pro Max
A.V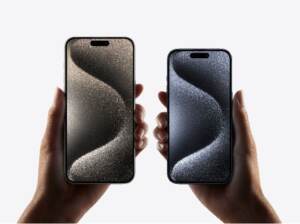 Apple unveiled its most awaited IPHONE models known by the name IPHONE 15 Pro and IPHONE 15 Pro Max. These two new models of IPHONE are considered the most advanced and powerful smartphones ever released by Apple in its history. The IPHONE 15 Pro and IPHONE 15 Pro Max models have many upgraded features apart from the standard IPHONE 15 models of smartphones. These include more advanced camera technology, a better display screen quality, a faster A17 Bionic chip, and many more upgrades. IPHONE 15 Pro models are introduced and possess the same 6.1-inches and 6.7-inch screen sizes as were present in the IPHONE 14 Pro models but there are some notable changes.
What Makes IPHONE 15 Pro Max and IPHONE 15 Pro Lighter Than IPHONE 14 Series?
Rather than stainless steel Apple is using a frame made of new titanium alloy which is also used in aircraft. The new IPHONE 15 Series phones are lighter in comparison to older models as titanium is lighter than stainless steel. The titanium material which is being used in the new IPHONE 15 Series Models has a new matte, style, and design due to the new brush texture. The IPHONE 15 Pro and IPHONE 15 Pro Max have an aluminium internal frame which helps in thermal dissipation and the repairability of the back glass. Apple has also made a few changes in the design of the new IPHONE 15 Pro models. Because of these changes, these new models have more contoured edges, and the display bezels are much thinner in comparison to the older models. The front screen of these IPHONE Pro models is made up of ceramic shield which provides extra durability to the front screen and minimizes the risk of breaking the front glass. If we compare last year's released IPHONE 14 Series models with this year's IPHONE 15 Series models, Apple is using the same Super Retina XDR Display with Always-On display technology and a 120Hz ProMotion refresh rate. The IPHONE 15 Pro Max smartphone has a resolution of 2796X1290, while the IPHONE 15 Pro smartphone possesses a screen resolution of 2556X1179. If we keep apart slimmed-down bezels, there are no significant changes made in this year's IPHONE 15 Pro models.
What Changes Are Made In The Charging Ports of IPHONE 15 Pro Max and IPHONE 15 Pro?
In new IPHONE 15 Pro models, in place of the lightning port, the IPHONE 15 Pro models have a USB-C port which offers USB 3 data transfer speeds of up to 10GB/s. Charging is now done using the USB-C cable so the same cord can be used for charging the IPHONE, IPAD, and Mac. With the help of a USB-C port, an IPHONE can be directly used to charge AirPods or an Apple Watch. A new action button has been introduced within the newer models IPHONE 15 Pro and IPHONE 15 Pro Max models. This action button was first introduced in the Apple Watch Ultra, and it replaces the mute switch. The new Action Button can be customized to do multiple functions like launching the camera, turning on a flashlight, recording a Voice Memo, or activating a Shortcut. The Action button is given in the Dynamic Island for visual feedback.
What Major Changes Have Been Made in IPHONE 15 Pro Max and IPHONE 15 Pro Camera System?
Both the newer IPHONE 15 Pro Models, the IPHONE 15 Pro and IPHONE 15 Pro Max have a 48MP main camera which offers low-light performance and a new 24MP default image resolution offering the highest quality images at a much smaller file size as compared to 12MP default screen resolution. The advanced camera system automatically captures portrait photos when a person or a pet is within the frame, or you tap on the camera to focus. The new features given in the cameras include focal point and depth adjustment without selecting portrait mode. Clicked images have sharper detail, more colors, and include better low-light performance. Night of the newer camera system is sharper than before and Smart HDR 5 captures more clear photos. It includes a new Ultrawide camera that lets in more light. The IPHONE 15 Pro Max includes an upgraded 5x Telephoto lens which uses a new tetra prism design. The IPHONE 15 Pro uses a standard 3x Telephoto lens. Apple Introduced a new optical image stabilization system in which an autofocus 3D sensor-shift module for clearer photos has been introduced.
Are Any Changes Being Made in IPHONE 15 Pro Max and IPHONE 15 Pro Processor?
The IPHONE 15 Pro Max and IPHONE 15 Pro come with an A17 Pro chip which is Apple's first 3-nanometer chip, built on an updated node. Apple says that this chip includes the biggest GPU redesign in Apple history, and GPU performance has improved by 20% in comparison to the A16 Bionic chip. The CPU performance is up to 10% faster and the new Neural Engine is up to 2x faster. With the 6-core GPU, Apple was able to add hardware-accelerated ray tracing which allows the IPHONE to run heavier console games. For more efficient video streaming a dedicated AV1 decoder is introduced in IPHONE 15 Pro and IPHONE 15 Pro Max. The A17 Pro powers a feature that allows the IPHONE to connect to external storage for recording 4K 60fps ProRes Video right to the storage device. To help this feature, Apple added an option of Log Encoding, making the IPHONE 15 Pro model the first ever smartphone to support the Academy Color Encoding System used by Filmmakers.
What New Features Are Being Added in the IPHONE 15 Pro Models?
Apple introduces a second-generation Ultra-Wideband chip that allows the two smartphones the IPHONE 15 Pro Max and IPHONE 15 Pro that allows these two smartphones with the chip to connect at a 3x longer range. This feature enables you to locate your friends in crowded areas with the help of Precision Finding for Find My Friends. Wi-Fi 6E support is included for up to 2x faster Wi-Fi speed and access to 6GHz bands when paired with a Wi-Fi 6E router. An Emergency SOS via Satellite is being expanded to include Emergency Roadside Assistance via Satellite, so if you have a car issue in an area where mobile networks and WiFi signals are not coming, you can use satellite services to connect AAA, Apple's partner for help. The new IPHONE 15 Pro and IPHONE 15 Pro Max will be available from September 22nd, 2023.