IPHONE 15 vs. IPHONE 14 Which Phone is Better to Buy?
A.V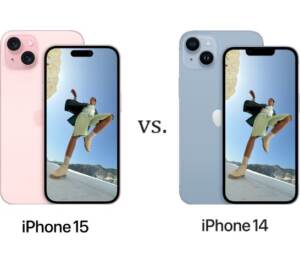 Now that the new models by Apple, the new IPHONE 15 Series has been launched, it is better to understand the main differences between the IPHONE 15, which is released in 2023 and the IPHONE 14 which is released in 2022. Debate is heating up as to whether the previous version of IPHONE would be a better choice for buying. However, with the IPHONE 15, Apple has not only improved the hardware but also made several technical advancements to make the latest release by Apple one of the best smartphones ever released in the history of Apple IPHONE. In the further discussion we will compare these two models on below mentioned criteria: –
1. IPHONE 15 vs. IPHONE 14: Design and Display
2. IPHONE 15 vs. IPHONE 14: Performance
3. IPHONE 15 vs. IPHONE 14: Camera
4. IPHONE 15 vs. IPHONE 14: Battery Specifications
So, let's start discussing all these points below one by one:
1. IPHONE 15 vs. IPHONE 14: Design and Display
The details of each IPHONE model tell us all about the difference between the two. The newly released IPHONE 15 features the Dynamic Island, in place of the notch first noticed in the X Series IPHONE. Another important change that is noticed within IPHONE 15 is the USB-C port, which came in place of the lightning port. It is a shift less evident within the design than it will be in user experience. Beyond these both the series are using aluminium frames. If we compare the weight and dimensions of IPHONE 15 with IPHONE 14, we have seen slight changes. The IPHONE 15 now includes a color-infused glass back and ceramic shield front. The IPHONE 14 introduced six colors which are Blue, Midnight, Aurora Borealis, Rose, Yellow, and (Product) Red. The IPHONE 15 and IPHONE 15 Plus phones are offered in pink, yellow, green, blue, and black colors. The IPHONE 15 has a 6.1-inch (diagonal) all-screen OLED display with a Super Retina XDR display. The screen resolution within IPHONE 15 is 2556 by 1179 pixel resolution at 460 ppi. While the IPHONE 15 Plus has a 6.7-inch display size. The same sizes are in IPHONE 14 and IPHONE 14 Plus. However, the displays are much brighter in IPHONE 15 with a brightness of 1600 nits and even 2000 nits in sunlight which is double the brightness of IPHONE 14.
2. IPHONE 15 vs. IPHONE 14: Performance
The IPHONE 14 is equipped with the A15 Bionic chip and IPHONE 15 is equipped with the A16 Bionic chip. Both processors are reminiscent of the Pro variants from the previous years. Both series come with 6GB RAM with no microSD slot, with available storage options of 128GB, 256Gb and 512 GB. On paper, the IPHONE 14 is faster and boasts superior graphics performance. If we compare both these generations in terms of features, both IPHONE 15 series and IPHONE 14 series phones are loaded with capabilities like fall detection and car accident detection. Additionally, in situations where Wi-Fi and mobile internet are not available, you can use "Emergency SOS" on both lineups to call for help with the help of a satellite. These devices operate on the latest software version, iOS17 which is packed with many latest features like NameDrop, Contact Posters, live Voicemail with real-time transcription, with revamped apps like FaceTime and Messages.
3. IPHONE 15 vs. IPHONE 14: Camera
The most significant difference between the two IPHONE 14 and IPHONE 15 series phones is the improved camera sensor in the IPHONE 15. The newly released IPHONE 15 and IPHONE 15 Plus phones feature a primary camera with a 48MP sensor and an f/1.6 aperture. The ultra-wide-angle camera retains the standard 12MP resolution with an f/2.4 aperture. The IPHONE 14 features a 12MP main camera with an f/1.5 aperture, as opposed to the f/1.6 aperture. If we see the designs of the both IPHONE 14 and IPHONE 15 camera modules, everything looks similar at first sight.
The front camera in both these phones is similar with a small tweak between generations. Both use a 12MP camera but in the IPHONE 15, the aperture is f/2.2 in place of f/2.4. In both the IPHONE 14 and IPHONE 15 the camera sensors use autofocus technology. Both have a 4K Cinematic mode that works with either 24 or 30 frames per second.
4. IPHONE 15 vs. IPHONE 14: Battery Specifications
The IPHONE 15 and IPHONE 15 Plus boast a larger battery in comparison to their predecessors. Yet Apple claims that the battery life for both models remains essentially the same. The reviews of the IPHONE 14 says that the device lasts for 2 days. Fast charging still tops out at 20 Watts, while wireless charging maintains its 15-watt limit. MagSafe or any Qi-compatible charger remains useful for wireless charging. The noticeable change within IPHONE 15 is that the charging now is done via USB Type-C for the first time.
IPHONE 15 vs. IPHONE 14: Which Phone Should You Select for Purchase in 2023?
Both IPHONE 15 and IPHONE 14 are excellent specification smartphones, but there are some differences between these two that you must keep in mind before making a final decision. As per Tom's Guide, the IPHONE 15 offers several upgrades over the IPHONE 14. The IPHONE 15 includes a Dynamic Island for alerts and live activities, brighter displays, and USB-C connectivity. This phone also offers faster performance due to the A16 Bionic chip. There are some impressive camera upgrades also like a new 48MP main sensor. On the other hand, now the IPHONE 14 is still a great smartphone and now it costs $100 less than the IPHONE 15. Finally, the decision to buy IPHONE 14 or IPHONE 15 will purely depend on your needs and budget. If you don't mind paying extra to get the latest features with your smartphone you should go for IPHONE 15. However, if you're looking for a more affordable option that still offers excellent performance and functions, then, in that case, you should go for IPHONE 14. I hope that will help you in making the correct decision.