All You Need to Know About the New IPHONE 15 and IPHONE 15 Plus
A.V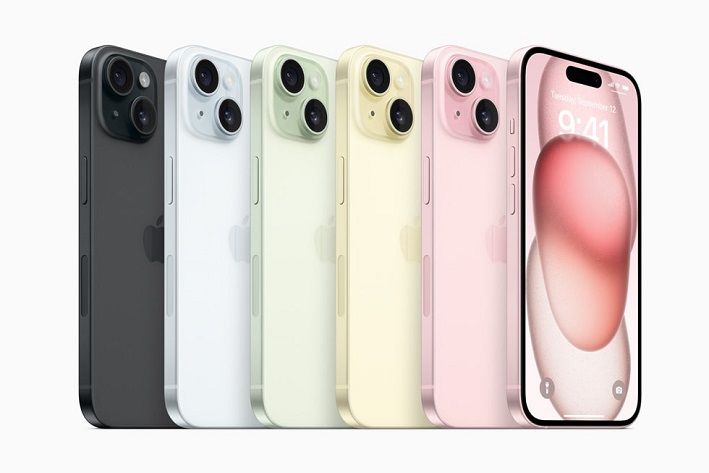 Now that the new models of the Apple IPHONE are announced with the name IPHONE 15 and IPHONE 15 Plus in a special event by Apple held at company's headquarter Cupertino, California on September 12, 2023. Apple Inc. has taken a step forward by releasing IPHONE 15 and IPHONE 15 Plus smartphones. In the latest IPHONE models fresh look has been given to the new variants released recently as IPHONE 15 and IPHONE 15 Plus by giving a gorgeous new design featuring durable and colored back glass with a new contoured edge, a 48MP main camera has 2x telephoto and USB C Type introduced.
What Are the New Features Added in the IPHONE 15 and IPHONE 15 Plus:
IPHONE 15 has been announced recently introducing first-time color-infused back glass with a matte finish given. A new contoured edge on the aluminum frame has been added to the IPHONE 15 and IPHONE 15 Plus. In both these new models by Apple Inc., an advanced camera system has been introduced to enable its users ease to take fantastic photos to capture every important moment of their lives. The 48MP main camera introduced for the first time in these models enables users to click high-resolution photos along with a 2x Telephoto option to give users a total of three optical zoom levels. The new IPHONE 15 phone provides users with the functionality of the next generation of portraits helping the user to capture ultra-clear photos even in dim light. The A16 Bionic chip helps this phone to perform extraordinarily. A USB-C Type connector is provided with precision finding for Find My Friends and durability features which enables this phone to stand in the front line of the newly released mobile phones. IPHONE 15 and IPHONE 15 Plus are truly front runners among all the IPHONE released to date.
What Are the Display Specifications of IPHONE 15 and IPHONE 15 Plus:
IPHONE 15 display size is 6.1-inch and IPHONE 15 Plus display size is 6.7 inches. These two phones feature a dynamic island, which is a new way to interact with important alerts and live activities. The display screen features a Super Retina XDR display for magnificent movie viewing, live streaming, and game playing. The brightness level of peak HDR has been enhanced to 1600 nits which enables you to experience never-before photos and videos on IPHONE 15 and IPHONE 15 Plus. In comparison to the previous generation of IPHONE the brightness level reaches 2000 nits which is twice as bright as the previous smartphones. In these two smartphones color is infused throughout the back glass thus creating five beautiful colors. It is strengthened using the dual-ion exchange process before being polished with nanocrystalline particles and etched to create a luxurious and textured matte finish. The new contoured edge on the aerospace-grade aluminum frame looks even more beautiful in the hands of the user. The ceramic shield front cover of these two models is tougher than any other smartphone glass. Both these models by Apple are water and dust-resistant with extraordinary durability features, IPHONE 15 and IPHONE 15 Plus last longer than any other smartphone.
What Are the New Camera Features Introduced Within IPHONE 15 and IPHONE 15 Plus:
IPHONE 15 and IPHONE 15 Plus have advanced camera features like 48MP main camera which clicks magnificent photos and shoots video with a quad-pixel sensor and 100 percent Focus Pixels for autofocus. The main camera of these phone models gives users new 24MP super-high-resolution images in a low file size easy to store and share. The advanced camera system very intelligently integrates hardware and software, an additional 2x Telephoto allowing the user three levels of zoom capacity 0.5x, 1x, and 2x. These models use next-generation portraits featuring sharper details, vivid colors, and much improved low-light performance. With our selection portrait mode, the camera takes portraits in the frame and when the user taps to focus, IPHONE automatically takes in-depth information. Video shooting has become super easy at night as many improvements have been made in the night mode. The advanced HDR rendering is also available to third-party apps, thus making images look even better when they are shared online.
What are the Main Advantages of the New A16 Bionic Chip Introduced First Time in IPHONE 15 and IPHONE 15 Plus?
The powerful A16 Bionic Chip enhances the performance of the IPHONE 15 and IPHONE 15 Plus thus powering the Dynamic Island, computational photography capabilities, and more. A16 Bionic Chip is a 6-core CPU that is faster than the previous generation and easily handles intensive tasks while delivering extraordinary battery life. The 5-core GPU has 50 percent more memory bandwidth for smooth graphics while playing games and streaming videos. This new CPU is capable of performing 17 trillion operations per second, enabling even faster machine-learning computations for features like Live Voicemail transcriptions in iOS 17 and third-party experiences all while protecting critical privacy and security features.
The IPHONE 15 and IPHONE 15 Plus offer critical safety capabilities helping customers to provide help when it matters most, including Crash detection and Emergency SOS via satellite. It is currently available in 14 countries and regions on three continents, Emergency SOS system via satellite has made a significant impact on user's lives. Both these models use a USB-C type connector, a universally accepted standard for charging and transferring data, allowing the same cable to charge IPHONE, MC, IPAD, and the updated AirPods Pro (2nd generation)