Repairing Your Mobile Phone Screen is Very Important If You Want To Use it For a Longer Period
A.V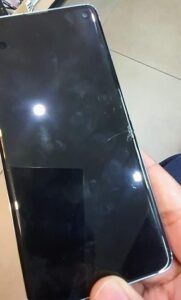 It's been a long time since you are using your mobile phone for various uses. After using your mobile phone for so longer duration you must have understood that your little valuable device is very complicated and delicate. Knowing that your mobile phone is made up of complicated material that is subject to get damaged as a result of a gentle fall over a hard surface resulting in your phone getting hurt with a cracked screen. Your mobile phone screen repair is one of the delicate events in the lifecycle of a mobile phone. The cracked screen of the mobile phone must be repaired as quickly as you can.
In most of the occasions when your phone suffers a break due to an unanticipated fall from your hands over a hard surface it is the screen of most phones which suffers maximum damage. A perfect solution to this problem is that you choose a reliable mobile screen replacement solution using high-quality mobile phone parts taking the help of a reputable and well-known mobile repair store located within your area. A significant increase in the sale of an Apple IPHONE is made possible due to the excellent repair service provided by the Apple service center making the IPHONE screen replacement so perfect that no one could recognize that the original IPHONE screen is replaced with a brand new IPHONE screen. As the demand for the IPHONE is increasing among people around the whole world so is the demand for qualified IPHONE repair stores is also increasing to repair these devices. Numerous occasions result in the mobile phone screen getting damaged. That would initiate the need for a mobile phone screen repair expert who will make every mobile phone screen repair super easy and comfortably done without any hassle.
In most probable situations while handling mobile phones people hurt the delicate screen of their mobile phone by dropping it onto a tough surface accidentally which may be either a hand slip or a drop from hands. In such circumstances, the screen of your mobile phone either suffers web-like cracks on its surface or is smashed completely. These tiny pieces of the broken glass screen obtained as a result of the damaged screen generally enters the mobile phone causing damage to the internal components of the mobile phone. If the cracked screen of the mobile phone is ignored for a considerable amount of time, this could impact the functionality of the phone. That's why when your mobile phone screen breaks due to any above-mentioned reasons, it should be repaired as quickly as possible by visiting the local mobile phone repair store in your area. It becomes a necessity to repair the cracked screen without any delay.
Your mobile phone might face the worst situation like your mobile phone falls on the road while walking or is run over by a vehicle or is meandered by a walker, its delicate glass screen is likely to get smashed totally. As expected, the phone may continue to function, but you wouldn't be able to use the phone any further due to a damaged screen or wouldn't be able to use the applications installed within it. Further, the fine glass particles may enter the inner portion of the mobile phone and may block the normal functioning of the mobile phone. To keep yourself away from facing such a harsh situation it is sensible to have a high-quality screen protector installed on the screen of the mobile phone so that it withstands the impact of the falling on the phone itself thus protecting the inner glass screen of the mobile phone and stopping any possible further damage to the phone. Keeping this probability in mind of causing a screen break, the best technique is to make the sensible selection of the screen protector and back cover for your mobile phone.
It is a well-known fact that your mobile phone is having a fragile front screen. If in case your mobile phone screen suffers damage to a certain extent, and you are not in a position to use your mobile phone for a longer duration in any condition then your mobile phone becomes completely useless for you. If your mobile phone display suffers a little damage your mobile phone loses its most effective working capacity. Now you need to think about how to protect your precious mobile phone from dust particles and minute glass pieces entering the inner portion of the mobile phone. The best possible solution you have in front of you for stopping dust particles and glass pieces from entering your phone is to replace the cracked screen as quickly as possible from the hands of the most experienced and well-known mobile phone repair store in your area. As a well-known fact prevention is better than cure so you must always use a good quality screen protector and a mobile phone back cover to withstand the effect of the sudden drop of the mobile phone. Taking immediately your mobile phone to an experienced mobile phone technician will do wonders and you will get a new screen replaced in place of the damaged one thus making your mobile phone look new again in a few minutes.