How To Search a Trustworthy Mobile Phone Repair Store Near Your Location
A.V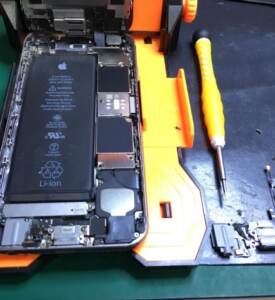 If your mobile phone screen gets damaged and you want to replace the damaged screen of your mobile phone, the safest way to replace the damaged screen of your mobile phone is to contact the manufacturer's support team. It may happen that your schedule doesn't line up with that, the second way you could adopt is that you could go to a local mobile phone repair store near you to repair the damaged screen of your mobile phone. If you could manage to get the help of professionals with a good number of years of experience in repairing your mobile phone there are fewer chances of getting physical damage to the inner components of your mobile phone. However, finding a trustworthy mobile phone repair center is not easy. So here we provide you a guide using which you could choose a trustworthy and reliable mobile repair center to repair your mobile phone perfectly: –
Searching For a Trustworthy and Reliable Mobile Phone Repair Center Near You
In your journey to find a trustworthy mobile phone repair center the first question that clicks in your mind is "How can I find a trustworthy and reliable repair center?" You have two ways to find the answer. Either you can ask previous users for their recommendations or search the internet for a reputable mobile phone repair center near your location. Phone repair services vary depending on what device you're using. Well-known mobile phone manufacturers like Apple and Samsung both normally have their repair centers listed on their respective websites. If you want to find a reliable mobile phone repair store near you have to search "Mobile Phone Repair Service in Melbourne CBD", and the search will list a good number of phone repair centers in Melbourne CBD.
The next step is to shortlist a few mobile phone repair centers you need to visit so that you get your mobile phone repaired as you want. But how will you shortlist good mobile phone repair centers? Listed below are a few checklists points you need to consider when you're choosing the right repair center for your mobile phone.
1. Customer Reviews:
Reviews are the easiest way to tell you whether the mobile phone repair center you have shortlisted provides good mobile repair service or not. The reason is that reviews are written by real people who have already used the services of that repair center. If the reviews don't have an average rating of 4 or above out of 5, chances are that the service provided by that repair center is not good, so you need to make sure that you check the reviews before anything else.
2. Service Warranty:
A credible mobile phone repair center offers you a service guarantee of a fixed period. This guarantee period means that if the problem again appears within your mobile, that repair center will repair it free of cost. Most mobile phone repair centers offer a warranty period which shows that they are confident in the repair service provided by their technicians. If the repair center does not provide any guarantee period, it will be better that you do not choose that repair center for repairing your mobile phone as the success rate of that repair center wouldn't be high enough.
3. Device Experts:
Different device repair works in different ways. Your IPHONE and Samsung Galaxy phones have different builds so a good mobile phone repair center should have different experts also. If a repair center doesn't specialize in repairing your device or anything like that, then there is no point in moving further with that mobile phone repair center. Smartphones tend to get updated from time to time as the manufacturer wants to use the latest features across all their devices. Just having an expert is not enough. In the journey of your search to find a trustworthy and reliable phone repair center, you need to check that their experts are aware of the recent upgrades and also check whether they have experience in repairing the same mobile phone model that you possess. Having experience with repairing the same mobile phone model which you possess is not necessary, but you need to make sure that the technician you finalize must be aware of the latest upgrades.
4. Repair Parts:
Checking the quality of replacement parts especially if you possess an Apple product is a nice idea. An Apple-authorized Independent Repair Provider (IRP) uses original parts directly supplied by Apple. So chances increase that the repair of your IPHONE will last longer. But the pity is that most local mobile phone repair centers are not authorized. They use cheap and low-quality parts while performing repair services because of this the performance of these low-quality parts starts deteriorating with time. Another approach you need to follow is to check that the repair service you use is completed by using original replacement parts whenever needed. OEM quality is another indicator of high-quality parts used for replacement and providing durable repair service. If the shortlisted phone repair service provider is not able to assure you that they use OEM quality parts as a replacement, then you need not take the risk and you should start looking for another phone repair service provider center.
5. Transparency:
The mobile phone repair center you choose should be transparent in its approach and let you know the reason why your mobile phone is behaving like that. That mobile phone repair center should explain why they think the approach they are following is the best one. Many times, it happens that the device performance drops due to a minor issue which doesn't need complex repair. By knowing all these details, you will come to know exactly what they are doing and how they think your mobile phone will be repaired perfectly. This way you will come to know whether the mobile phone repair center is transparent in its approach or not. If they are not able to tell you what they are doing and planning to do next, then it will be better to neglect that mobile phone repair center.
6. Turn Around Time and The Service Cost:
These days mobile phones have become our necessity and without them, life seems impossible. Giving your phone for repair means that you will be without your phone till it is repaired. Since it is hard to live without a mobile phone you should know ahead of time how much time it will take to repair your mobile phone. The lower the turnaround time of the mobile phone repair center the better it will be for you. You should also consider turnaround time into consideration as it is an important factor in shortlisting a good mobile phone repair center.
Another factor to take into consideration is the repair cost. Authentic and reliable mobile phone repair centers have high repair costs because of the use of original replacement parts. Unless the mobile repair store fulfills all the above-mentioned points and provides a guarantee that durable repair service will be provided, and the repair prices are not very high. Before finalizing the mobile phone repair center, you should compare the repair cost between multiple stores and see which mobile phone repair prices best suit you.
In your journey to search for a trustworthy and reliable mobile phone repair provider, selecting a perfect match will be a little time-consuming but you need to do that because you deserve to get the best possible repair service for your phone. You should take your time and choose the repair service provider which fulfills all your requirements.