iPad battery repair in Melbourne
CityPhones
iPad battery repair in Melbourne
iPad battery replacement in Melbourne. We stock most of the iPad models batteries and We can do iPad battery repair within 1-2 hours. This repair job is more complicated than normal phone battery replacement so it should be done by the only professional repairer.
Moreover, for iPad battery replacement, we need to remove screen first which is the tricky and risky part. If the screen breaks while opening it increases the cost of repair. But at cityphones, our technicians are trained enough to handle such jobs and we can do this repair without replacing the new screen.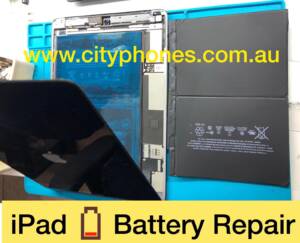 Today we received iPad Air 2 for battery repair. iPad was nearly 3 years old and battery last for only 3-4 hours after a full charge. It took us 90 minutes to complete this repair which includes removing the screen, taking out old battery, installing new battery then install back screen.
How to repair your iPad with Cityphones?
You can come to the store
Post us your iPad
Pickup and drop off
Call us today or email us for more details.
To book your iPad Repair or check prices visit this link.
Some of the most common iPad repairs are following
iPad repair in Melbourne
iPad battery replacement
iPad Air battery repair
iPad pro battery replacement
iPad screen repair
iPad Air 2 screen repair
iPad Air 3 screen repair
iPad 5th generation battery replacement
iPad 6 battery replacement
Protect your iPad from the accident. We have iPad cases and screen protectors in stock.
Check this link for more or
visit www.shop.cityphones.com.au