iPhone SE back glass repair
CityPhones
iPhone SE back glass repair
All iPhones from series 8 have back glass instead of a metal body. The main reason for this is wireless charging because it does not work through metal. So to achieve wireless charging in iPhones metal back was replaced with glass. Back glass looks better and give premium look to the phone but it is also more prone to cracks. New iPhone Se back glass repair service is available with us.
At cityphones, we get iPhones with broken back glass for repairs. For such iPhone back glass repair, we need 1 hour and it is also very cheaper than the official service centre repair. We use a high tech laser machine to remove the back glass which makes the overall process much safer and faster.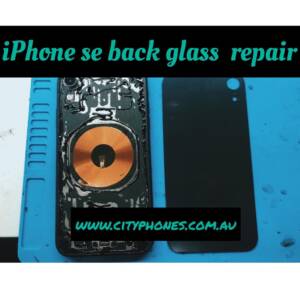 One such back glass repair was done last Saturday.
Customer dropped his iPhone SE and smashed front screen and back glass.
We fixed his iPhone SE back glass and screen in 1 hour.
We can fix all iPhone back glass from 8 to 11 pro-Max.
Call us 0426504955 or email us @ cityphonesinfo@gmail.com.au for more details.
How to get your iPhone SE back glass replacement?
You can come to the store in Melbourne CBD,
Post us your phone and we post it back free.
Pickup and Drop-Off.
iPhone back glass repair related services are
iPhone X back glass repair
iPhone xs max back glass repair
iPhone 8 plus back glass repair
iPhone 11 pro back glass repair
iPhone XR back glass repair
iPhone SE back glass repair
We also have cases for protecting your phone from drops. Check this link for more details
www.shop.cityphones.com.au
We also have a Samsung back glass repair service. Check this link for more details