IPHONE 13 is Finally Launched with Major Improvements in Camera, Processor, and Battery
A.V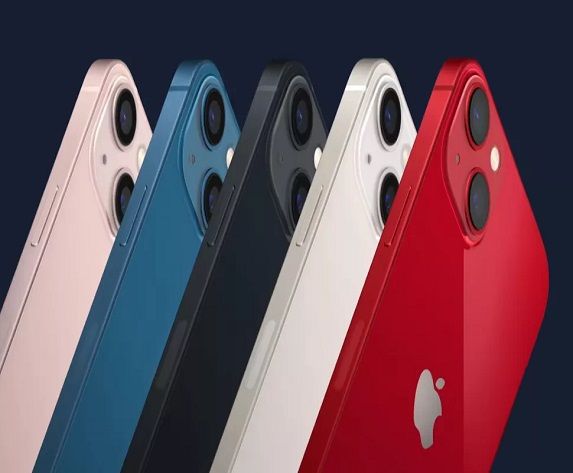 Apple launched the IPHONE 13 and IPHONE 13 mini, future smartphones which are the world's best smartphones, featuring sleek and durable design with an advanced dual camera that takes perfect photos and videos in low light and cinematic mode. These two newly launched smartphones introduce major innovations in technology which include the most advanced dual-camera system ever included in an IPHONE, a more powerful processor, and improved battery life.
Both of these models feature the first dual-camera system ever introduced in an IPHONE, as well as a new wide camera with larger pixels and sensor-shift optical image stabilization (OIS), which takes amazing photos and videos in low light. Introducing a new dimension in video storytelling with a personalized camera with Photographic styles and Cinematic mode.
IPHONE 13 Major Changes:
The IPHONE 13 has an A15 Bionic processor for super-fast performance and power efficiency, a longer battery life, a brighter super retina XDR display that brings content to life, and a ceramic shield front cover that increases the phone's durability. The storage is doubled at 128GB, it has an IP68 rating for water resistance, and you can experience 5G connectivity on this newly launched phone. It is available in five beautiful colors, including RED, Starlight, Midnight, Blue, and Pink. You can pre-order this phone from 17th September 2021 and it will be available from 24th September 2021. It comes with a 6.1-inch display featuring a ceramic shield on the front specially designed for IPHONE which is, in Apple's own words, tougher than any existing smartphone glass. The model has an industry-leading IP68 rating for water-resistance technology, which is designed to protect your phone against water spills. The camera layout has been redesigned with diagonally arranged lenses, enabling an advanced dual-camera system with a re-engineered smaller TrueDepth camera system, including Face ID, the most secure facial authentication in a smartphone, this time with IPHONE 13.
The advanced Super Retina XDR OLED display is 28 percent brighter while using less power, delivering an incredible contrast ratio for true blacks and a 28 percent increase in max outdoor brightness at 800 nits with a higher peak brightness for HDR content like photos and videos at 1200 nits. The new, brighter Super Retina XDR display delivers an immersive viewing experience.
Newly Introduced Dual Camera System 
The new 1.7m pixel wide camera has the largest sensor ever put into an IPHONE dual-camera system and can bring 47 percent more light into the photos you take. For the first time, the new Wide camera features sensor-shift OIS to take incredible photos and videos. The smart HDR 4 technology features improved color, contrast, and light for every subject in a photo taken in more challenging conditions, making images more true to life. While you prepare to take night mode photos, the larger sensor on the wide camera captures nearly 50% more light, making every photo a work of art. The custom-designed Ultra-Wide camera with a sensor captures images with more detail in the dark areas of photos and videos with less noise. Now in IPHONE 13 taking photos is more fun with added creative perspectives.
All-new features on IPHONE 13 are powered by a faster A15 processor, a new image signal processor (ISP), and advances in computational photography. The dual-camera system and power of computational photography support Smart HDR 4, now with improved color, contrast, and light for every person in within-group photography. This includes taking images in challenging conditions, thus making images more true to life as well as with an improved night mode. The TrueDepth camera supports all the amazing new camera features, including Cinematic mode, Photographic styles, Smart HDR 4, and more.
Faster Processor A15
The A15 Bionic processor in the IPHONE 13 is much faster than its competitors, delivering more performance and better power efficiency. The new 6-core CPU with two high-performance cores and four high-efficiency cores outperforms the competition by up to 50% and is the fastest in any smartphone. The new 16-core Neural Engine is capable of 15.8 trillion operations per second. The engine enables Live Text in Camera with iOS 15 and faster machine learning computations specially designed for third-party app experiences.
5G Connectivity Experience
The future of connectivity is 5G and IPHONE 13 offers an advanced 5G experience. The IPHONE 13's customized hardware design includes more 5G bands, allowing it to work in more areas on 5G for greater coverage and performance. It is expected that the support for 5G will double by the end of 2021 and also with 200 carriers in 60 countries. Users on 5G technology will be able to experience higher-quality video streaming, more gameplay in a multiplayer environment, faster download and upload speed and so much more.
Gear Up to Experience the Unexperienced
Pre-orders for the IPHONE 13 will be available in Australia beginning at 10 p.m. AEST on Friday, 17th September 2021, with availability beginning on Friday, 24th September 2021. Protect your new IPHONE 13 with the world's best-branded cases & covers available at City Phones at a competitive price. Order online now with the Afterpay facility and a 10-day return guarantee. Protect Your IPHONE 13 display by ordering online world's leading Brand's Screen Protectors available with City Phones with Afterpay facility.