IPHONE 13 – Mini Everything You Want to Know About
A.V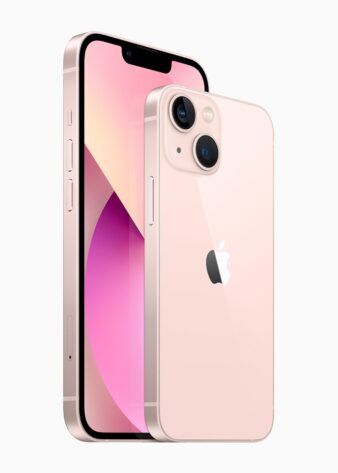 The Apple IPHONE 13 Mini, along with other IPHONE 13 models, will be available for pre-order in Australia from Friday, 17th September 2021. This new generation of smartphone will reach the hands of customers by 24th September 2021 which is the date on which the phone goes on sale. IPHONE 13 Mini is finally here. It includes a smaller notch, a brighter display, a faster A15 Bionic chip, and a serious camera upgrade. The battery life is getting better, too. The cinematic upgrade in the video mode is the coolest upgrade so far, which holds focus on the subject as it moves. It can blur out the background and automatically change the focus as you shoot from the IPHONE 13 MINI camera.
Apple IPHONE Mini Specifications
Display size                                                 5.4inches
Resolution                                                 2340X1080
Pixels per inch(PPI)                                 476
Rear camera                                              12MP/12MP
Front camera                                            12MP
Phone Dimensions                                  131.5mmX 7.65mmX 64.2mm
Weight                                                       140g
NFC                                                            Yes
Wi-Fi                                                         802.11 a/b/g/n/ac/ax
Network                                                    3G/4G/5G
Processor                                                  Apple A15 Bionic
Storage                                                      128GB/256GB/512GB
Battery Life                                              17 hours video playback
Water resistance rating                         IP68
Wireless charging                                  Yes, MagSafe compatible
Colors                                                      Red, StarLight, Midnight, Blue, Pink
IPHONE Mini Phone Dimensions
IPHONE 13 Mini measures 131.5X7.65X64.2mm with a display screen having a 5.4-inch screen. The IPHONE 13 Mini is significantly smaller as compared to the IPHONE 13. The phone comes with Super Retina XDR OLED screen technology with 800 nits of brightness, which makes the phone more efficient than previous models that came out last year. The iPhone 13 Mini is 28% brighter, including peak brightness, and consumes less power. If you give preference to smartphones that are comfortable on one hand, look no further.
IPHONE Mini Camera
Talking about the camera IPHONE 13 Mini camera is the same as the IPHONE 13. This includes a 12MP f/1.6 wide lens and a 12MP f/2.4 120-degree ultra-wide lens powered by Apple's cutting-edge AI camera software. The newly introduced Cinematic mode in the IPHONE 13 MINI camera offers professional-grade cinematography for your videos with Dolby Vision HDR. The Cinematic Mode of the camera dynamically shifts focus and follows the subject of your video. If the video subject moves, so will the focus of the camera. If the subject in the video starts looking away, the focus shifts to where the subject is looking. In addition, Apple has also shrunk down the camera notch by 20%. Photos taken with the camera are 47 percent lighter when compared to the previous model, the IPHONE 12 Mini. This helps IPHONE 13 Mini shoot beautiful photos in many lighting conditions. You get new photographic styles with a newly improved camera, which brings personal preferences to your photos taken quickly focusing much on the subject.
IPHONE Mini Processor
The IPHONE 13 Mini is powered by a new 6-core CPU and 4-core GPU chipset dubbed Apple A15 Bionic. If you talk about the phone's performance, IPHONE 13 Mini is 50 percent faster than its competitors when it comes to CPU speed, while the new 4-core GPU is up to 30 percent faster than the competition and enables more lifelike visuals and lightning effects in graphics-intensive games. A15 Bionic processor is much faster, delivering more performance and better power efficiency, making everything you do on this phone work quicker. It uses 5-nanometre technology and has nearly 15 billion transistors to tackle the most demanding tasks, including the latest computational photography features.
IPHONE 13 Mini Battery Life and Charging
Apple is claiming 17 hours of video playback or 65 hours of audio playback before it again needs to be charged. While in general usage, this phone lasts 1.5 hours longer than the IPHONE 12 Mini. It is frustrating that the company has decided to not include a charger in the box. Instead, you get just a USB-C to Lightning cable. As part of Apple's commitment to the environment, the company has done away with the plastic wrapping around the IPHONE 13 Mini box, which it says saves some 600 metric tonnes of plastic wrapping.
Protect your new IPHONE 13 Mini with the world's best-branded cases & covers available at City Phones at a competitive price. Order online now with the Afterpay facility and a 10-day return guarantee. Protect Your IPHONE 13 Mini display by ordering online world's leading Brand's Screen Protectors available with City Phones with Afterpay facility.