IPHONE XR Back Glass Replacement
CityPhones
IPHONE XR Back Glass Replacement Service.
As we know all-new IPHONE backs are made of glass which can crack very easily. Now at City Phones, we can replace all IPHONE Back Glass. IPHONE XR Back Glass replacement is the most common repair in this.
To separate back glass, we don't use a heat machine as most of the repair stores do, which can damage the phone.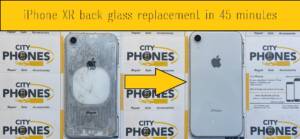 Instead of that, we use a hi-tech laser machine to remove back glass which is more accurate and no chance of damage to the phone. With this, overall IPHONE back glass repair process is very quick and usually, we can fix within 30-45 minutes.
So, if you are looking for IPHONE Back Glass repair, please call us 0426504955 or you can visit our store.
You can book online here.
Some other related services are.
IPHONE back glass replacement
IPHONE back glass repair
IPHONE X back glass repair
IPHONE XS back glass repair
IPHONE XS max back glass repair
IPHONE 11 Pro back glass repair
IPHONE 11 back glass repair.
IPHONE screen repair
IPHONE repair near me
IPHONE repair
IPHONE repair Melbourne
Cheap IPHONE repair
Phone Repair on the Weekend
IPHONE Back Glass Repair in Melbourne
For all phone, accessories visit this link.
www.shop.cityphones.com.au