Things You Can Do If Unfortunately, You Break Your IPHONE Screen
A.V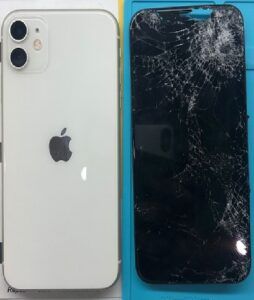 With the passing of each year, mobile phones are getting more and more advanced and also costlier. At present time in our society, everyone possesses a mobile phone, uses it for various purposes, and almost everyone is having a smartphone on which their entire world depends – if they are a business owner they are managing their business on their smartphone. If they are professional their entire office work is managed on their smartphone like emails, office files, managing their team, and many more things used in the office. As people are becoming more and more dependent on smartphones they are likely to break their phones also. For those people who opted out of insurance at the time of purchasing their phone, this phone breakage is a costly affair, and even costlier is the IPHONE screen replacement for them. But let's face it, looking through a cracked screen is annoying, and not so great on your fingertips. Chances are you are going annoyed looking at the cracked screen of your IPHONE and you are going to replace your IPHONE screen with a new one. So the next thing which will be revolving in your mind will be where to go and whom to approach to get the screen replacement service for your cracked screen IPHONE conveniently. If you are the owner of an IPHONE the obvious choice will be to pay a visit to the Apple store to replace your IPHONE screen. It is a trusted source for IPHONE owners to fix any problem in their IPHONE but surprisingly you can get cheaper and quicker screen replacement service for your IPHONE at a nearby local mobile phone repair store.
The average price for a screen replacement within Australia at an apple store is right around 200 AUD!. That is almost half the price of an IPHONE. Few options are available in front of you if you don't want to spend that much money. The first one among them is to use a do-it-yourself kit in which you will get the IPHONE screen replaced by yourself. In the market, there are a variety of do-it-yourself kits available in the range of 50 to 70 AUD. Do-it-yourself kits can be confusing and frustrating and are not for everyone. The key to successfully replace the cracked screen of your IPHONE using a do-it-yourself kit depends on ordering the correct kit for your IPHONE make and model as not all phones have the same electronic connections and/or size. As the time comes on deciding on the best kit for your IPHONE you should not keep the price of the kit as the criteria for choosing the best do-it-yourself kit for your IPHONE as keep in mind that just because one kit is more expensive than the other it doesn't always mean its better, and vice-versa. Make sure to read the customer reviews and comments about the kit before you finalize it for your IPHONE and always double-check and make sure it's the kit that is made for your IPHONE.
If a do-it-yourself kit is not your thing, as you are not comfortable using the do-it-yourself kit in replacing your IPHONE screen successfully, try a local phone repair shop as it is easy to reach them and get the IPHONE screen replaced in front of your eyes and that on-the-spot while an Apple Store may take several days to replace your IPHONE screen successfully and get it delivered at your address. It is the best choice to consider a local repair shop that will save money, time, and a headache. Not only does the nearby mobile repair shop offer affordable screen replacement service but also their service is trustworthy as taking your phone to the place you brought it or shipping it out to the company for repair, but they are usually faster too. Few of these local phone repair shops offer same day repair service while others also offer complete repair of your IPHONE including fixing the cracked screen in just 30 minutes to an hour like City Phones a Melbourne based leading IPHONE screen replacement store within two locations in the Melbourne one at 148 Elizabeth Street, Melbourne CBD 3000 and another located at Shop 2, 231 Elizabeth Street, Melbourne CBD 3000. Third store is located at L 01, Shop 137, 25 Main St, Greensborough, VIC 3088. They also provide mail-in service in which customers send their damaged phone to them for repair who are not in a position to visit store in-person as they live far and it is more convenient for them to send their phone for repair instead of paying a visit to store to get their phone repaired.
For IPHONE screen replacement in Melbourne contact City Phones. This is a mobile phone repair store located in Melbourne and Greensborough providing reasonably priced mobile phone repair service that is convenient and easily available for their customers.