11 Benefits of Choosing Skilled IPHONE Screen Repair Service
A.V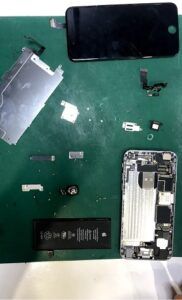 IPHONE owners are aware of the fact that owning an IPHONE is an asset for them. It might break while handling it and need IPHONE screen repair, which requires you to consult an IPHONE repair technician who will help you to resolve the issue perfectly and along with a certain guaranteed period. The best practice in this matter is to select an honest professional like IPHONE repair Melbourne. A lot of technicians are present in Melbourne and surrounding areas who claim that your IPHONE will be repaired perfectly thus making your IPHONE look new again however they may cause a lot of harm. Before choosing an honest IPHONE repair technician ensure that you choose one that may provide you with premium quality repair services at a reasonable price.
Benefits You Will Get for Choosing a Knowledgeable IPHONE Screen Repair Technician:
1. Prevent additional damage:
With the expansion of the internet, everybody thinks that IPHONE repair is attainable by DIY methods. There is, however, a lot of expectation once it involves IPHONE screen repair. It's not necessary that what you see on the internet is correct and you start applying it. It will be wise to present your IPHONE before a qualified technician for additional screening of IPHONE. Certainly, this will stop further damage to your IPHONE without a doubt which might occur because of the phone's careful handling. A talented and well-qualified technician possesses all the required skills to screen all the IPHONE faults and repair them to the best of their knowledge.
2. High-Quality Service:
Taking your IPHONE repair in Melbourne to a talented technician guarantees that you will get the highest quality service. You'll make sure that you may continuously get quality services by taking your phone to an experienced technician, despite the matter and your cellphone, continuously be warranted that an honest technician will solve it.
3. Warranty:
If you're trying to find a guarantee on IPHONE repair service then you must search thoroughly around everywhere to find an honest and highly-skilled IPHONE repair technician. The warranty certifies that in case your phone is not operating correctly as per your expectation within a certain time provided by the manufacturer of the phone, your phone will be repaired at no cost. The guarantee provided by the manufacturer is an indication of the commitment and trust they have in their product.
4. Tools and Skills:

IPHONE screen repair technicians possess the necessary tools, equipment, and skills needed to repair your IPHONE perfectly. In case you want your IPHONE repaired effectively then you need to search for an experienced technician as only they have the necessary skills to repair your IPHONE as expected.
5. Use of Authentic Parts:
Finding authentic parts of an IPHONE is a very difficult task. This uphill task becomes very easy and simple if you find a skilled technician for repairing your IPHONE. These technicians have access to authentic suppliers of the IPHONE screen repair parts. Otherwise, your IPHONE authentic parts may have been replaced with a low quality part and you will find yourself struggling with the durability of your phone.
6. No Risk Involved:
If you choose to repair your IPHONE by yourself a variety of risk factors are involved in it. The moment you open your IPHONE by yourself the guarantee of your phone gets void. If you replace the damaged screen of your IPHONE or the battery of your IPHONE you might further damage your IPHONE and may need to purchase a brand-new phone as a replacement. As a result, you may run into the danger of losing all your contacts, applications, and various files present in your IPHONE.
7. Proper Tools and Procedures:
Even if you watch YouTube tutorials or browse DIY guides available on the internet as you go to repair your IPHONE by yourself, you can't guarantee that your phone will be repaired correctly. Even the Do It Yourself(DIY) battery replacement kits and IPHONE screen replacement elements cannot assure that your duty is done correctly. It requires proper usage of the repair tools and procedures which only an experienced technician could possess and could accomplish the task without error.
8. Service Warranties and Potency:
Trusted IPHONE repair professionals are here to help you in getting your IPHONE operational quickly and reliably. Apple IPHONE repair comes with a restricted guarantee which comes with a one-year hardware repair warranty.
9. Repaired with Original Elements:
Parts once used on your IPHONE would possibly last for some days or weeks, so it's back to the initial downside. Many new elements may also not be compatible with your IPHONE, which may end in complications in the phone's system.
10. Professionals repair your IPHONE:
A lot of repair stores have phone repair technicians, which don't have enough experience in repairing your IPHONE. Such kinds of people without a doubt will break your IPHONE. This is the reason why you should choose and select a reliable IPHONE repair store. These stores have experienced and licensed IPHONE screen repair Melbourne technicians.
11. Assured Warranty is Provided on All IPHONE Repairs:
Reliable and trusted IPHONE repair stores in the market provide you with an assured warranty on all repair services. Warranty is the sign that the provided IPHONE repair by the repair store is quality based and uses premium quality parts. It implies that the store which gives you such a warranty trusts in their parts and has confidence in their technicians.
If you accidentally broke your IPHONE screen, then you need a perfect IPHONE screen repair service. It's no secret that finding such expertise could be painful but it makes your IPHONE durable and long-lasting thus making your IPHONE perfect in usage.