Google Pixel 3 Battery Repair
CityPhones
Google Pixel 3 Battery Repair
Google Pixel 3 was launched on Oct 2018 and one of the best phones in Pixel series. But it is one of the most complicated phone to repair. The battery is pretty good in this model but still, with usage and time it starts to degrade. At Cityphones we can do Google pixel battery replacement. We have all batteries in stock from pixel 1 to pixel 4.
As I mentioned before these phones are harder to repair so battery replacement can take 1 hour. We receive a lot of Google pixel phone repair.
How to get your Google pixel battery repair with us?
Come to the store and we can replace the battery in 1 hour
Mail-in your device and we post it back on same day
We can come to you for repair
Our technicians have fixed hundreds of Google pixel phones. Most popular repairs are
Google Pixel 3 screen repair
Google Pixel 3 battery replacement
Google Pixel 3 charging post repair
Google Pixel screen repair in Melbourne
So if you have any issues with your phone and need urgent phone repair in Melbourne. Call us or email us @ Cityphonesinfo@gmail.com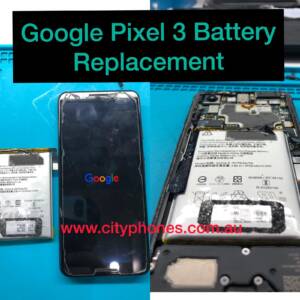 Today we have replaced google pixel 3 battery. The old battery was swollen due to overcharging.  We had removed the old battery carefully and installed a new one. The phone is back to life. Please note if your phone screen or back glass is coming it may be due to swollen battery. Book your Google pixel 3 battery repair here
We also have Google pixel 3 accessories. Check our online store for more details.
www.shop.cityphones.com.au