5 Ways In Which You Can Avoid Cracking Your Phone Screen
A.V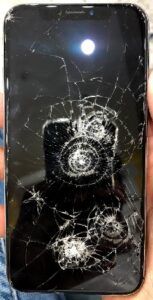 Cracking your phone screen is common these days, especially in the case of a delicate IPHONE model. If you are luckier your IPHONE will bear minor sudden hand slips and it will still work fine the damage is just cosmetic as only the tempered glass of your IPHONE gets damaged leaving behind the main screen undamaged. However, a bigger accident could seriously damage your phone screen, resulting in more phone damage, meaning higher repair costs, data loss, and in rare cases, you need to replace your phone as nowadays most of the damages are repairable and take much less time.
But it doesn't have to be in this way. There are plenty of things you can do to protect your phone screen from using protective hardware which aims to protect your phone screen. So forget about phone repair service as prevention is better than cure. Check out a few handy tips which will prevent you from cracking your phone screen.
1. Always Use Protective Case
Dropping your phone screen is the commonest way of cracking your phone screen. A high-quality protective case will protect your phone from accidental falls and hand slips. Depending on the quality of the protective cases few of them can protect your phone from falls of up to three meters on solid surfaces. Mobile phone case prices may vary a lot and come in all ranges. The level of protection depends much on the type of work you do which determines your protective case needs. People working in high-risk areas for example: construction sites need very good quality protective cases which could easily bear bumps, knocks, and falls effortlessly. Many protective cases also provide additional protection including waterproofing and dust proofing.
2. Use a Screen Protector
Screen protectors prevent your phone screen from getting scratches and even cracks. They act just as an outer protective covering to your phone screen which can be replaced whenever needed, without compromising the quality of your phone. Screen protectors are made up of either tempered glass or plastic.
Screen protectors help to minimize the damage to your phone screen as this will need to be replaced from time to time when they get damaged. However, replacing a screen protector is much simpler and more cost-effective as compared to replacing a cracked screen. To protect your phone screen combines an ultra-tough protective case with a screen protector.
3. Use a PopSocket
A PopSocket is a plastic circle that you could attach to the back of your phone or the phone case. Its main function is to extend your grip on the phone. The PopSocket can be extended or popped out, to create a comfortable and convenient grip on your phone. Nowadays most phones come in slim designs which have a tendency to slip out of your hands. They can be difficult to handle especially the larger screen size phones For example the Samsung Galaxy Note 9. Using PopSocket or a similar device helps firm holding of your phone so there are fewer chances of dropping your phone.
4. Change the Habit of Keeping Your Phone in the Back Pocket
The habit of keeping your phone in the back pocket of your trousers is an invitation to a big disaster for your phone. Mistakenly sitting down with your phone in the back pocket could bend your phone and the screen could crack. People with the habit of keeping their phones in their back pockets also have the chance of unknowingly dropping their phones at the time of sitting down. Skinny jeans and tight pants also tend to crack your phone's screen even without sitting down. Keeping your phone in sight, rather than keeping it in your back pocket helps stop the phone from being pickpocketed or slipping off the phone from your hands.
5. After Using Your Phone Keep it Somewhere Safe
After using your phone you should keep your phone in a safe place. Keeping your phone on the bed is very riskier as someone will sit down on it unknowingly or place something heavy on it leading to the cracking of the phone screen. You should try to use a set of regular places around the home to place your phone when not in use. Before placing your phone make sure that there is no risk of someone placing a heavy thing in that place and nothing will catch the charging cable and pull the phone to the ground. It doesn't take much to stop your phone screen from getting cracked, just a little bit of protective technology and taking care of a few good habits. Order online high-quality protective cases and screen protectors best suited for your mobile phone brand and model here. With 10 days return guarantee and AfterPay facility you can order and get your favorite brand delivered at your doorstep for free.